Self-Managed Super Fund (SMSF) Home Loans
Want to invest in property to fund your retirement and grow your wealth? Compare SMSF loans to purchase an investment property.
We're reader-supported and may be paid when you visit links to partner sites. We don't compare all products in the market, but we're working on it!
In Australia you can purchase investment properties via a self-managed super fund (SMSF). A self-managed super fund loan is a mortgage controlled by the members of a super fund, which is used to buy an investment property. The rental income and capital growth generated by the investment property form part of your super fund's retirement savings.
You can borrow money through your super fund to cover an investment purchase, but you need a special SMSF loan to do it. And it's getting increasingly hard to find lender who offers these products. This page has some SMSF loans you can apply for, and more information about how these financial products work below the table.
Compare SMSF home loans
Please note that very few lenders still offer SMSF home loans. A mortgage broker could help you find suitable products from specialist lenders.
After entering your details a mortgage broker from Aussie will call you. They will discuss your situation and help you find a suitable loan.
A comparison of home loans from multiple lenders.

Expert guidance through the entire application process.

Free suburb and property reports.
---

The Adviser's number 1 placed mortgage broker 8 years running (2013-2020)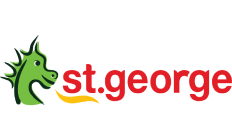 St.George Basic Home Loan - LVR 60% to 80% (Owner Occupier, P&I)
Up to $4,000 refinance cashback. With this competitive variable rate loan from St.George, refinancers borrowing $250,000+ can get up $4,000 cashback and borrow up to 80% of the property's value (terms, conditions & exclusions apply).
What are the features of an SMSF?
The list below describes some of the most critical features of an SMSF:
Managing your own investments. The goal of an SMSF fund is to provide members with funds for their retirement, which means that any investing needs to directly benefit the fund members. You must keep any personal business and financial concerns separate from the fund.
Additional contributions from the trustees. While additional contributions can be made, there are some limits that depend on how old the person in question is as well as their contribution limits. You can be charged penalties for contributions which exceed the limit, and these limits vary every year.
Managing the fund. As a super fund trustee, you'll need to make sure that you keep excellent records of the projects the fund undertakes and that you comply with the rules and regulations regarding lodging your annual return.
Accessing your funds. Fund members will be able to access SMSF funds once the release conditions are met, which can be at the time of retirement, otherwise known as 'preservation age'. Your preservation age differs depending on when you were born:
| Date of birth | Preservation age |
| --- | --- |
| Before 1 July 1960 | 55 |
| 1 July 1960 - 30 June 1961 | 56 |
| 1 July 1961 - 30 June 1962 | 57 |
| 1 July 1962 - 30 June 1963 | 58 |
| 1 July 1963 - 30 June 1964 | 59 |
| After 30 June 1964 | 60 |
Table information taken from the Australian Taxation Office.
You won't be able to access these funds before the appropriate age unless you experience extreme financial hardship, are suffering from a terminal medical condition, or are permanently or temporarily disabled.
How do I purchase a property through my SMSF?
The process of purchasing a property through an SMSF is similar to a regular property with a few key exceptions, and each lender will have their own restrictions. The main difference is that an SMSF mortgage is more difficult to process, with fines of over $200,000 applying to trustees if their arrangements aren't properly structured. For this reason, it's a good idea to seek advice from a mortgage broker or find out about any SMSF training your lender may be offering.
SMSF Application Process
You create your SMSF with the help of your accountant, who can also advise you of the benefits of investing in residential properties via your fund.
Identify the property you wish to purchase. As with any investment, take your time and consider every aspect carefully, including potential capital gains, rental income and market value to name a few.
Decide who will act as a custodian for the property. The custodian holds the property title on your behalf until the loan is paid off, otherwise known as a 'bare trustee'.
You submit the home loan application along with all the required documentation.
The custodian issues payment of the deposit and contracts for the purchase of the property are exchanged.
If the loan is approved by the bank, the custodian puts the property up as security with the lender so the transaction can be finalised.
You cover the costs of stamp duty and legal expenses.
Upon settlement of the loan, you begin making repayments and cover other day-to-day expenses on the property as well as collecting the rent. If rent doesn't cover the repayments the difference will need to be made up through your SMSF contributions.
Once the loan has been paid off, the title can be transferred to the SMSF from the custodian or the property can be sold off.
Restrictions on an SMSF property
There are some restrictions when it comes to any property bought by an SMSF, namely that you can't construct a new home, nor can you live in the home at any stage until you're in the pension phase.
Note that if the purchase is for your business, this is acceptable. While you can't sell a residential property to your SMSF if you or someone close to you owns it, you can do it with a commercial property.
Renovations and repairs are also a complex area in regards to SMSF properties. You can renovate and repair your property, although this comes with conditions regarding how you finance these activities. Regular maintenance on a property such as fixing leaking taps and other general running costs come with no legal problems.
Which banks have loans for SMSF trusts?
Most lenders have pulled out of the SMSF home loan market due to the potential risks associated with these products for lenders. AMP, Macquarie Bank, St.George and the Big Four banks have all exited the SMSF loan market.
A few lenders still offer these products:
Tax benefits of an SMSF
Owning and running your own SMSF can have some considerable tax benefits. However, it's important you understand how your SMSF is taxed first before you try to create an investment strategy based purely for tax purposes.
The tax on income derived from a superannuation fund is usually 15% for a complying fund and 45% for a non-complying fund. The tax you'll need to pay on income produced from an SMSF differs depending on the type of income it is. For example contributions without a Tax File Number (TFN) are taxed at 46.5%. You might also be taxed more if you are notified that you aren't complying with superannuation fund rules or if you are earning income from any other investments you have not connected to the super fund.
Capital Gains Tax
Capital gains tax is charged at 15% if you sell the property while you're still accumulating your super, and if you hold onto it for a year it will attract capital gains at the rate of 10%. If you sell the property when you're receiving your pension you'll be exempt from paying capital gains tax.

How SMSFs are taxed
Your self-managed super fund is taxed in much the same way as an individual, with the exception of having a different tax rate. Add up all the assessable income sources and deduct all the allowable deductions to reach a taxable income figure. This figure is taxed at 15% while you're in the fund accumulation phase.
Once your SMSF goes into a pension phase it is completely exempted from tax.
What tax records do you need to keep?
In order to make the most of any tax benefits available for your SMSF, it's important you keep accurate records and provide information to the Australian Taxation Office. The records you need will include:
Annual audit: you will need to provide an independent audit of your fund and any assets it has from an approved auditor.
Annual tax return: you will need to prepare and submit a tax return for your fund each year.
Rollover benefits statement: if there have been any rollovers during the financial year you need to submit a statement outlining these.
Official fund changes: any changes made to the fund throughout the financial year, such as changing trustees, need to be officially notified.
Questions to consider before setting up a SMSF
There are a lot of factors to consider before you establish an SMSF. You need to do plenty of research and think it through thoroughly. Start with the following questions:
Is it cost-effective? Managing an SMSF can be quite expensive since there are a lot of fees involved. Analyse the level of retirement savings you have and decide whether it makes sense from a financial standpoint to establish an SMSF. A good place to start is to look at how much auditing an SMSF costs compared to what standard retail super funds charge, which is 1-2%.
Can you invest the funds effectively? You really need to be objective regarding your investment knowledge and skills because a public fund has an army of specialists and experts devising and implementing investment strategies. So, if investing really isn't your thing, you aren't going to be gaining any additional benefits in terms of returns by managing the fund yourself. An SMSF is usually a good option for people with a decent level of experience in investing.
Do you have all the information you need and do you have time to manage the fund? Running an SMSF is complicated. Firstly, you need to be fully aware of all the laws, rules and tax regulations that govern an SMSF since you have a wide range of criteria you need to meet to qualify as an SMSF. You also need to have a good understanding of investing and the financial markets.
Frequently asked questions about SMSF home loans
More guides on Finder
Fixed SMSF home loans

Enjoy the security of a fixed rate and raise the funds you need to buy an investment property with a fixed self-managed super fund (SMSF) home loan.