Latitude GO Mastercard Frequently Asked Questions
Learn how you can get a 0% interest payment plan, earn rewards and more with detailed answers to questions about the Latitude GO Mastercard.
We're reader-supported and may be paid when you visit links to partner sites. We don't compare all products in the market, but we're working on it!
The
Latitude GO Mastercard
offers specialised, long-term 0% payment plans at a range of participating retailers. Depending on the offer and plan, you could enjoy interest-free periods starting from 3 or even 6 months. You can also enjoy up to 55 days interest-free on everyday purchases. The GO Mastercard also includes a rewards program that lets you
earn points for your everyday spending
.
Use this guide to find answers to common questions about this Latitude credit card. We also explain the different features of the card and how to use them so that you can decide if the Latitude GO Mastercard is right for you.
Latitude Financial Services Credit Card Offer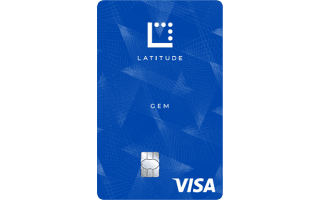 Latitude Gem Visa
0% p.a. for 6 months on purchases
on purchases of $250 or more
Eligibility criteria, terms and conditions, fees and charges apply
Latitude Financial Services Credit Card Offer
Receive a 0% purchase offer, a protection insurance and three interest-free payment plans.
0% p.a. for the first 6 months on purchases of $250 or more, reverts to 24.99% p.a.
Up to 55 days interest-free on purchases
Annual fee: $99 | Cash advance rate: 24.99% p.a.
Minimum credit limit: $1,000
Top FAQs for the Latitude GO Mastercard
These are the most common questions we're asked about the GO Mastercard. We also address FAQs based on specific categories in the sections below.
Interest rates and fees
What interest rate will I pay on the Go Mastercard?
Beyond the 0% interest payment plans, the Latitude GO Mastercard has three different interest rates that may be applied depending on the type of balance you have on the card. These are:
Purchase rate. This is the standard rate of interest applied to new purchases if you carry a balance from month to month. It's currently 19.95% p.a. variable.
Cash rate. Withdrawing cash from an ATM, using the card for BPAY or making any other cash advance transactions will attract an interest rate of up to 25.9% p.a.
Expired promotional purchases. This interest rate is applied to 0% Interest Payment Plan purchases when the balance is not paid in full during the promotional period. This rate is currently 25.9% p.a.
What fees will I pay with the GO Mastercard?
There is a range of other fees that could be charged when you have a Latitude GO Mastercard, including:
Account servicing fee. This card charges a fee of $8.95 per month if your balance is over $10.
Paper statement fee. If you request a printed statement for your account, you will be charged $2.50 per statement.
Late payment fee. A fee of $30 is applied if you don't make a payment by the due date.
Cash advance fee. Withdrawing money and other cash advance transactions will cost $3 or 3% of the transaction (whichever is greater).
Direct credit advance fee. If you transfer funds from your GO Mastercard to a nominated bank account, you will be charged the greater of $3 or 3% of the total transaction (up to a maximum of $30 per transaction).
International cash advance fee. A cash advance transaction made in a foreign currency is charged at $4.00 in addition to cash advance fee.
International transaction fee. A 3% fee is applied for transactions made overseas or in a foreign currency.
Payment handling fee. Some account payments may attract a $2.50 fee in-person and a $0.95 fee online, for example, those made at Australia Post. You can avoid this fee by making your payments via mail, direct debit or via the Online Service Centre.
GO Mastercard rewards
The GO Mastercard earns one GO Reward point for every dollar spent on everyday purchases. These points can be redeemed for a wide range of rewards including travel, gift cards, movie tickets, homewares and electronics through the GO Rewards Program website.
Managing your credit card account
Activating and using your GO Mastercard
If you have successfully applied for a Latitude GO Mastercard, you should receive it within 5-10 working days. Once you receive your card, follow these steps to activate it:
Call 1300 462 273.
Follow the prompts to verify your card.
Select a PIN for the card.
After these steps your card will be ready for use.
The Latitude GO Mastercard Online Service Centre
Latitude Financial Services has designed the Go Mastercard Online Service Centre to make managing your GO Mastercard easy. This service gives you access to your account details and balance, 0% Payment Plan offers and rewards. You can start using this online banking service by following the steps below:
Go to the GO Mastercard Online Service Centre homepage
Click on the "Register" button
Enter your account details, including your card number and date of birth
Follow the prompts to confirm your ID and complete your login set up
Once you are logged in, you can check your balance, make payments, set up new statement alerts, redeem rewards and more.
Latitude GO Mastercard App
Use the GO Mastercard App lets to manage your account from your smartphone. This app offers the same features as your online account, including account details, transaction history and the ability to update your details.
Back to top
Security features
The GO Mastercard account comes with a number of security features, including:
Chip and PIN technology. The card is embedded with a secure microchip that encrypts the details stored on the card. It also requires a PIN to verify certain purchases.
24/7 fraud monitoring. The GO Mastercard comes with Falcon fraud monitoring to protect you against unauthorised transactions.
Zero liability policy. This policy reimburses you for unauthorised transactions made on the card.
Mastercard SecureCode. This is a service you can choose to use for online purchases, which helps verify purchases by asking you a security question or sending you a unique code to enter at the checkout.
With a range interest-free payment options and a rewards program, the Latitude GO Mastercard is designed to offer affordability and convenience. Now that you understanding exactly how these features work, you can make an informed decision about whether or not this card suits your circumstances and goals.
Back to top
Compare credit cards with instalment plans
Back to top
More guides on Finder