Is South Korea safe?
South Korea has become a tourist hotspot in recent years, and is usually a very safe choice.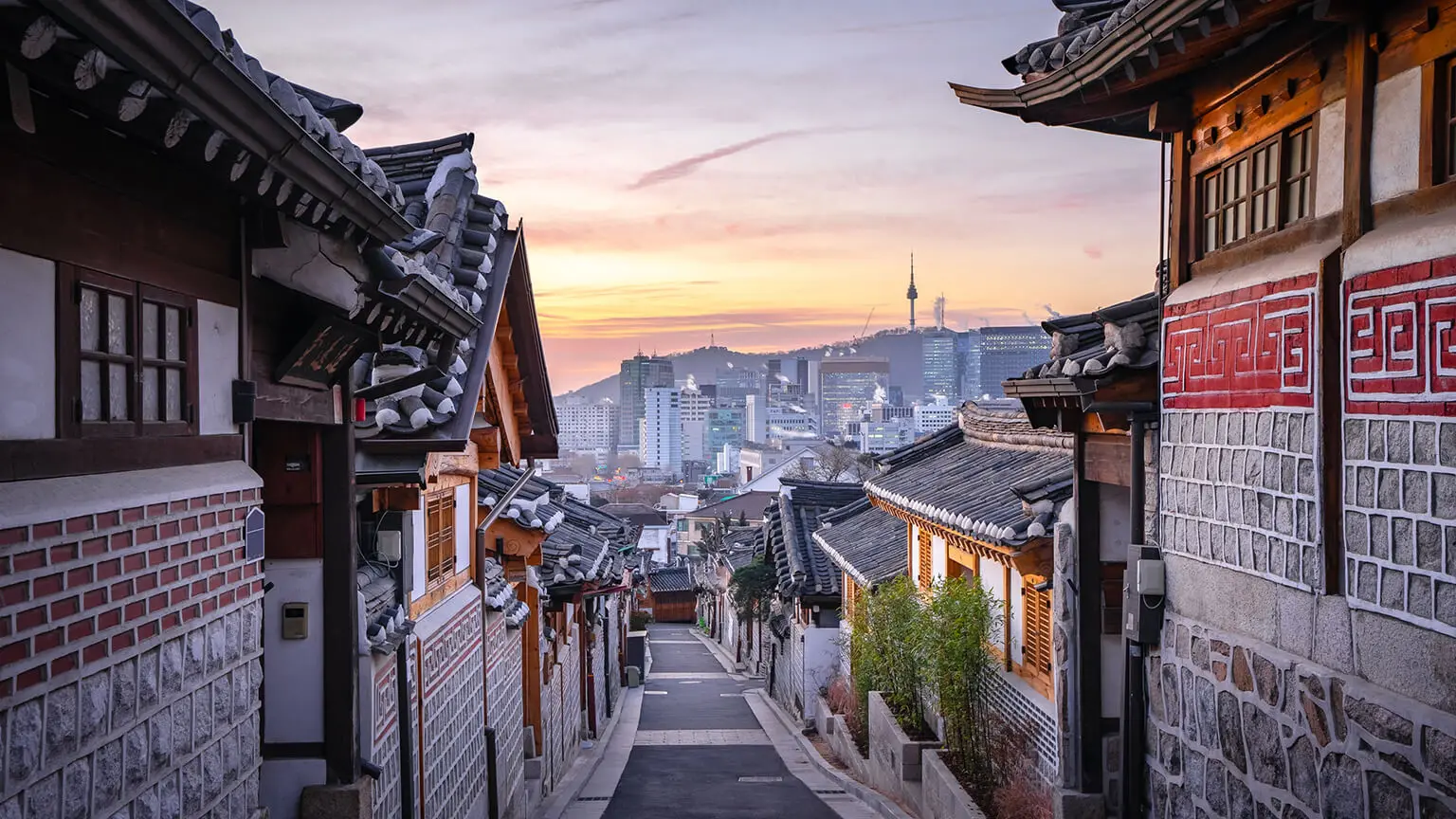 We're reader-supported and may be paid when you visit links to partner sites. We don't compare all products in the market, but we're working on it!
Important Read: Coronavirus (COVID-19)
From 25 March 2020, the Australian government placed a travel ban on all overseas travel to help prevent the spread of coronavirus. At this time, it's not safe to be travelling overseas.
If you buy a policy today, you're unlikely to be covered for any claims.
If you purchased your policy before this became a "known event", check directly with your insurer to see if you're affected.
Go to Smartraveller for more information on South Korea.
South Korea is no longer an unusual holiday destination. It's got everything from sweeping countryside and stunning beaches to ancient Buddhist temples and futuristic cities, so it's no surprise that tourists are flocking to the East Asian nation in droves.
Importantly, South Korea is also considered a very safe place to travel. Of course, as with any destination, there are some risks, and we'll walk you through them in this safety guide.
Safety considerations for South Korea
If you're heading to South Korea for a medical procedure or to have elective surgery, you probably won't be covered by standard travel insurance. Consider international medical insurance instead.
Is South Korea safe from the coronavirus?
South Korea is usually a very safe place to travel but there's currently a heightened risk of catching coronavirus in the region. Older travellers and anyone with existing medical conditions may be at a higher risk.
It's for this reason that the Australian Government has increased its travel warning for South Korea, urging travellers to exercise a high degree of caution when visiting, and to reconsider travelling to Daegu and Cheongdo.
Is South Korea politically safe?
If you're worried about visiting South Korea because it shares a border with North Korea, you certainly aren't alone. But the actual risk is very low.
Yes, the two countries are technically at war, but military action is incredibly rare and you won't find yourself suddenly under fire while shopping in Myeong-dong.
Of course, North Korea isn't the friendliest of neighbours and nuclear weapons testing happened as recently as 2017. It's not something to lose sleep over, but keep an eye on political developments and consider downloading the South Korean Government's Emergency Ready app, which provides information about the nearest emergency services, hospitals and shelters.
Protests are also relatively common in South Korea, particularly in Seoul. These can sometimes turn violent, so the Australian Government recommends that tourists avoid large public gatherings.
Do you need vaccinations for South Korea?
There are a few health risks when visiting South Korea, so you should contact your doctor at least eight weeks before your trip to plan vaccinations and discuss how those risks could impact you.
Infectious diseases such as tuberculosis, typhoid and hepatitis are all present in South Korea, so it's important to check that your vaccinations are up to date.
Malaria is a risk in some areas of South Korea, including the demilitarised zone and rural areas in the north, so consider taking anti-malarial medication.
Japanese encephalitis is also a risk and the Australian Government advises travellers to get vaccinated against the disease prior to travel.
Hand, foot and mouth disease is also common in South Korea. It typically affects children under 10, but everyone should be vigilant. Wash your hands thoroughly and often.
Remember, if you get sick from a disease that you should have been vaccinated for, your travel insurance might not cover you.
Is it safe to travel to South Korea alone?
Yes, South Korea is safe for solo travellers. However, as with any destination, solo travellers should exercise extra caution, especially women.
Tourists have reported sexual assaults, spiked drinks and other violent crimes, so take care when walking alone at night. Never accept food, drink, chewing gum or cigarettes from strangers.
Is South Korea a safe family destination?
Absolutely. South Korea has heaps of family-friendly resorts and attractions, including interactive museums, funfairs and zoos.
Kids are welcome at most restaurants too, so you'll still get to try the local cuisine. Just remember, South Korean food can be quite spicy.
Is food and drink safe in South Korea?
How do I know where it's safe to eat in South Korea?
South Korea is famous for its food and, in the large cities, it's safe to eat in most restaurants. If you're brave enough to try the street food, make sure the seafood is fresh.
Is the water safe to drink?
In major cities, tap water is safe to drink, but many Koreans choose not to. Instead, they'll boil or filter it. It's up to you if you want to do the same.
However, things are a little riskier when you're outside major cities. If you're heading to somewhere more remote, only drink boiled, bottled or filtered water, and avoid raw or undercooked food.
Does South Korea have a high crime level?
No, the crime rate in South Korea is incredibly low. However, that doesn't mean the country is completely free from risk, so travellers should still keep their wits about them.
Nowhere is free from petty crime, and in South Korea, it's most likely to happen in tourist hotspots or major cities like Seoul or Busan.
Travellers have also reported sexual assaults, spiked drinks and other violent crimes. As such, the government warns Australians not to accept food, drink, chewing gum or cigarettes from strangers.
Is the climate safe in South Korea?
South Korea does have some severe weather risks that travellers should be aware of, including typhoons, earthquakes and tsunamis.
Monsoon season is from late June to late August. Typhoons can also happen in August and September, while flooding and mudslides are also a risk. Identify your local shelter and follow the advice of officials.
Earthquakes and tsunamis are a risk. Know the tsunami warning signs and move to high ground immediately. Don't wait for official alerts, warnings or sirens.
High levels of pollution are likely from March to May. This can cause eye, nose, mouth and throat irritations. Seek medical advice if you have heart or breathing problems.
Is transport safe in South Korea?
South Korea has a high rate of traffic deaths and pedestrians are most at risk. If you're travelling on foot, watch out for scooters and motorcycles – even on the footpath – and don't expect traffic to stop at pedestrian crossings.
Luckily, public transport is excellent around large urban areas and usually includes signs in English to make travel easier for tourists.
Highway buses are known to drive very fast, so wear a seatbelt. If you take a taxi, insist that the driver use the meter.
Some travellers may have concerns about the quality of ferry services after the Sewol ferry disaster of 2014. However, safety standards have improved since the incident.
Is it safe to drive in South Korea?
You can drive with an Australian licence and an International Driving Permit (IDP) in South Korea for up to 90 days.
However, South Korea has one of the highest rates of traffic deaths for a developed country and people are known to drive very fast.

Compare travel insurance for your South Korea trip
Type or Select your destination(s)
Popular Destinations
Americas
Asia
Europe
Pacific
Africa
Can't find your destination? Just type it in the box above.
Picture: GettyImages
More guides on Finder