HSBC credit card balance transfer guide
Find out how you can save on interest when you move your debt to a HSBC credit card with a low or 0% p.a. balance transfer rate.
We're reader-supported and may be paid when you visit links to partner sites. We don't compare all products in the market, but we're working on it!
HSBC balance transfer offers let you move your existing credit card debt onto a new card that charges low or no interest during the introductory period. As well as saving you money on interest charges, this can help you pay off the debt faster.
At the end of the introductory period, any debt left over from the transfer will be charged interest at the cash advance rate for your HSBC card. Use this guide to learn more about the potential benefits, risks and features of HSBC balance transfers so you can decide if this option is right for you.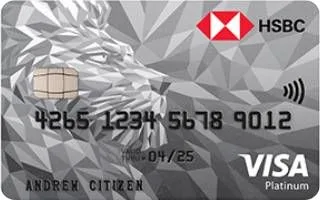 HSBC Platinum Credit Card - Balance Transfer Offer
0%

p.a. for 26 months on balance transfers


with a one-time 1% balance transfer fee

Eligibility criteria, terms and conditions, fees and charges apply
HSBC Credit Card Offer
A platinum card offering cost-saving features including a 0% balance transfer offer, a first-year annual fee waiver and complimentary insurance covers.
0% p.a. on balance transfers for 26 months with a 1% balance transfer fee
Annual fee: $129 | Purchase interest rate: 19.99% p.a.
Complimentary travel insurance and 2 lounge passes per year
Earn 1 HSBC Rewards Point per $1 spent in Australia and 2 overseas
Foreign transaction fee: 3% | Cash advance rate: 21.99% p.a.
Comparison of HSBC balance transfer credit cards
What you'll find in this guide
What are the benefits of getting a balance transfer with HSBC?
Here are some of the main ways you could get value from transferring your debt to a HSBC credit card:
Save on interest. The introductory low or 0% p.a. interest rate gives you relief from the higher standard interest rates you'll usually pay on your credit card. You can use the table above to see how much you can save by typing in your credit card balance and current interest rate, then hitting "Calculate".
Debt consolidation. If you're juggling a few credit cards with different banks, you could move all the debts onto a new HSBC credit card so that you only have to make one repayment per month. This also means you'll only have one account and one set of fees to manage.
Pay off debt faster. During the introductory period, all or most of your repayments will go towards your original debt (rather than interest charges), which helps you get your balance to $0 faster. If you plan your repayments based on the length of the introductory period, you could even avoid interest charges all together.
Are there any risks to getting a balance transfer with HSBC?
As with any balance transfer, there are potential pitfalls you should think about before going ahead with a balance transfer to a HSBC credit card. These include:
High standard interest rates. If you don't pay off your debt by the end of the introductory period you'll be charged the standard variable cash advance rate. This is usually upwards of 19% p.a., so it can quickly add to your debt.
Temptation to spend. Any new purchases you make will be charged interest at the standard variable purchase rate for your card. This adds to your balance and increases the risk that you won't pay off your debt by the time the introductory period ends.
Impact on your credit score. While paying off debt can improve your credit score, applying for a balance transfer credit card, carrying a balance and keeping your old accounts open all have the potential to lower your credit score. This can make it harder to get approved for other cards or loans in the future, so think carefully about how a balance transfer might affect your credit history before you get one.
What rates and features should I look at when choosing an offer?
These are the main costs and details to keep in mind:
The introductory interest rate and offer length. In general, a 0% p.a. interest rate and long introductory period gives you the greatest potential savings as you pay down your debt. But other fees and features can also make a card more (or less) affordable.
The balance transfer fee. Some HSBC balance transfer offers come with a one-off fee that's calculated based on the amount of debt you transfer to the new card. For example, if you moved a $5,000 debt to a card with a 2% balance transfer fee, it would cost you $100.
The annual fee. Most HSBC credit cards charge an annual fee, which is added to your account when you first open it and then charged each year on the anniversary. Make sure you consider this cost when you're working out your savings and your repayment plan.
The revert rate when the introductory period expires. HSBC applies the standard variable cash advance rate for any balance transfer debt you have left at the end of the introductory period. If there's a chance you won't be able to clear your balance before this rate applies, take note of this interest rate and think about how it could affect your debt repayment plan.
Eligible debts. You can transfer balances from credit cards that are not issued by HSBC, as long at the debt is in Australian dollars. Also note that HSBC processes balance transfers using BPAY, so the account will need to have a valid biller code and reference number.
How much you can transfer. HSBC allows you to transfer up to 90% of your approved credit limit. However, it also reserves the right to offer a balance transfer for less than this amount. If the debt you want to transfer is higher than this, you could go ahead with a partial balance transfer or consider other options before you accept and activate your HSBC card. Check out Finder's guide on balance transfer limits to learn more about your options.
Application requirements for a HSBC balance transfer
To get the introductory low or 0% balance transfer rate, you need to include details of your existing account/s and the amount of debt you want to move on your application for a new HSBC credit card. You may also need to provide your most recent statement from your existing credit card account. Check out the "How to apply" section of the HSBC credit card page for more information on the other details and documents you'll need to include when you apply.
Other details to keep in mind
Eligibility requirements. As with all credit cards, you'll need to meet eligibility requirements (such as credit history, residential status and minimum annual income) to receive approval for a HSBC credit card. A declined credit card application negatively impacts your credit score, so it's important that you check the specific requirements for the card before you apply.
How long the balance transfer takes. With HSBC, the balance transfer process is started once your application is approved. However, you should still allow around 7 working days for the balance to be added to your new account. During this time, you'll still need to make any payments that are due on your existing accounts.
Minimum repayments. You will need to pay at least the minimum amount listed by the due date on each statement, even during the introductory period. If you want to clear your debt during the introductory period, you'll need to pay more than this amount each month.
No interest-free days. While HSBC credit cards typically offer an interest-free period on new purchases, this feature is not available when you carry a balance from month-to-month. So new purchases will be charged interest from the date they are made, which could make it harder to pay off your debt.
Closing old accounts. If you want to close your old accounts, you'll need to do this on your own. So wait until the balance transfer process is completed, then follow the steps to cancel your card.
Reward points. Balance transfers are not eligible to earn points on any reward or frequent flyer credit card offered by HSBC.
Payment allocation. Your credit card payments will go towards the part of your balance that's charged the highest interest rate first, then to portions of your balance attracting lower interest rates. So if you have made purchases during the introductory period, this means they will typically be paid off before any balance transfer amount.
What if I already have a HSBC credit card? Can existing customers still balance transfer?
It's possible to request a balance transfer onto your existing HSBC credit card by logging in to your online account or by calling HSBC on 132 152. Note that the debt you want to move will need to be held with another bank or issuer.
With this option, the balance transfer rates and fees may be different to those offered for new customers. It will also be processed instantly, so make sure you carefully check all the details before going ahead with an application for your existing HSBC card. If you have debt on a HSBC credit card, you can compare balance transfer offers from other banks to find an option that works for you.
Image: Shutterstock
Back to top
More guides on Finder