How does the Virgin Australia free flights credit card offer work?
Find out how to redeem your complimentary Virgin Australia flight now!
We're reader-supported and may be paid when you visit links to partner sites. We don't compare all products in the market, but we're working on it!
As of April 2016, there is a new Virgin Money credit card flight deal. What used to be a 50% discount on flights when you flew with a friend, or essentially a two-for-one fare deal, has now morphed into an annual gift voucher worth $129. While you could have enjoyed up to four free flights a year before (if your friend paid for their ticket and let you soak up the whole perk), now you'll only get one-and-a-part flight free (depending on the Virgin Australia fares when you use this offer). The upside: you don't have to travel with that friend anymore, if you don't want to that is. Use this guide to find out what perks are on offer and where your free flights could take you.
What free Virgin Australia benefits do I get with my credit card?
These are your new perks, depending on the card you hold:
How can I redeem my free gift voucher?
Your complimentary $129 voucher can be used towards booking Virgin Australia flights on all fare types including sale fares. It can also be used on selected Virgin Australia Holidays' packages and must be used within six months of its issue date. Follow these four steps to redeem your gift voucher:
Step 1: Make sure you're eligible.
You must be the primary cardholder of the Virgin Australia Velocity High Flyer Card or Virgin Australia Velocity Flyer Card.
Your credit card is activated and it has been 30 days since your card approval date or the anniversary of your card approval date.
You've charged at least one retail purchase to your credit card in the two months before requesting your voucher.
Your account is not temporarily blocked or in default.
You have not successfully requested a gift voucher in the anniversary period.
You must be an active Velocity frequent flyer member and your Velocity membership number must be linked to your credit card.
Step 2: Make sure your details are updated.
Ensure the details you enter when you request the voucher perfectly match the details in your credit card account, including your email address and phone number.
You may check and update your details by logging into Virgin Money Online or by calling Customer Care at 13 37 39. Note that you'll need to wait 10 days after making any changes to request your gift voucher.
Step 3: Request your voucher.
Go to Virgin Money Online and follow the link to request your voucher. You will need to fill in and submit a request form.
You should receive your gift voucher via email within five business days. It will be attached as a PDF format document that you can then download.
Step 4: Use your voucher.
Book your flights online at Virgin Australia, or call 13 67 89 to make a booking. Bear in mind that fees apply to phone bookings while online bookings are free.
Book holiday packages by calling Virgin Australia Holidays on 13 15 16.
Before making a payment, enter or quote your unique Voucher Number (which is stated on your gift voucher) to redeem the $129 towards your booking.
Gift voucher terms and conditions
Once a year. You can only request a $129 gift voucher once in an anniversary year.
Cannot be accumulated or carried over. If you fail to redeem or use your gift voucher in that anniversary year, it cannot be accumulated or carried over to the next year.
No blackout dates or restrictions. Your $129 gift voucher can be used on any flights at any time.
Expiry date. Your gift voucher if valid for six months from when it is issued.
Travel date. Your travel date can be after the voucher's expiry date.
Multiple use. Your $129 gift voucher can be used partially until it reaches a $0 balance. So, it's important to keep your unique voucher code secure.
Transferable. The gift voucher can be gifted, and because anyone can use it just by quoting its unique voucher code, it's important to keep that code safe.
How can I redeem my free High Flyer lounge passes?
If you are a Virgin Australia Velocity High Flyer cardholder, you will receive your two free single entry domestic lounge passes automatically each year. These anniversary gift passes will be added to your Velocity account during the month you were first approved for the card, and will show up like so: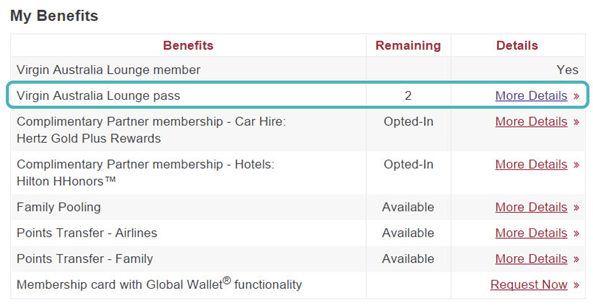 To use the passes, simply head over to the domestic Virgin Australia lounge with your Velocity membership number and boarding pass two hours before your domestic Virgin Australia flight.
High Flyer lounge passes terms and conditions
Once a year. You are only entitled to two free single entry domestic lounge passes once each anniversary year.
Cannot be accumulated or carried over. Your lounge passes will be forfeited if you fail to use them during that anniversary year.
Domestic only. Your free passes can be used at Virgin Australia lounges in Adelaide, Brisbane, Cairns, Canberra, Darwin, Gold Coast, Mackay, Melbourne, Perth and Sydney when travelling on an onward domestic flight with Virgin Australia.
Expiry date. Your lounge pass has a validity period of 12 months, or until your next card anniversary month.
Non-transferable. The lounge passes are not transferable, but may be used for guests who are travelling with you.
Time. You may access the Virgin Australia lounge no more than two hours before your Virgin Australia flight's scheduled departure time.
Space availability. Admission to the lounge is always subject to space availability.
Now that you know everything there is to know about redeeming your Virgin Australia Velocity travel freebies, get ready to enjoy them. If these perks are still not enough for you, learn more ways to get free flights with Virgin Airlines.
Back to top
You might also be interested in
More guides on Finder