Rural or Hobby Farm Home Loans
Looking to start a new chapter living life on the land? A rural home loan can help you get there.
We're committed to our readers and editorial independence. We don't compare all products in the market and may receive compensation when we refer you to our partners, but this does not influence our opinions or reviews. Learn more about Finder .
If you're dreaming about clean air and peaceful nights, if you want to raise kids away from the city or enjoy your retirement in tranquility, there's a chance you'll need to need to find out about specialised rural home loans.
How do rural home loans work?
A loan for a rural property can be used for both business and personal purposes. Often described as a hobby farm, it's not generally easy to get approved for. Rural properties are considered high risk, and many lenders are unwilling to lend money for these properties.
If you are looking at a hobby farm or a residential rural property and don't plan to turn your new property into your primary source of income, a rural home loan might be just right.
Hobby versus commercial farm
When we are talking about rural property, it's important to make the distinction between a hobby farm and a commercial farm. Hobby farms:
Are primarily residential properties
Are not used for commercial income purposes or as a speculative investment
May be used to raise livestock or to grow crops, but this must be for the purposes of recreation or lifestyle, for the enjoyment of the owners only
Are valued only on the weight of the land and any buildings on it. No machinery, livestock, crops or otherwise rural income-producing assets will be included in the valuation.
How much deposit do I need for a rural property?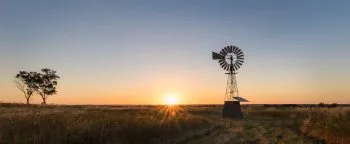 The deposit you'll need for a rural property will depend on the size of the property.
Lenders may require deposits as small as 5%, or as much as 30%, depending on the size and location of the property.
Your application is more likely to succeed if your property is under 10 hectares. Banks are more hesitant about larger properties, and above 200ha banks are likely to be very conservative in their lending. That being said, rural home loans are designed for these purposes exactly, so educate yourself about which lender offers the best loan contract and be prepared for your application.
Rural loan eligibility: land size
Lenders can be hesitant when it comes to the size of the land you're purchasing. This is because larger lots are often used for commercial farming purposes, which requires a commercial home loan.
The size of the land you're buying will often dictate the size of deposit you need. With land below 10 hectares, your loan is likely to be treated like any other residential home loan, and you may be able to borrow up to 95% of the value of the property you're purchasing.
Some lenders may require only a 5% deposit for land up to 50 hectares. However, if you're buying land larger than this, you're likely to need a 20–30% deposit.
Properties above 100 hectares in size are unlikely to find residential home loan financing. Lenders often consider these properties to be commercial farms, even if you don't intend to produce income from farming.
What else do lenders look at when you apply for a rural home loan?
Each lender will have their own set of criteria they use to assess whether they will offer a home loan for the purpose of purchasing a rural property. Aside from land size and how you will use the land, many lenders consider:
Location. Some lenders have postcode restrictions in place for rural home loans. This means if the property you are looking at purchasing is outside of the lender's approved postcodes, you may need to reconsider the property or look at another lender.
Property Access. The property must be easily accessible for different reasons. A dirt road is appropriate and often common with rural properties, but it must be well maintained so that any vehicle that needs to can access the property.
Public Services. The property must have access to public services such as electricity, water and sewage, if you opt to have your property completely self-sustaining it may also be useful to have all the regular services accessible at the property just to make the process of lending easier.
Area Zoning. In order to be classified as a hobby farm rather than a commercial farm the land will need to be zoned as rural, rural residential or the equivalent depending on the state it is in. If it is zoned as industrial, commercial or for farm use this may impede your ability to get a rural home loan as it may be a commercial farm.
Specialist rural and agricultural lenders
Here are some companies in Australia that may be able to help you with specialist finance for different types of acreage and rural property purchases:
Aglend. Aglend offers finance solutions for farmers and agricultural businesses. This includes rural land loans.
Australian Lending Centre. This specialist lender can help with rural loans.
Redilend. This bad credit lender also works with rural properties and hobby farms.
Building Loans Australia. This brokerage is focused on land purchases.
How to apply for a rural home loan
If you have made the decision to take out a rural home loan to buy a home outside of the city, start by doing your research to find the best conditions, terms and borrowing rates.
It's advisable to speak with a mortgage broker who understands your needs and can help steer you in the right direction.
First and foremost, plan for the future and research your possibilities. If you are set on a tree change and can feasibly afford to make the move, put the extra time into finding the rural home loan that's right for you.
Compare Land Home Loans
This table displays information about land loans from various lenders. Some of these loans may not be available to purchase a hobby farm or acreage or larger piece of land. If the green button beside a product is labelled "more info" it means Finder does not currently have a partnership with this lender or a relevant broker. You can contact the lender directly via their own website.
Feature image: Shutterstock
More guides on Finder