Accidental damage insurance
Protect your stuff against mishaps, breakages and spillages with accidental damage insurance.
We're reader-supported and may be paid when you visit links to partner sites. We don't compare all products in the market, but we're working on it!
Accidental damage insurance can help save the day if you have one of life's expensive little mishaps. Whether it's spilled wine, a smashed TV or a broken vase, accidental damage insurance can help towards the cost of repair or replacement.
Compare policies with accidental damage insurance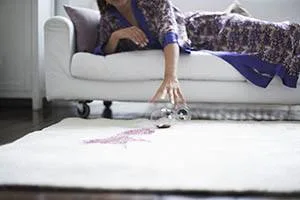 What is accidental damage in home insurance?
Accidental damage insurance does what it says on the tin. If your property, or items within it, are damaged accidentally, it'll help cover the cost of repair or replacement.
Sometimes it's included as standard in home insurance policies, other times it's offered as an optional extra.
What does accidental damage insurance cover?
Accidental damage insurance helps cover the cost of repair or replacement, if something in your home is damaged by a sudden, unintended or unexpected event.
A wide range of events falls under that umbrella, but it typically includes:
Accidental burst water pipe
Spills and stains, such as red wine, paint or ink
Damaged decorative items, such as artwork or mirrors
Major tears or rips in soft furnishings
Damage caused by smoke or soot
Damage to fragile items, such as vases or ornaments
Accidental damage insurance for laptops
Laptops are usually covered under your accidental damage policy and depending on the insurer, you might even be covered if the damage happens outside of your home.
Accidental damage to your laptop includes dropping it or spilling liquids on it. Just remember, it won't cover scratches, dings and dents if they don't affect your laptop's performance. You should also check the product disclosure statement (PDS) to see whether or not cracked screens will be covered.
How do I get accidental damage insurance?
Accidental damage insurance will either come included in your home and contents policy or you will be given the choice to add the cover for an additional cost.
Included: Accidental damage is included as standard in your home insurance policy. The price you have been quoted includes cover for accidental damage.
Add-on: An additional feature which does not come as standard. If you choose to add accidental damage cover, it will increase the price of your premium.
How much does accidental damage insurance cost?
We requested quotes from four different insurance companies to see how price varies between home insurance policies with accidental damage cover as standard, accidental cover as an optional extra and without any accidental damage insurance at all.
The research found that, for the two companies that offer both options, add-on accidental damage is only an extra $11 a month.
The research also shows that it's possible to get add-on cover at a cheaper price than home insurance without accidental damage, which is why it's so important to compare home insurance policies carefully.
*Quotes were based on the details of a $1 million home in Sydney, with $100,000 contents replacement cost and a $500 excess where possible.
Is accidental damage insurance worth it?
It depends on the contents of your home, but accidental damage insurance can definitely be a worthwhile investment for lots of Australians.
For example, if you pay an extra $11 a month for accidental damage insurance, you'd be covered if your TV fell from the wall and smashed, if your dog knocked over an antique vase or you spilled red wine on your new cream sofa.
Remember, you'll have to pay an excess before you can claim on your accidental damage policy, but when you take into account how expensive many items in the home can be, the cover is definitely worth considering.
Which brands cover accidental damage?
| Insurer | Policy |
| --- | --- |
| | Budget Direct home insurance will cover the accidental breakage of glass, ceramic and sanitary fixtures. Contents insurance will cover fixed glass breakage in furniture, mirrors and pictures. Further accidental damage cover can be added on to extend your protection. |
| | Coles offers accidental damage as an optional extra. If your claim is approved, you can get paid the actual cost for replacing the damaged item or up to your approved limit. |
| | Accidental damage cover is included in comprehensive cover only and will cover damage to your home and contents depending on your policy type. |
| | Kogan's top cover includes accidental damage to your insured building and/or contents. |
| | With Real Insurance's Top Home or Top Home and Contents cover, accidental damage is a standard inclusion at no extra charge. |
| | St. George's Premier Care policy covers accidental loss and damage. |
| | Accidental breakage of glass, ceramic and sanitary fixtures is covered with the optional extra of further accidental damage cover. |
| | Accidental loss and damage is already covered under Westpac's Premiere Care policy. |
| | Youi's contents accidental loss or damage cover and buildings accidental damage cover are optional extras that you can choose to include with your policy. |
| | Allianz will cover the accidental breakage of glass or ceramic items in its contents insurance, with the option to add on cover for further accidental damage. |
| | Bupa's accidental damage home insurance policy gives you the option to choose between a home or contents policy or a combined policy of the two. |
| | Premium cover for building and contents insurance includes accidental damage or you can add it onto your Quality cover or Basic cover policy. |
| | Accidental damage can be added as optional cover for an extra premium. This covers the breakage of glass, ceramic or sanitary fixtures, including any damage caused by animals kept at the insured address. |
| | Accidental damage cover is automatically included with Home Plus and can be added onto NRMA Standard Home Insurance. |
| | QBE's standard home insurance policy does not give you accidental damage cover, but you can add it on for an additional cost to protect damage to glass. QBE's Home Prestige Insurance is its highest level of cover and will include accidental damage for your home and contents. |
General exclusions: Things to watch out for
While accidental damage insurance covers a wide range of possible events, there are some core exceptions that you need to be wary of. Specifics will vary between different insurers but common exclusions are:
Intentional or deliberate acts
Cigarette burns
Damage from tenants or lodgers
Damage to drones
Items used in business, trade or profession
Everyday wear and tear
Damage caused by scorching, burning or melting
Clothing and accessories
Other exclusions will apply so please check your PDS carefully.
Frequently asked questions
Picture: GettyImages
---
Read more:
More guides on Finder