How do credit cards work?
Hover over parts of the card to learn more about what they do
From annual fees and interest rates to balance transfers and repayments, use our comprehensive guide to discover exactly how credit cards work in Australia.
Credit cards are the main way you can pay for goods and services with a line of credit. As these purchases are made by borrowing money, cardholders are required to repay the outstanding balance before the end of the statement period. If they're unable to do this, their purchases will begin collecting interest on top of the amount owed. Credit cards are issued by many banks in Australia, but most belong to the global payment networks of Mastercard, Visa or American Express.
The concept of a credit card is simple, but how they work and which one is right for you can get complicated. Use this guide to discover exactly how credit cards work and what you need to know to find the best card for you.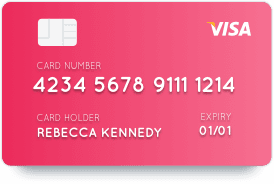 Visa. The first digit on a Visa card is always a four and the second through to the sixth number is connected to the financial institution. Either the seventh through to the 12th number or the seventh through to the 15th are the account number. The final 13th of 16th digit is the check number.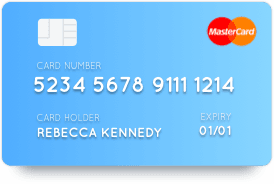 Mastercard. All Mastercard credit cards begin with a 5. The second and third, second and fourth or second and fifth are the bank number. Every other number up until 15 is the account number and the check digit is the 16th number.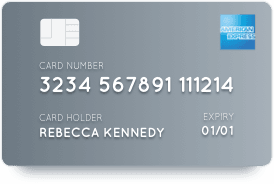 American Express. AMEX uses the first two numbers of the card to identify itself and this will either be 34 or 37. The third and fourth numbers then signify the type of card and the currency being used. The following six digits are the account number and the 12th through to the 14th digits represent the card number. The final number is a check digit.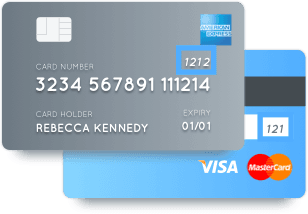 CVV number. On all cards, the CVV number (Card Verification Value) is the three-digit (Visa and Mastercard security number on the back of your card. For American Express it is a four-digit security number on the back of your card.
What is a credit limit?
A credit limit refers to the maximum amount of credit you're allowed to spend on your credit card. While you can request a specific credit limit at the time of application, your credit card will be determined by the bank based on your income and credit history. When you apply, you'll also be given the option to select whether you want the bank to offer you credit limit increases. If you'd like to keep your balance low and want to avoid the temptation to overspend, it might be wise to opt out of this. If you want to increase or decrease your credit limit, use our guide to find out how you can with your specific bank.
When requesting a credit limit, note that minimum credit limits do apply (these can range between $500 and $15,000 depending on the card). While you don't have to spend all your credit limit, you'll want to make sure that the minimum credit limit doesn't exceed the maximum you had in mind.
If you spend beyond your maximum credit limit, the bank will charge you an overlimit amount. So say if your credit limit was $2,000 and you spent $2,050, you'll be charged an overlimit amount of $50. If you are overdue on your last payment and have exceeded your credit limit, the bank will take the greater of the two amounts and add it on to your monthly payment.
How do I make credit card repayments?
When using a credit card you'll need to make repayments each statement period to pay down the balance on your credit card.
How much will I have to pay each month?
All credit cards have minimum repayments, which usually are calculated as 2% or 3% of your total balance charged that statement period. Obviously, only meeting the minimum repayment won't repay your entire debt and isn't a good strategy if you want to avoid falling into debt.
If you're unable to pay your balance in full, the remaining purchase balance will begin accruing interest. So if you want to avoid building up debt, it's crucial to either repay your entire debt or as much as you can each month.
Use our credit card interest repayment calculator to determine how much you'll have to pay on your debt.
Which debts will my repayments pay off first?
Following the Australian credit card reforms in 2012, banks are required to assign your repayments to the debt collecting the highest amount of interest first.
So if you have an account that has multiple debts with different interest rates (such as cash advances at 22% interest, purchases collecting 19% interest and a balance transfer collecting 0%), your repayments will go towards paying off your cash advance balance first, followed by your purchases and then your balance transfer.
When will I have to pay?
When you set up your credit card, your bank will specify a statement date for when your credit card bill is due. If you'd like to organise this so your statement date falls shortly after your payday, you can contact the bank to request to move your statement date.
How do I make a payment?
This will depend on who you're banking with, but you can usually make a payment using auto payments or transfers from another account, using BPAY, a cheque or in a branch.
Back to top
How to apply for a credit card

Once you've met the eligibility requirements and acquired the necessary documents, you can begin your application. As well as filling out the above information, you'll also need to nominate your card preferences.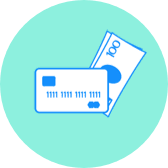 Credit limit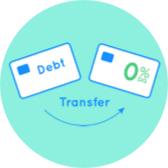 Balance transfer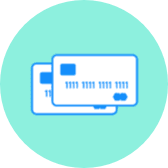 Additional cardholders
---
What are the differences between primary cardholders, additional cardholders and joint account holders?

Primary cardholder
The primary cardholder refers to the account holder who is responsible for the the transactions on the card and for making repayments. As such, any actions made on the card will impact the primary cardholder's credit history and credit score.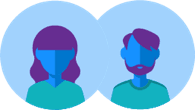 Additional cardholders
If you're the primary cardholder, some banks let you request additional cardholders either for free or for a fee. The additional cardholders can use the card in the same way the primary cardholder can, meaning this can be an easy way for you to manage expenses within one account or build up more rewards points. However, the primary cardholder will still be responsible for making repayments and for all of the transactions made on the card.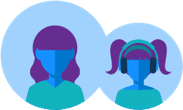 Joint credit card accounts
A joint credit card refers to an account that has two primary cardholders who both hold responsibility over the card. A joint credit card can be a good way for two people, such as a married couple, to manage their finances under one account. Not all banks allow joint credit cards though, so use our guide on institutions that allow joint account credit cards to compare your options.
What is a credit history and credit score?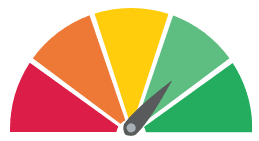 Every time you apply for or use a credit card, it will be recorded on your credit file. Whether you're approved for the credit card, your spending behaviour and whether or not you make timely repayments will all impact your credit history.
Every time you apply for credit in the future, whether it's for a credit card, personal loan or mortgage, the lender will base part of their decision on your credit score. If you have a bad credit history and low credit score, you're unlikely to be approved for a credit card.
Back to top
HOW MUCH DOES A CREDIT CARD COST
Annual fee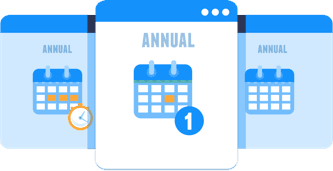 A credit card annual fee refers to maintenance fee that you'll have to pay each year. Depending on the card, these can range between $100 and over $1,000 for more premium cards. If the card has a $0 annual fee, this will either be for the life of the card or for a promotional period (such as the first year), which will then revert to the standard annual fee thereafter.
The annual fee is usually charged during the first statement period following your account activation. The annual fee will then be charged on or around the anniversary of the date the first annual fee was charged every year thereafter. The annual fee can usually be paid either from another bank account or can be added on top of your balance. If it's added onto your credit card balance, it will incur the same interest rate as your other purchases.
The annual fee is charged to cover the costs of the extra features on the card. So you'll find that a card with a $0 or no annual fee will have fewer additional features (such as a rewards program or complimentary insurance) than a premium card with a higher annual fee.
What is interest and how is it charged?
Unlike a debit or prepaid card, purchases made on credit cards collect interest. As well as the amount charged on the card, you'll have to pay interest on top. While interest usually sits between 9.99% p.a. and 20.99% p.a., some cards offer low or no interest for a promotional period. These low interest rates only last for an introductory offer period (such as six to 12 months) and then revert to the standard interest rate thereafter.
Credit card interest is calculated based on daily outstanding balances on purchases, cash advances, balance transfers, promotions, interest from previous months and related fees and charges. Different types of transactions (such as purchases, balance transfers and cash advances) incur different types of interest. This interest is then charged at the end of the statement period. When you make repayments, the money will go to the debt that's accruing the highest interest rate first.
How do interest-free days work?
As well as low and 0% interest rates, some cards come with between up to 44 or 55 interest-free days for the life of the card. These interest-free days usually only apply if you've paid your entire balance in full.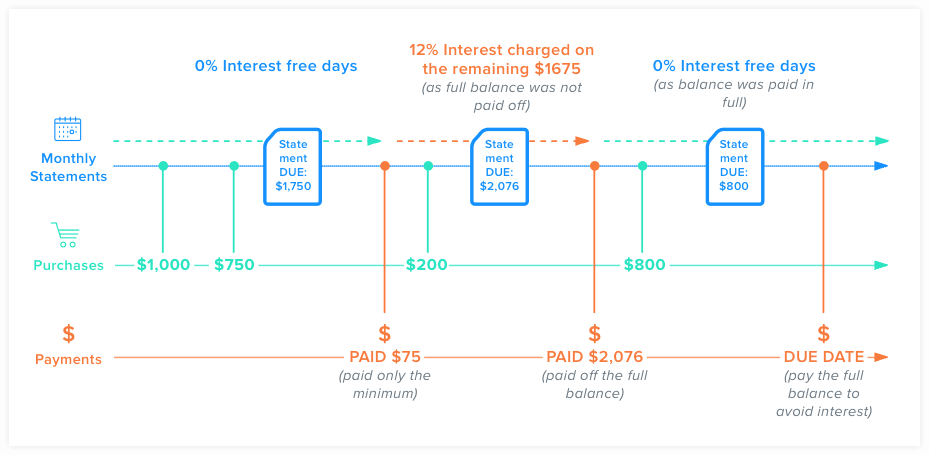 What is a cash advance?
Different to purchases, cash advances include (but are not limited to) the following actions made on your credit card:
ATM withdrawals
Cash out with purchases
Gambling transactions
Bill payments
Buying foreign currency or traveller's cheques
Balance transfers (though these may attract a different and lower rate)
Cash advances usually incur a higher interest rate than purchases (usually around the 20% mark) and will incur interest immediately, rather than at the end of the statement period. Some banks also charge an additional cash advance fee (usually a fixed dollar value or percentage of the cash advance amount). Cash advances are usually excluded from interest-free days and from earning rewards points.
What is a balance transfer?

A balance transfer refers to the process by which you move a debt from an existing card to a new card with a lower interest rate. Balance transfers usually come with a 0% interest rate for a promotional period between six to 24 months, allowing you to repay your debt without the additional cost of interest. At the end of this introductory period, a higher revert rate applies (usually the standard interest or cash advance rate) and any remaining debt will accrue this higher interest. Note that a one-off balance transfer fee (usually of around 1%) may apply when you conduct the transfer.
You can request a balance transfer when applying for a new credit card. Generally you can only transfer up to a percentage of the approved credit limit (usually between 70% and 100%) and any leftover balance will remain in your old account. If you have multiple debts on different cards, you can consolidate these under one debt on the new card so long as you provide the details during the application and the combined amount doesn't exceed the balance transfer limit. Please note that you can't transfer between some related banks (such as St.George and Westpac) and only some banks allow transfers between joint accounts.
Even if the card has a 0% balance transfer offer, you'll still need to make repayments to pay down your debt each month.
Learn more about how balance transfers work in finder's detailed guide.
How is interest charged on BPAY payments?
When you use your credit card to make payments via BPAY, how you're charged interest will depend on the biller you're paying with. Some billers consider BPAY a cash advance, while others consider it a purchase. Considering cash advances generally attract higher interest than purchases, it's important to know what your biller classifies BPAY as to know how much you'll pay.
What happens when I use my credit card overseas?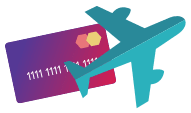 When you use your credit card overseas, you'll be charged differently than if you were using it in Australia. Some of these differences include:
Currency conversion fee. Unless you're using a no foreign currency conversion fee card, you'll be charged between 3% and 5% each time you use your card to make a transaction overseas.
ATM withdrawal. Some cards don't charge for ATM withdrawals, but many will charge up to $4 per ATM withdrawal.
Cash advance fee. Every time you use your card for an ATM withdrawal, you could also be charged an additional cash advance fee between 2% or $4.00 (usually whichever is higher). This interest is charged immediately.
Worldwide acceptance. If you're using a Visa, Mastercard or American Express, you should be able to use your credit card in most places around the world. However, there are some sanctions. For example, you can't currently use a Mastercard in North Korea, Cuba, Iran, Sudan or Syria.
Back to top
WHAT ARE THE EXTRA FEATURES THAT COME WITH CREDIT CARDS?
How do credit card rewards programs work?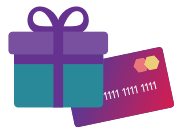 Rewards credit cards allow you to earn rewards points when you use the card for eligible purchases. Depending on the card, you can either earn points directly through a rewards program or through a frequent flyer program. When comparing rewards credit cards, the important features to consider include:
What type of rewards program is on offer?
Rewards credit cards usually allow you to earn points with either a bank rewards programs or frequent flyer programs. A bank rewards program allows you to earn points on purchases and redeem rewards with the bank's reward scheme, their partnered retailers and their partnered airlines.
If you want more on the other hand, a frequent flyer credit card lets you earn frequent flyer points directly in your chosen airline rewards program. An example of such a card is the ANZ Frequent Flyer Black card that earns Qantas Points or the Virgin Australia Velocity High Flyer Card that picks up Velocity Points directly. If you only fly with one airline, a direct earn card like this is your best bet.
Compare the types of rewards credit cards available.
What is the earn rate?
This refers to how many points you'll earn per dollar, such as 1 point per $1 spent. The higher the earn rate, the more points you'll earn for every dollar you spend on the card. Please note that if the card comes with a points cap, the earn rate may drop after you've earned a certain number of rewards.
Am I eligible for complimentary insurance?
Many premium cards come with options for complimentary insurance. As long as you meet the eligibility requirements, some of the complimentary insurances you can expect include:
International travel insurance
Transit accident insurance
Purchase protection
You might need to meet a spend requirement and a set of eligibility criteria to activate your complimentary insurance. See the complimentary insurance guides for each Australian bank on finder and check the policy terms and conditions to make sure you're eligible for the insurance.
How do credit card concierge services work?
Usually a feature of platinum, premium or gold cards, concierge services act as a 24/7 personal assistant that comes with your credit card. Whether you're looking for a last-minute gift for a loved one, need to book a restaurant reservation for a business dinner or are trying to pick up tickets to a concert this weekend, your concierge service can organise this for you. While you'll have to pay for the restaurant booking or the gift, the convenience of having someone organise it for you is a free service that comes with the card.
Back to top
HOW DO CONTACTLESS PAYMENTS WORK?
Card contactless payments

Whether it's Mastercard's PayPass or Visa's PayWave, most credit cards come with tap and go functionality. Rather than swiping or inserting your card into the EFTPOS machine and entering your PIN, you can now hold your card within 4cm of the contactless payment terminal and approve the payment. The contactless payment is completed through a radio antenna that's embedded in the credit card and sends radio frequencies to the terminal. At the moment, you can only use tap and go facilities for purchases up to $100. If your purchase is over $100, you might be able to make the payment by tapping your card but you'll need to enter your PIN.
Are contactless card payments safe?
Contactless payments are protected by secure encryption technology and zero liability protection, protecting you against potential fraudulent payments. As the card needs to be within 4cm of the contactless payment terminal to approve a purchase, it's unlikely for your card to be skimmed by a passerby or for your card to approve someone else's transaction. If your card is lost or stolen, most banks will also allow you to temporarily lock or cancel your card.
What mobile contactless payment facilities are available in Australia?
Using NFC (Near Field Communication) technology that is built into your smartphone, you can make tap and go payments using your card at the checkout. Rather than storing your card information on your phone, a unique Device Account Number is assigned, encrypted and safely stored in the Secure Element, a dedicated chip in your device. When you go to make a purchase, it's this account number and a transaction-specific dynamic security code that's used to approve the payment.
Many banks have internal digital payment functions for Android users, but the three main mobile contactless payment options for Australians include Apple Pay , Samsung Pay and Android Pay . Apple Pay is currently available with American Express and ANZ, while Samsung Pay is available with American Express and Citibank, and Android Pay is on offer with a range of banks.
Back to top