No Annual Fee Credit Cards with Rewards
Perfect if you don't spend heaps on your credit card but still want to be rewarded when you do.
We're reader-supported and may be paid when you visit links to partner sites. We don't compare all products in the market, but we're working on it!
There are a handful of cards on the Australian market that allow you to earn rewards points for your spending and pay nothing in annual fees. You'll get the most value out of one of these cards when you pay your statement in full every month. This way, you avoid interest and effectively get your points for free.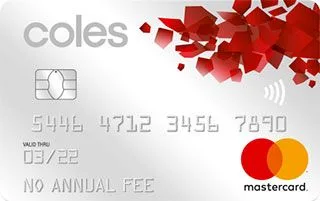 Coles No Annual Fee Mastercard
Receive a $100 off a Coles Supermarket shop

0% p.a. for 6 months on balance transfers
Eligibility criteria, terms and conditions, fees and charges apply
Coles Credit Card Offer
Reward your spending with Flybuys points and $100 off a Coles Supermarket shop. Plus, save with 0% interest on balance transfers for the first 6 months.
$100 off a Coles Supermarket shop when you spend at least $1,000 in the first 60 days
Ongoing $0 annual fee | 19.99% p.a. purchase rate
Earn Flybuys point per $1 spent on eligible purchases
0% on balance transfers for 6 months
Compatible with Apple Pay and Samsung Pay
A comparison of no annual fee credit cards with rewards points
Types of no annual fee rewards credit cards
These are three main types of rewards credit card with no annual fee:
No annual fee rewards cards. These cards usually offer points as part of a credit card rewards program such as Westpac Altitude Rewards or St.George Amplify Rewards. These programs offer rewards that usually include travel, merchandise, cash and point transfers to frequent flyer programs.
No annual fee frequent flyer credit cards. Frequent flyer credit cards offer great rewards for regular globetrotters. These are similar to rewards cards in the way they earn points per dollar spent, except that you can only redeem your points within the frequent flyer program of that specific airline. A few frequent flyer credit cards charge no annual fees, including the American Express Velocity Escape and Qantas American Express Discovery Card.
Promotional offer rewards cards. Some frequent flyer and rewards credit cards may come with a waived or reduced annual fee during the first year. You typically have to pay the full annual fee from the second year onward. This makes it important to look for details or disclaimers on any promotions so that you're aware of any ongoing costs that apply after the first 12 months.
Benefits of no annual fee rewards cards
Here are some of the benefits you can enjoy with a no annual fee rewards credit card:
Bonus points offers. Many rewards credit cards offer bonus points to new cardholders for signing up. However, you might have to spend a certain amount on eligible purchases to unlock and receive your bonus points. For example: "Enjoy 30,000 bonus points when you spend $3,000 within the first 3 months of account opening."
Earn points for every dollar you spend. As with all rewards cards, you will earn a specific number of points per dollar spent on eligible transactions. You can redeem these points for merchandise, gift and shopping vouchers, lifestyle products and services.
Access to 0% purchase rate offers. This feature is popular among rewards credit cards as part of an introductory promotion. While the promotional period lasts, you can save money on interest fees and carry your card balance for longer periods without accruing any interest. But when the promotional period ends, any remaining balance will accrue interest at the standard rate for that card.
Chance to add additional cardholders. Additional cardholders on your credit card account can help you earn reward points faster. Some cards may charge a fee for each additional cardholder, although many of them offer this feature for free.
Modest complimentary extras. Depending on the rewards card, you may also enjoy perks such as complimentary travel insurance, purchase protection, extended warranty on purchases, airport lounge access and concierge services. Higher status cards like black credit cards will offer more complimentary extras than platinum cards. Note that no annual fee rewards cards may not offer as many complimentary extras as rewards cards that charge an annual fee (as the fee can help offset the costs for the provider).
What else should I consider?
There are a number of other features and details you will need to consider when comparing rewards credit cards with no annual fees:
Purchase rate. If you carry a balance on your credit card, a high purchase rate can result in exorbitant interest fees over time. With 0% purchase rate promotional offers, the standard purchase rate will kick in once your promotional period is over.
Eligible transactions. Most purchases are considered eligible transactions for earning rewards on your card, with the common exceptions of cash advances, balance transfers, gambling transactions, government payments, bank fees and bill payments. Consult your card provider or product disclosure statement for your card's specific definition and exclusions.
Other fees. Other fees, such as ATM fees, late payment charges and over-limit fees, may be applied to your account. International transaction fees will also apply to overseas transactions and internet purchases made with foreign merchants.
Point expiry. Most reward programs have an expiry date for the points you accumulate. It's easy to lose track of this if you are not a big spender and don't regularly earn enough rewards points to make frequent redemptions.
Points cap. Some rewards credit cards limit the amount of points you can earn each statement cycle or year. Make sure you consider this cap before choosing a card, so that you can find one that offers the most convenient limits based on your spending habits.
If you're keen to earn reward points on your everyday spending but don't want to pay high fees, it's worth considering a credit card that offers rewards without an annual fee. As always, we recommend that you research all available options and compare cards in relation to your personal needs and spending habits so you can choose the one that's right for you.
Picture: Shutterstock
More guides on Finder