NAB Business credit cards
Manage your corporate expenses with a NAB business credit card.
We're reader-supported and may be paid when you visit links to partner sites. We don't compare all products in the market, but we're working on it!
Whether you want to manage your business cash flow, earn points on corporate expenses or set individual credit limits for your additional cardholders, NAB offers a variety of business credit and charge cards to suit small to medium-sized businesses. You can use this guide to compare NAB business credit cards, discover how they work and determine whether one is right for your organisation.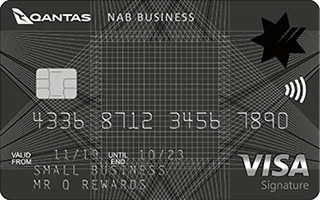 NAB Qantas Business Signature Card
Earn 100,000 bonus
Qantas Points
Eligibility criteria, terms and conditions, fees and charges apply
NAB Credit Card Offer
Collect 100,000 bonus Qantas Points with a NAB Qantas Business Signature Card and manage your business expenditure under a single account.
100,000 bonus Qantas Points when you spend $4,000 within the first 60 days
Annual fee of $295 per card
18.5% p.a. purchase interest rate with up to 44 days interest-free
Must have a registered ABN/ACN and must be registered for GST with a turnover of at least $75,000 per year
Comparison of NAB Business Credit Cards
The benefits and features of NAB business credit cards
The perks, fees and features vary from card to card, but some of the benefits you can expect from NAB business credit and charge cards include:
Manage business expenses. A business credit card could help you manage cash flow and your business expenses under a single account.
Manage and monitor employee spending. If your employees need access to a company credit card, you can request additional cardholders to link to the single account. You can also set individual credit limits for each additional card. This means you can monitor employee spending and manage your corporate costs with convenience under the one account.
Expense reporting systems. Some cards come equipped with transparent expense reports to help you keep track of your business spending.
Interest-free days. If you opt for a business credit card, you can take advantage of interest-free days on business purchases if you pay your balance in full by the due date on each statement. Note that interest-free days are not available for cash advances.
Reward points. Some NAB business credit cards come linked to a rewards program, allowing you to earn points on business purchases. As personal credit cards often exclude business expenses from the list of eligible transactions that earns points, this can help businesses get more value from their credit card.

NAB business tools and services
NAB offers a range of accounts, tools and support services for businesses of all sizes. So if you get a NAB business credit card, you'll also be able to access resources designed to help you manage your finances and achieve your business goals – including NAB Connect and NAB Business Fundamentals.
Manage your accounts with NAB Connect
NAB Connect is an Internet banking tool designed to assist business customers. If you have multiple NAB accounts, NAB Connect allows you to view balances and transact across all accounts including business accounts, personal accounts, credit cards, foreign currency accounts and more.
You can also use NAB Connect to add new users and accounts and manage your card security. As well as these features, it is equipped with the functionality and tools to help reduce administration, avoid manual reconciliation and the ability to manage your business and customer needs. NAB Connect comes with a monthly payment service fee, which is waived if your accounts are bundled in a NAB Business Fundamentals package.
NAB Business Fundamentals package
If you have more than one NAB account, NAB Business Fundamentals allows you to create a personalised package of products to suit your business. You must have a business transaction account and online banking, and then you can bundle these with products including NAB credit or charge cards, NAB BPAY, NAB EFTPOS and NAB Superpay.
Combining your separate NAB accounts into a Business Fundamentals package can help you manage your cash flow, receive payments and save on some costs that come with choosing these products separately. Visit the NAB website for more information and to compare the full range of products you could bundle into your NAB Business Fundamentals.
How to apply for a NAB business credit card
If you've compared your options and decided to apply for a NAB business credit card, you can apply online or in-branch.
The eligibility requirements and necessary documents will vary from card to card, but here are some examples of the types of eligibility requirements you'll need to meet and information you'll need to provide to complete your application.
Eligibility requirements
Age. Applicants must be at least 18 years old to apply.
Minimum income requirement. Most credit cards require applicants to meet a minimum annual income requirement to receive approval.
ABN. You'll need to have an ABN to apply.
Good credit history. You'll usually need a good credit history to receive approval.
As the eligibility requirements vary between products, make sure to confirm the specific card criteria before you apply.
Required documents and necessary information
Some of the information you'll need to provide includes:
Copies of business financial statements
Copies of any interim business financial figures
Copies of personal taxation returns for business partners or directors
The current value of any personal assets and liabilities of all business partners and directors
Balances of any existing loans or lines of credit
A copy of your Australian Taxation Office (ATO) Tax Portal Activity Statement and ATO Tax Portal Itemised Account. These should be no more than three months old.
NAB offers a variety of credit card options for businesses. However, as it isn't the only card issuer to offer business credit cards, you should compare your options before you apply.
Picture: Shutterstock
Back to top