How can I get rid of my credit card debt?
Practical and simple steps you can take to finally pay off your credit card balance for good.
We're committed to our readers and editorial independence. We don't compare all products in the market and may receive compensation when we refer you to our partners, but this does not influence our opinions or reviews. Learn more about Finder.
If you're struggling to deal with credit card debt, take heart. You are not alone and you are not without help. Many people experience credit card debt and find a way through it. With sufficient motivation, time and discipline, you too can enjoy financial freedom again. This guide will take you through the simple steps and tips that you can use to get rid of your credit card debt.
How to get rid of your credit card debt
It's hard to know where to start when you have a lot of debt to deal with. These steps are designed to form a path to financial freedom, and even following them one at a time will help you along the way.
Avoid making new purchases. To get rid of your debt, you must first stop adding to it. Stop spending and start using that money to pay down your existing balance. For absolutely essential purchases, do your best to keep your credit card in your wallet and pay with cash or debit.
Calculate the total amount of money you owe. It's time to face the hard truth. This process might be painful, but it is necessary and short-lived. Get all your account balances together and make a list. Include your debt amounts, the interest you're paying on each of those amounts and any other charges.
Create a budget. Now that you have your total debt amount calculated from step 2, create your budget. Start with your monthly income and figure out your essential monthly expenses. It's time for tightening measures, so expenses should include only the bare necessities such as bills, groceries, petrol and other living expenses you need. After establishing your income and expenses, it's time to create a monthly schedule for repaying your debts. Work out how much you can pay off each month, but be practical and leave a margin for error or emergencies. This budget planner could be helpful.
Set up automated payments. Using your budgeted monthly repayment amount from step 3, set up automated credit card payments to make sure you actually do what you plan to. Set up the payments to come out of your bank account the day after you receive your wages. This is a sure-fire way to stay committed to your budget.
Contact your credit card provider. This isn't a compulsory step, but if you're feeling truly overwhelmed by your debt, it might be worthwhile appealing to your credit card provider for a renegotiation of terms. Creditors are sometimes willing to allow a temporary postponement of payments or a slightly more favourable interest rate. Generally they would rather give you a discount than risk you defaulting on your debt.
Consider a balance transfer. Balance transfers can buy you time to repay your debt without incurring any more interest. This is because balance transfer credit cards offer low or 0% interest on your transferred debt for a promotional period of time, sometimes for as long as 26 months. This might be exactly what you need to get rid of that debt more quickly, not to mention what you will save on interest fees that add hundreds of dollars to your debt every year.
Balance Transfer Credit Card Offers
What if I have multiple credit card debts?
Consolidate your debts onto one card. This follows on from step 6, where you can consider a balance transfer to help with your debt consolidation. As well as giving you the opportunity to save money on otherwise expensive interest costs for a promotional period of time, this will mean you only have to pay off one account. It could also help you save on additional charges, such as credit card annual fees.
Pay off the card with the highest interest rate first. This stems from one school of thought, which assumes that you will save the most money by paying off the account with the highest interest rate first, followed by the account with the next highest interest rate and so on. Naturally, you would still have to make minimum repayments on your other cards during this time.
Pay off the card with the lowest balance first. For some people, paying off the card with the lowest balance first is more motivating. This strategy will reduce the number of outstanding accounts sooner and cuts down on interest charges in the process. Of course, you would still also need to make minimum repayments on your other cards at the same time.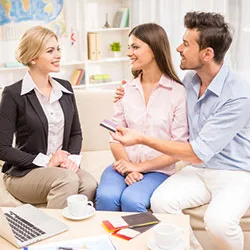 Other tips to help get rid of credit card debt
In addition to the steps above, following these tips can also prove very helpful:
Switch to a card with a lower annual fee. This helps with reducing overall expenses, but can be doubly effective when combined with a balance transfer offer. If you want to minimise your outgoing card fees, you should consider a 0% balance transfer credit card with no annual fee.
Cancel cards you don't use. This tip will help save on annual fees and other charges that you may be paying on your cards. Also, this will help reduce the temptation to spend more money.
Use your savings. Since your savings account could never offer an interest rate as high as the one you're probably paying on your credit card, it follows that you should be using your savings to pay off your credit card debts. Use the cash under your bed and that rainy-day fund to pay off those debts, because they'll just compound with interest if you don't. And once they're paid off, you'll have more money you can put towards your savings.
Make weekly payments. Even though your statement comes monthly, increasing the frequency of your payments will help to reduce the total interest you pay over time.
Request a hardship variation. If you've recently experienced financial difficulty due to verifiable circumstances such as poor health or unemployment and you're struggling to make repayments, you can apply to your issuer for financial hardship variation by phone or in writing. Your credit card provider is obliged by law to consider and respond to this request. If successful, you will be granted temporary relief from your debt repayment. This could include payment postponement, an extended payment time frame or a temporary interest freeze. This can provide some relief in the short-term but is only a temporary measure.
Seek professional help. Gaining control over your debts can be very difficult, especially at the beginning. It can be helpful to get professional advice and there are even a range of free services for debt management that you can consider.
Credit card debt can often seem overwhelming, but by following these steps and tips to help you get rid of credit card debt you can make lasting and sustainable changes in your financial life.
Back to top
More guides on Finder
Credit Cards Comparison
* The credit card offers compared on this page are chosen from a range of credit cards finder.com.au has access to track details from and is not representative of all the products available in the market. Products are displayed in no particular order or ranking. The use of terms 'Best' and 'Top' are not product ratings and are subject to our disclaimer. You should consider seeking independent financial advice and consider your own personal financial circumstances when comparing cards.