4WD and 4×4 Insurance
Find the right cover for your modified, accessorised 4WD vehicle to keep secure on and off the road.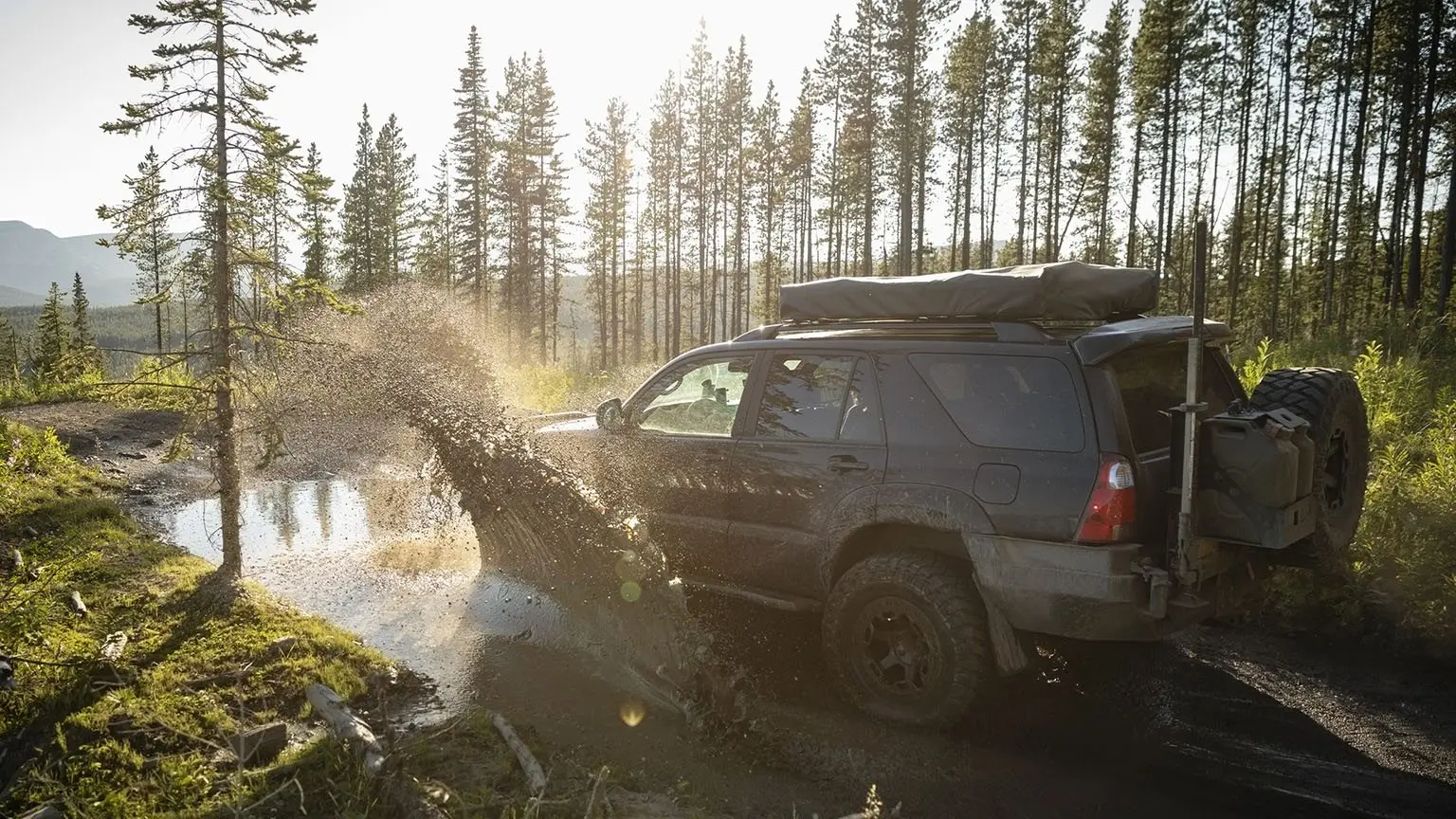 We're reader-supported and may be paid when you visit links to partner sites. We don't compare all products in the market, but we're working on it!
While standard car insurance providers may agree to cover vehicles designed for off-roading on a case by case basis, you may find that your modified or accessorised vehicle needs specialised cover. It really comes down to the work you have done to your vehicle and if fits within the cover of a standard policy.
If you want to drive your car off-road, insurers will usually cover you as long as your car manufacturer has specified that the car was designed for off-road usage. Before you start adventuring, make sure you get the OK from your insurer.
Compare 4WD insurance options
What is covered by specialised off-road 4WD car insurance?
Specialised off-road car insurance policies are often largely equivalent to comprehensive car insurance with a few additional features.
Full cover anywhere in Australia
Comprehensive cover of accessories and modifications
Extended personal effects cover, to include items even while they are not necessarily inside the vehicle
Cover while your vehicle is in transit, including being loaded or unloaded from boats or trains
Includes cover of off-road recovery costs, for recovering an undriveable vehicle
Trailer cover, often included automatically and sometimes as an extra
Before you can get a quote, you'll generally need to discuss it with an insurer and do a more in-depth application.
This is not only because of modifications, but also because you generally need to explicitly mention to insurers that you'll be taking it off road, what kind of driving you do and how frequently you generally do it.
What additional options are there?
The additional options you'll find with off-road car insurance depends largely on the policy. Some insurers might include some options automatically, while others won't have them available at all.
Additional hire vehicle cover: Lets you get a replacement vehicle if you are unable to drive your vehicle due to damage from an insured event.
Excess free windscreen or window glass cover: Replacement of windscreen or window glass with no excess, following an insured event.
Additional off-road recovery costs: Lets you choose an additional cover amount for off-road recovery, where your policy includes this kind of cover.
Optional roadside assistance: This won't help off road, but can still be a useful optional extra to consider.
Emergency accommodation and repair: If you get stuck a long way from home, this policy feature can help cover emergency repairs to get your vehicle operational again, and accommodation costs resulting from needing make unplanned stops.
No fault excess: No excess payable for claims where you are not at fault. Note that with all policies this generally means you will need to be able to prove that someone else was at fault.
Other options can include some savings as well as extra costs. For example, if you only go off-roading occasionally and don't use the 4WD as your daily driver then you might want to look for a limited-use policy option or one that lets you specify a lay-up period.
What won't I be covered for?
The main exclusions to consider when you take out an off-roading policy are naturally whether or not a policy will cover you to take the vehicle on sand dunes, on a bush track or while you make your own track.
Other key exclusions you'll generally find with almost all policies, no matter whether it's standard car insurance or specialised 4WD, are:
No cover while driving under the influence of anything not prescribed by a doctor.
No cover outside of Australia.
No cover while your vehicle was being used for business or hire. If you take passengers offroad for pay, you'll generally want to look at insuring a vehicle for business use.
No cover for rust, deterioration, rust, corrosion, electrical failure or breakdown following a failure to maintain your vehicle.
No cover while using your vehicle in a way that's inconsistent with manufacturer specifications, even if you might have the modifications to do it.
However, just because a policy includes cover while off road, that doesn't necessarily mean you will actually be covered.
There are some other key exclusions which might make or break a policy if you're looking a more standard car insurance policy.
Read the guide to modified car insurance
What impacts the costs?
Think about both the quoted premiums and the excesses when comparing costs. If a policy's premiums seem suspiciously affordable, you might want to pay special attention to the excesses.
More than one excess can apply to a claim:
Basic excess: The standard excess that applies to most claims.
Age or inexperience excess: A driver under 25, or an inexperienced driver will often have an additional excess.
Special excess: A more individual excess applied based on factors such as driving history, type of driving you do, whether you drive in particularly high-risk areas and similar. Sometimes particular claims might incur an additional excess which needs to be paid on top of the others, such as with off-road recovery costs if a policy includes it.
The excess can have a significant impact on your premiums. A higher excess naturally lowers your premiums, and vice versa.
Factors that affect premiums
Premiums are generally based on how likely you are to make a claim.
Age: Under 25s can expect a higher excess.
Location: Where you live affects premiums, as well as whether you park the car in a garage or on the street.
Driving history: Previous claims and driving history affect your premiums.
Vehicle type: The more expensive the car, the higher the premiums. This includes the value of modifications and accessories.
What you use the car for: Insurers will often set premiums according to your driving habits and plans. If you're planning on doing something different it may be a good idea to let the insurer know ahead of time to make sure you'll be covered.
How to get off-road insurance
There are several comprehensive car insurance policies that offer an adequate level of cover for some 4WD vehicles. However, you should look at the Product Disclosure Statement (PDS) to see whether or not you'll actually be covered for the places you plan on going and things you intend to do in your 4WD or 4x4.
You might want to consider getting a specialised off-road 4WD car insurance policy as they specifically cater their policies to off-road 4WD vehicles. They usually come with additional add-ons as well, such as beach and other off-road driving cover.
What is the best 4WD and 4x4 insurance?
There's really no one best policy when it comes to 4WD and 4x4 insurance as nobody is looking for exactly the same level of cover. Nevertheless, there are a few things worth looking out for when it comes to finding the right policy for you. These include:
Cover for beach and off-road driving: If you want to use your 4WD vehicle off-road, make sure your policy actually covers you for going off-road. Some policies for example won't cover you for beach or private property driving. While most insurers will cover you for incidents and accidents that occur on road, they're less likely to cover you off-road – where something is more likely to happen.
Additional off-road recovery costs: This is helpful as if you're stranded off-road, far from a main road, recovery costs can be huge. Being able to choose an additional cover amount for off-road recovery helps reduce out of pocket expenses.
Insure your 4WD vehicle's accessories: Look for an insurer that covers add-ons like specialised tyres, LED headlights and roof racks. These can be really expensive so your insurer needs to know about them or you risk being denied cover should anything happen to your vehicle's accessories.
Cover for gazetted and un-gazetted roads: Off-roading is all about taking your vehicle into territory other cars can't handle. Making sure you have cover for gazetted and un-gazetted roads throughout Australia is crucial, with many roads not on official road maps.
Companies that offer 4WD insurance
While there are several well-known insurance companies that provide 4WD insurance, you may prefer to go with a specialist insurer. Here are some of the providers who offer 4WD insurance:
Club 4×4
DGA Insurance
Affinity Insurance Brokers
Alternatively, a comprehensive car insurance policy may be all you need for your 4WD. It really depends on what you plan to use it for.
Modified 4x4 car insurance
When modifying your car, make sure that you don't compromise your insurance policy. With accessories and modifications you're generally only insured for what's specified in your policy document. With all car insurance, whether standard or specialised for 4WDs, you'll need to specifically ask about modifications.
Depending on the insurer, some might not cover any performance affecting modifications, while others will only cover a few kinds. Custom suspension, engine modifications, roll bars and generally anything that affects how the car handles in any way counts as performance affecting, and can be harder to find cover for.
Unless your policy specifically says they're covered, your modifications may not be insured. That's because modifications can void your policy. For instance, if your 4x4 is lifted more than 50mm, there's a good chance it doesn't meet your state's registration requirements. If you crashed your 4x4, it's likely they won't cover you for repairs – even if you had cover for this – as the modification would invalidate your claim. Be sure then, to outline every modification you've made as if you don't, it's likely it won't be covered.
Picture: GettyImages
More guides on Finder