Coles Mastercard application guide
From eligibility criteria to application details and documents, here's what you need to know to apply for a Coles Mastercard.
We're reader-supported and may be paid when you visit links to partner sites. We don't compare all products in the market, but we're working on it!
You can apply for a Coles Mastercard credit card online in around 15 minutes and could receive a response within 60 seconds of submitting your details. Use this guide to learn more about the Coles Mastercard application process, including the eligibility requirements and details you'll need to provide. We also go through how to apply for Coles Mastercard balance transfer offers and other factors to consider before you apply.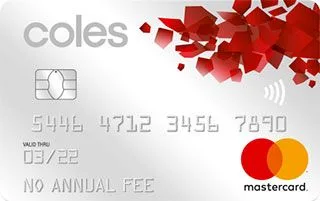 Coles No Annual Fee Mastercard
0% p.a. for 12 months on purchases and balance transfers

$0 annual fee
Offer ends 31 January 2021
Eligibility criteria, terms and conditions, fees and charges apply
Coles Credit Card Offer
Reward your spending with Flybuys points and save with 0% interest on balance transfers and purchases for the first 12 months.
Ongoing $0 annual fee | 19.99% p.a. purchase rate
Earn Flybuys point per $1 spent on eligible purchases
0% on balance transfers and purchases for 12 months
Compatible with Apple Pay and Samsung Pay
How do I know if I'm eligible to apply for a Coles Mastercard?
Once you've found a Coles credit card that you want to apply for, you'll need to check that you meet the card's eligibility criteria. The requirements can vary between cards but will include the following:
Are you over 18 years old? You must be at least 18 years of age to apply for a Coles Mastercard.
What is your Australian residency status? You must be a permanent resident or citizen of Australia, or have the right to work in Australia.
Do you meet the minimum income requirements? The minimum income requirements for Coles credit cards start from $25,000 per year.
You'll see a summary of these requirements – and any other conditions – just before you start filling out your application. At this stage, you can also check the Key Facts Sheet for the card (which includes details of the rates and fees), terms and conditions, and privacy notice. Note that you need to confirm that you accept all these terms and conditions before starting the application.
What details do I need to include on my Coles credit card application?
When you apply for a Coles Mastercard, you will be asked for a range of personal and financial details. The application form breaks this information down into five key sections, which we've outlined below.
Contact details. Here, you just need to provide your full name, mobile phone number and email. You also need to tick a box confirming you have read the privacy statement and other terms and conditions.
Personal details. This section is where you share other personal details, such as your date of birth, residential address, income and employment status. You also need to provide details of your Australian driver's licence or passport for identification.
Work and finances. In this section, you'll need to share more details about your employment status and employer. You'll also need to provide details of any assets or existing debts you have, including other loans and credit cards. As well as these details, you'll have to estimate how much you spend on regular living costs such as rent, mortgage payments, petrol, groceries and luxuries.
Additional options. This section is about what you want from your new Coles Mastercard, starting with whether you want to request a specific credit limit or have one assigned to you. If you want to add an additional cardholder, you'll need to provide their personal details in this section. You can also take out card insurance, set up passwords for telephone support and request a balance transfer.
Document upload. Here is where you need to upload your supporting documentation. This could include recent payslips, bank statements, utility bills or copies of your identification.
After you've filled out these sections of the application, you can review the details you've provided before submitting it. You'll then receive a response within 60 seconds.
Coles Mastercard balance transfer requirements
During your application for a Coles Mastercard, you'll be given the option of requesting a balance transfer for existing debt that you hold with another financial institution. If the Coles credit card you want to apply for has a balance transfer offer, this could help you save on interest charges as you pay off your debt. Here are the key details to keep in mind:
Eligible debts. You can request balance transfers from Australian credit card, store cards or personal loans held with other financial institutions. Note that debts held with Citigroup (or underwritten by Citigroup) may not be approved for a balance transfer. This is because Citigroup is the underwriting issuer of Coles Mastercard credit cards. Learn more in this guide to transferring debts between credit card providers.
Account details. To complete the balance transfer application, you'll need to provide details of the existing cards. This includes the name that the account is held in (which has to match the name on your Coles credit card application) and the financial institution's BPAY reference number.
Minimum balance transfer amount. You must request a transfer of at least $500 onto your new Coles Mastercard.
Maximum balance transfer amount. Subject to approval, you can balance transfer up to 80% of your approved credit limit on a Coles credit card. If the balance transfer you've requested is more than your credit limit, Coles Mastercard may transfer a portion of the debt to your new card instead.
How can I check my application status?
If you want to know what's happening with your Coles Mastercard application at any stage of the process, contact the Coles Credit Card Customer Support team on 1300 306 397 and provide details of your application. This service is available 24 hours a day, 7 days a week.
How do I activate a new Coles credit card?
After your application is approved and you've submitted any requested documents, Coles Mastercard will let you know when to expect your new card. The time it takes to get to you can vary but is usually around a couple of weeks from when the application is fully processed. When you do get your Coles Mastercard, you'll need to activate it using the following steps:
Register for the Coles Credit Card Online Service Centre and log in.
Follow the prompts to activate your card and select a four-digit PIN.
Sign the back of your Coles credit card.
Alternatively, you can call 1300 306 397 and follow the prompts to activate your card. If you activate the card over the phone, remember to still sign the back of your card. This helps secure your card against fraud.


What else do I need to consider when applying for a Coles Mastercard?
Keep these factors in mind so you can make the most of a new Coles credit card.
Introductory offers. Depending on when you apply, a Coles credit card may offer you introductory benefits such as 0% interest, bonus Flybuys points or cashback. These offers are only available for a limited time and usually come with specific requirements you need to meet to take advantage of them. So remember to check this information before you apply.
Platinum status. If you apply for a Coles credit card and get approved for a credit limit over $6,000, you'll be issued with a platinum account. This gives you access to complimentary benefits such as a 24/7 concierge service and complimentary insurance.
Flybuys membership. If you provide your Flybuys membership details during your application, your Coles credit card can then double as your Flybuys membership card. This means your Flybuys barcode will be printed on the back of your credit card, so you can scan it to earn points for spending with Flybuys partners.
Earning more Flybuys. Both the Coles Rewards and No Annual Fee cards also offer points per $1 spent on eligible purchases made anywhere, while the Coles Low Rate Mastercard earns additional points for spending at Coles Supermarkets.
Once you know what's involved, you can start your Coles credit card application online at any time. Just remember to compare a range of credit cards beforehand so that you can choose a card that works for you.
Compare Coles Mastercard Credit Cards
Pictures: Shutterstock
Back to top
More guides on Finder