How to autopay your credit card bills
Autopay lets you schedule your credit card repayments so you never have to worry about missing the due date again. Here's how it works.
We're committed to our readers and editorial independence. We don't compare all products in the market and may receive compensation when we refer you to our partners, but this does not influence our opinions or reviews. Learn more about Finder.
Every credit card requires you to pay at least the minimum amount by the due date that's listed on your monthly statement. If you miss this date, you'll be charged interest in your balance and may have to pay a late payment fee. It can also hurt your credit score, as your repayment history is recorded on your credit file.
If you want to avoid these pitfalls, autopay is one way you can make sure your credit card bills are paid on time every month (others include setting calendar reminders or paying as you go). This guide goes through exactly what AutoPay is and how you can set it up to repay your credit card.
What is Autopay?
Autopay (or AutoPay, depending on your provider) is very similar to other recurring payments or direct debits: once it is set up, your funds automatically come from your savings or transaction account and are used to pay off your credit card on a scheduled date each month. You can set up automatic payments to cover one of the following amounts:
Your minimum credit card payment each month. This is usually around 2-3% of your balance, or a minimum dollar amount of $20-$30, depending on the card.
The card's total closing balance for that statement. With this option, the payment that's taken will be worth the same amount as what you spent on the card during that statement period.
A nominated dollar amount. You can request a payment for any amount that is higher than the minimum required. For example, you could set up an automatic payment for $250 per month.
When you're choosing the autopay amount, keep in mind that meeting the minimum repayment is always necessary. But if you want to keep interest charges to a minimum and avoid ongoing debt, it's better to pay as much as you can afford to pay each month. If what's affordable varies, you can make one-off payments in addition to the scheduled autopay payments.
What's the difference between autopay and autosweep?
Autopay is a recurring payment you can set up to manage your credit card repayments. Autosweep is a feature some banks offer when you have multiple accounts to help avoid declined payments. With autosweep, if you try to pay for something with one account but don't have enough money, the service will automatically check your linked accounts and transfer funds in real-time so that the payment goes ahead. It's sometimes also known as a "sweep facility" and usually links a savings and transaction account together to offer benefits for both accounts. You can learn more about automatic savings plans and features in this Finder guide.
Advantages and disadvantages of autopay
Pros
Saves time. Rather than having to fill in your details each month and organise the payment, Autopay is more convenient and reduces the work you need to put in to pay your bills on time.
Avoids extra fees. You can avoid the possibility of late payment fees, as well as processing fees that may be charged for some types of repayments (usually mailed cheques or Bank@Post).
Improves credit. Building a history of on-time payments can increase your credit score. This is helpful if you ever want to apply for a new credit card, a personal loan or a mortgage.
Security. Funds go directly from your chosen bank account to your credit card. Your money is handled electronically and securely by your bank account provider and your credit card provider, making it easy to track and process.
Cons
Sufficient funds in your account. If you've set up autopay for your credit card, you need to make sure you have enough money in your bank account to pay the bill. If you don't have enough money in your account, the transaction will usually bounce and could attract dishonour fees.
Changes to your bank balance. If the amount you spend on your credit card changes from month to month and your autopay is set to pay the minimum amount or the full balance, you won't know how much is being taken from your bank account unless you check your statement. You can avoid this uncertainty by nominating a fixed dollar amount that's higher than the minimum.
You still need to check your accounts. Even if you have autopay set up, you should check your credit card statement each month to find out how much is due and to check all the transactions are correct. You should also make sure you have enough in your bank account for the automatic payment to come out. If you don't think you can pay that amount, contact your credit card provider to cancel the autopay and discuss other payment options.
How to set up autopay for your credit card
Get an autopay request form by contacting your credit card provider or downloading one from your provider's website.
Fill in the form with details of your card, your chosen autopay amount and the Australian bank account you want the money to be taken from.
Submit the form online, via secure email, in-branch or by mailing it to your provider.
Wait for your credit card provider to confirm the autopay has been set up. Applications usually take up to six weeks to be processed. In the meantime, you still need to make any required credit card payments using BPAY or another one-off method shown on your statement.
What can I expect from the application form?
You can see an example of the card Autopay request below. As you can see, you'll need to provide your full name, contact details and credit card account details. Below is an example of an autopay form.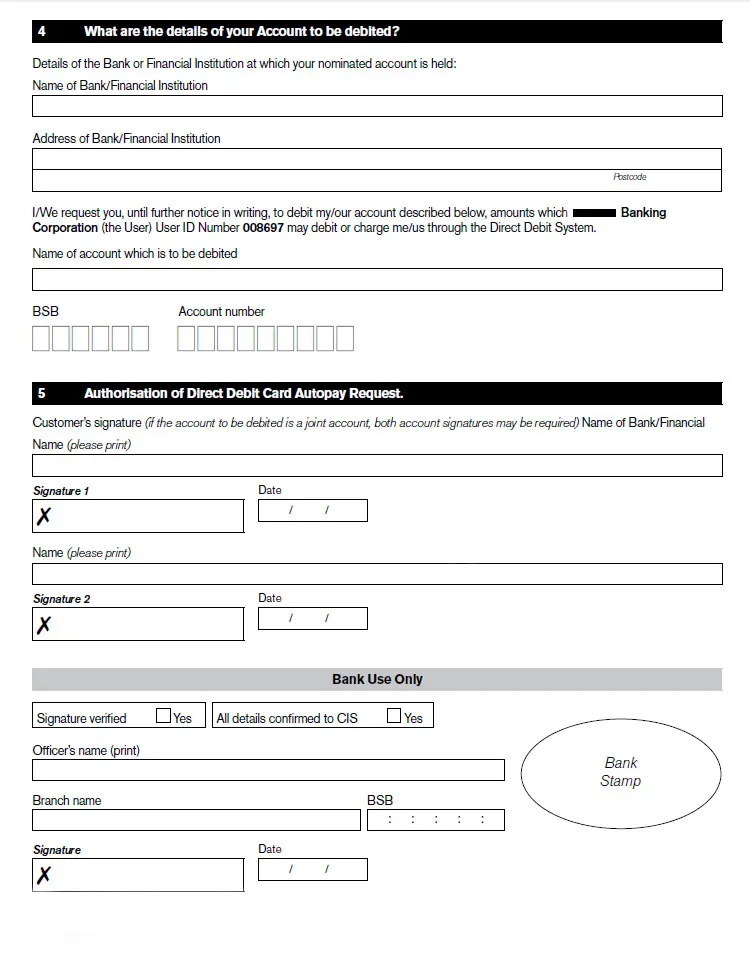 Although individual details can vary slightly, most credit card providers offer an automatic payment option to help you manage your account balance and payments. If you want to try out this option, contact your provider to complete the autopay form. And remember: you can always cancel the recurring payment and go back to one-off repayments if you decide it's not working for you.
Frequently asked questions
More guides on Finder
Credit Cards Comparison
* The credit card offers compared on this page are chosen from a range of credit cards finder.com.au has access to track details from and is not representative of all the products available in the market. Products are displayed in no particular order or ranking. The use of terms 'Best' and 'Top' are not product ratings and are subject to our disclaimer. You should consider seeking independent financial advice and consider your own personal financial circumstances when comparing cards.