How to AutoPay your credit card bills
Set up AutoPay and never forget to pay another credit card bill.
Each statement period, you're required to pay at least the minimum amount by a set due date. If you forget to do this, not only will you start collecting interest and growing your debt, you will also be charged a late payment fee and could receive a black mark on your credit file. If you sometimes forget to pay your credit card balance and want to keep your debts in check and your credit file in good shape, AutoPay is one way you can make sure your bills are paid on time every month.
Use this guide to understand what AutoPay is and how you can set it up to get your credit card bills in order.
What is AutoPay?
AutoPay is very similar to direct debit, your funds automatically come from your savings or transaction account and are used to pay your off your credit card. You can set a minimum credit card payment each month, the total balance outstanding or set a certain amount each month. While meeting the minimum repayment is necessary if you don't want to receive a late payment fee and a mark on your credit file, it's better to pay as much as you can to keep your debt to a minimum.
Advantages and disadvantages of AutoPay
Pros
Saves time. Rather than having to fill in your details each months and organise the payment, AutoPay is more convenient and reduces the work you need to put in to pay your bills on time.
Saves money. You can avoid the possibility of late payment fees and postage costs of mailing your payments.
Improves credit. Building a history of on-time payments can improve your credit history. This will be very helpful if you ever need to apply for an increased credit limit, a new credit card, a personal loan or a mortgage.
More security. Funds are taken directly out of your account and are paid straight into your bills electronically. Your money is handled electronically and is only handled by the parties that are involved and should be protected by online purchase protection from your credit card.
Cons
Sufficient funds in your account. If you've set up an AutoPay, you need to make sure you have enough money in your account to pay the bill. If you don't have enough money in your account, the transaction will bounce and you could receive the late payment fee. Even if you have AutoPay set up, make sure you check your statement each month and know exactly how much you need to pay off and adjust your AutoPay accordingly.
Incorrect amount paid. Each month, you're required to pay a minimum amount of at least 2 to 3% of your total balance. So if you're spending different amounts month-to-month rather than paying down a steady debt, you'll need to adjust your AutoPay payment to make sure you're at least meeting the minimum repayment.
How can I set up AutoPay?
Fill in a 'Card AutoPay Request' form supplied by your bank either online or in-branch.
After you've completed the form, hand it into your local branch. If the form is completed online, then submit it to your lender.
Your bank will inform you when the AutoPay arrangement will commence. Application usually takes up to six weeks to be processed. In the meantime, you still need to make manual payments.
What can I expect in the application form?
You can see an example of the card AutoPay request below. As you can see, you'll need to provide your full name, contact details and credit card account details.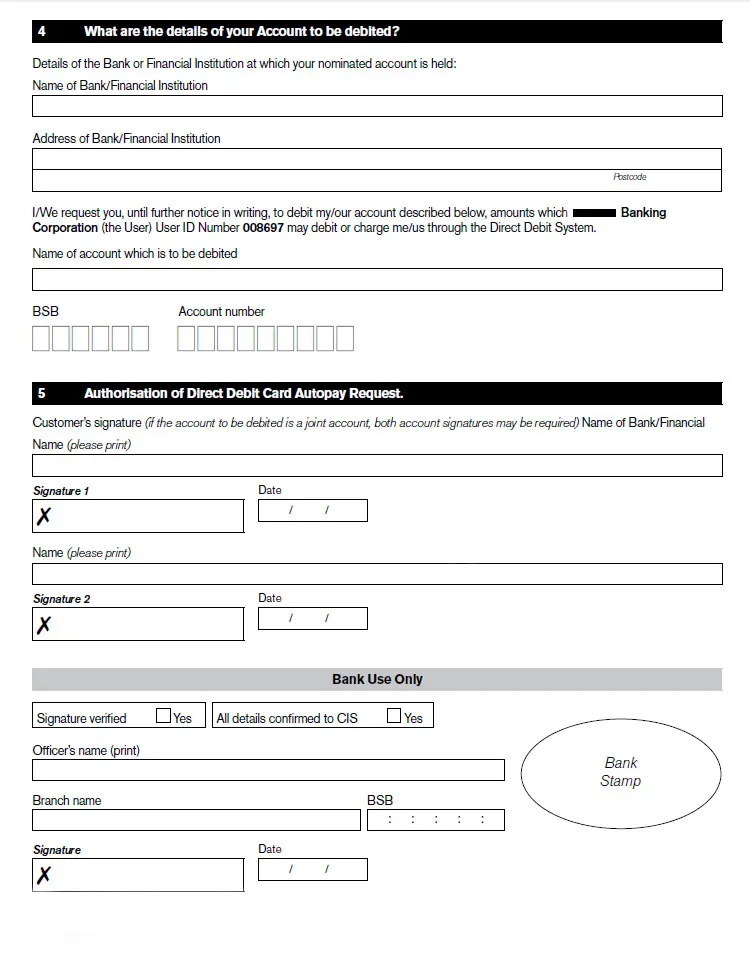 Frequently asked questions
Related Posts
Credit Cards Comparison
* The credit card offers compared on this page are chosen from a range of credit cards finder.com.au has access to track details from and is not representative of all the products available in the market. Products are displayed in no particular order or ranking. The use of terms 'Best' and 'Top' are not product ratings and are subject to our disclaimer. You should consider seeking independent financial advice and consider your own personal financial circumstances when comparing cards.