Apia Life Insurance
Looking for affordable life insurance that will still provide the necessary cover? Compare Apia Life Insurance options.
We're reader-supported and may be paid when you visit links to partner sites. We don't compare all products in the market, but we're working on it!
If you are over 50 and looking for life insurance, you will probably have found that most insurers will charge more for your coverage at that age. That is why you need to work with an insurer who specialises in senior's life insurance. Not only will the premiums be more affordable, the products will be perfectly tailored to your stage in life. Moreover, the people you speak to when you apply and manage your policy will understand your needs and be able to offer you relevant and informed help and advice.
Compare direct life insurance policies
An adviser can help you find cover from trusted life insurance brands.
Get competitive quotes from multiple brands

Lower rate of declined claims (according to ASIC)

Save time and effort
---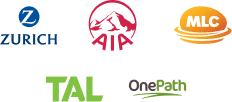 Learn More About APIA Life Insurance
---
Benefits of Apia Australia for your insurance needs
Instead of penalising people over 50 with higher life insurance premiums, Apia recognises the experience you have gained over the years, and rewards you for it. Apia offers home insurance, car insurance, caravan insurance, boat insurance, motorhome insurance, travel insurance and a range of life insurances, which all come with the backing of one of Australia's leading insurance and financial services organisations.
Apia now forms part of Suncorp, but their business launched over 25 years ago, with the same goals to offer a specialised and affordable service to over 50s who were looking for insurance products. Apia makes sure to offer world class service to every customer and inquiry, and the company is constantly working to ensure that they provide the highest quality insurance products for Australians over 50, while maintaining personal service.
The result of this dedication to their core values sees Apia with more than 700,000 customers across Australia, and with a network of branches run by more than 450 staff, to make sure that they maintain their position in the Australian insurance market for many more milestones to come.
Looking to switch insurance policies?
---
Apia Insurance product offerings
As you enter your 50s, the inevitability of illness, injury and death becomes more inescapable than ever. However, rather than dwelling on what could happen to jeopardise your long awaited retirement plans, consider the life insurance options from Apia, and protect your plans and your future with the right policy, so you can get on with your life.
---
Apia Funeral Insurance
With Apia, you can choose a funeral plan, which offers you:
Financial freedom for your family to plan your final farewell. When a loved one dies, the last thing your family wants to be doing is worrying about how to pay for a funeral arrangement, that is why the Apia funeral plan offers up to $25,000 of coverage to help your loved ones pay for your funeral and final expenses. The lump sum benefit amount is usually paid out within 24 hours of the claim being approved.
Guaranteed acceptance. You don't have to complete any forms or have a medical or blood test to apply.
---
Apia Injury Insurance
Alternatively, to offer cover and benefits while you are still alive, you can choose the Apia injury support plan, which features:
Coverage for accidents and injuries.If you become injured and unable to complete your regular daily tasks, Apia can pay you a benefit amount of up to $100,000 to help you pay for housekeeping services, transport or your medical expenses. You will be covered 24 hours a day, seven days a week, no matter where you are in the world, and coverage is inclusive of the injuries and incidents in your policy document.
Easy application. You don't need to complete any forms or undergo a medical or blood test to apply for Apia's injury support plan. You are also guaranteed acceptance, and in your application you can choose from a range of packages which suit your needs and your budget.
Your choice of payment options. You can choose to pay your premiums fortnightly, monthly or annually, to suit your budget and cash flow needs.
Comparing and applying for life insurance is usually something we are doing because know it's the right thing to do, which is why working with an insurer like Apia, who understand your needs, your lifestyle and your life insurance concerns, can make the whole process faster, easier and more enjoyable. Apia is dedicated to serving its niche market of over 50s in Australia, so that you can feel confident with your new policy, knowing your future and your loved ones are in good hands.
More guides on Finder