Tap and go: What you need to know about contactless payments
You can make fast and secure tap and go card payments without entering your PIN when you use payWave and PayPass.
To make a tap and go payment, all you need to do is wave your bank card above a payment terminal and you can make purchases of up to $100 without inserting your card or entering your PIN. This guide helps you compare cards with tap and go functionality, understand how the technology works and learn how to keep your contactless payments secure.
If you're looking to make contactless payments using your smartphone instead of your debit card, read our guides on Google Pay, Apple Pay and Samsung Pay to find out more.
What is contactless payment?
A contactless payment, commonly referred to as a tap-and-go payment, is a capability incorporated into debit or credit cards that allows you make in-store purchases faster. When you make a purchase of up to $100 at a merchant that has a payment terminal, you just need to hold your card within 4cm of the terminal to approve the purchase without entering your PIN. This is why it's called a contactless payment, because your debit card doesn't need to make contact with the terminal for the payment to work. If the purchase is over $100, you can still make a contactless payment but you'll need to enter your PIN.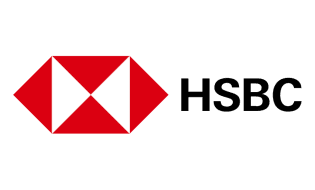 HSBC Everyday Global Account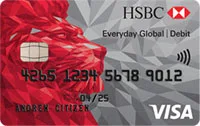 Bank Account Offer
Special offer: $100 cash bonus for new HSBC customers.
Earn 2% cashback on tap and pay purchases (T&C's apply).
Enjoy no minimum ongoing balance or transaction requirements and the flexibility to hold up to 10 currencies. Apple Pay and Google Pay available.
Monthly account fee: $0
Linked debit card: Visa
ATM withdrawal fee: $0
Overseas EFTPOS fee: 0%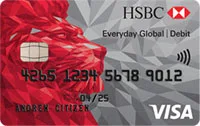 HSBC Everyday Global Account
New HSBC customers get a $100 cash bonus
Earn 2% cashback on tap and pay purchases (T&C's apply)
$0 monthly fee and $0 ATM withdrawal fee
Hold up to 10 currencies
Compare bank accounts with tap and go payment options
How does tap and go technology work?
Credit cards, debit cards and other devices including smartphones use Near Field Communication (NFC) technology to make secure, contactless payments. The chip in the debit or credit card communicates with the chip in the payment terminal to authorise and process the transaction from a few centimetres away.
The embedded chip allows you to wave your card or smartphone device over a contactless payment terminal (eg, Tyro EFTPOS, Albert EFTPOS or Square) without having to swipe or insert the card into the terminal.
What are PayPass and payWave systems?
PayPass is the name of the contactless payment function offered by Mastercard, and payWave is the contactless payment function offered by Visa. Both PayPass and payWave function in the same way, and are commonly referred to as simply "tap-and-go" rather than their correct brand names.
So if you've got a Visa debit card, you'll technically be using payWave to make contactless purchases. If you've got a debit Mastercard, you'll be using PayPass. Same technology, just different names.
How do I set up payWave or PayPass?
All new bank cards come automatically equipped with contactless payment technology – Visa payWave and Mastercard PayPass. Your card will clearly display "PayPass" or "payWave" in the bottom right hand corner. Just activate your new bank card and you're ready to go.
If you have an older card that doesn't already come equipped with tap-and-go functionality, you can simply contact your bank and request a new debit or credit card be sent to you.
Is there a difference between contactless payment on my credit or debit card?
If your contactless card is a debit card, all your payments will be drawn from your transaction or savings account (via the credit card system). If your contactless card is a credit card, transactions will always be drawn from your credit card account.
How do I make a contactless tap-and-go payment?
The beauty of making a contactless payment is that it's super fast and really easy to do.
Step 1. Make sure the payment is less than $100, and check that the merchant accepts contactless payments.
Step 2. When the merchant asks how you'd like to pay, let them know you'd like to tap and go.
Step 3. Confirm the transaction amount is correct (you should do this regardless of how you're paying).
Step 4. All you need to do is hold your card above the terminal and wait until you see it's been approved. Done!
Where can I use my card to make contactless payments?
You can make contactless payments wherever PayPass and payWave are accepted. These days it's most places in major Australian cities including at supermarkets, department stores, petrol stations, cafes and public transport top-up machines. Look out for the contactless payment symbol on the payment terminal.
Are tap and go payments safe?
There are a lot of measures in place to ensure you don't accidentally make a payment without meaning to, or that someone can't hijack the signal to rob you. Thanks to these, and additional safeguards put in place by Visa, Mastercard and Australian banks, contactless payments are in some ways even more secure than classic debit or credit cards.
You don't have to hand your card over. Your debit card won't leave your hands, reducing the risk of someone skimming your card or copying the card details.
Unique transaction codes. When you make a payment, the transaction will be assigned a unique number that isn't specific to your device. This prevents you from accidentally being billed twice, and makes sure all payments are clearly tracked.
$100 purchase limit. Even if your card is compromised, there is a $100 per transaction maximum in Australia for tap-and-go payments. This means you'll have to enter your PIN or sign as usual for larger transactions, but it also means people can't steal as much if they do manage to get their hands on your card.
Built-in encryption. All cards can naturally be read by certain devices, and just like updating your software, there are security benefits to going for the newest cards available.
Additionally, you're protected by Visa and Mastercard's zero liability policies. These state that you will not be held liable for fraudulent or unauthorised transactions made on your Australian issued cards, within reason.
What's my tap and go payment limit?
With contactless payment you can make purchases of up to $100 without entering your PIN. If the purchase is over $100, you can still make a contactless payment but you'll need to enter your PIN.
Are there any hidden charges to tap and go?
Waving the card next to a terminal instead of inserting generally won't cost you anything extra. However that's only what you see as a customer. On the other end, choosing to tap-and-go can result in different costs for the retailer.
If you're making a purchase with a debit card – inserting, pressing "Cheque" or "Savings" and then putting in your PIN – the payment will be processed through an EFTPOS system. However if you're using payWave or PayPass the payment will often be processed through a different system – the credit card networks owned by Visa or Mastercard.
The RBA estimates that retailers pay an average of about 0.55% of the transaction's value in a "merchant service fee" to their bank when your payment goes through the credit card network. But if your purchase goes through the EFTPOS system, this fee drops to 0.15%. All that tapping of debit cards is probably costing retailers hundreds of millions a year.
As a consumer you probably won't notice any of this going on in the background, but it may mean for now that the price of the goods you're purchasing may slightly increase to cover the merchant costs. A business may also try to pass the merchant fee onto you*.
Australian banks were given a recommended deadline of April 2018 to reduce fees charged to merchants on tap-and-go payments by giving the option of choosing EFTPOS instead of credit. The banks say they will now look to implement this sometime in 2019.
*Note: From 1 September 2017, businesses are not allowed to pass on excessive surcharges to consumers on credit and debit transactions made using PayPass and payWave.
How long does it take for a contactless payment to come out of my account
Contactless payment transactions are usually processed within 3-5 business days, but it can take longer. While the transaction is pending, the purchase may be deducted from your available funds.
The pros and cons of tap-and-go payments
Pros
Convenient. Just tap your debit card. No need to enter a PIN or sign a receipt on transactions under $100. If most people start using contactless cards, it can also lead to quicker transaction and shorter queues.
Safe. No typing errors, such as incorrectly keying your PIN or accidentally pressing cancel.
Secure. Backed up by the guarantees offered by the cards and the latest security technology.
Cons
Misuse. Since the card doesn't require a PIN or a signature for payments of up to $100, you cannot rule out its misuse completely. This can happen if you don't realise you've lost your card quickly enough, or even if someone you know decides to use your card without your knowledge.
Acceptance. While contactless payments are extremely popular in Australia, some merchants may not have a contactless terminal.
$100 limit. While the $100 limit is in place for your security, you'll need to enter your PIN for any purchases larger than this amount.
Related Posts