Life insurance for people over 65
Over 65 and looking for life insurance? Get affordable cover tailored to your needs.
We're reader-supported and may be paid when you visit links to partner sites. We don't compare all products in the market, but we're working on it!
Even at the age of 65, life insurance is an important consideration. Your children may no longer be financially dependent on you, but that doesn't mean your financial responsibilities are over. To retire as comfortably as possible, you'll need to ensure the following are accounted for if anything happens to you:
Outstanding debts including mortgage and personal loans
Funeral expenses
Ongoing costs of your partner
Estate planning
House keeping expenses
Luckily in Australia, theres a range of products available for people over 65. You can either go directly with an insurance brand or speak to a consultant if you need some help.
Get Australian life insurance quotes securely
An adviser can help you find cover from trusted life insurance brands.
Get competitive quotes from multiple brands

Lower rate of declined claims (according to ASIC)

Save time and effort
---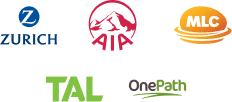 Continue reading below if you'd like to learn more about life insurance cover.
What expenses might life insurance cover for people aged 65 and over?
Your needs change with your life stage. It's why regular reviews of one's policy are important to ensure they do not have too much or too little cover in place. While everyone's needs may be different, some typical expenses that life insurance can cover for people aged 65 and over include:
Outstanding debt. Policy owners in this age bracket may still have money owing on their mortgage and other personal debt.
Medical expenses. Medical expenses that may be incurred prior to one's death can be a significant expense for one's spouse or family to cover.
Funeral Expenses. Life cover can help cover the expenses of one's funeral. Many policies will offer funeral advancement benefit that will make an advance payment of a portion of the sum-insured to a defined amount.
What life insurance policies offer cover for people over 65?
Minimum and maximum entry age on life insurance policies in Australia can vary between providers but generally people can take out cover if they are between the ages of 18 and 75.
| Brands | Life Cover Maximum Entry Age | Policy Expiry Age |
| --- | --- | --- |
| | 75 | 100 |
| | 74 | 99 |
| | 75 | 100 |
| | 69 | 99 |
| | 64 | 99 |
| | 69 | 80 |
| | 65 | 99 |
| | 79 | 99 |
| | 70 | 100 |
| | 59 | 75 |
| | 75 | 100 |
| | 69 | 99 |
| | 70 | 85 |
The figures in this table were correct at the time of publishing. Make sure you check the Product Disclosure Statement (PDS) to see you if you're eligible to apply.
How do expiry ages work?
This will depend on a range of factors including occupation and sum-insured but many policies will provide cover to the policy anniversary prior to the age of 100.
Term Life insurance features and benefits for people over 65 to consider
Term life insurance is the standard type of life insurance you can get in Australia. It covers you for a period of time (for example - until the age of 99) and will pay out to your loved ones if you die during this time.
Benefit indexation. Ensures your premiums keep pace with inflation over the life of the loan.
Premium freeze. Freeze premium payments for a specified period. This feature is generally only available with stepped premiums.
Terminal illness benefit. Receive 100% of your life cover sum-insured if a certified medical practitioner diagnoses you with a terminal illness.
Final expenses benefit. An advanced payment of a portion of the sum-insured is paid to nominated beneficiaries to help them cover immediate expenses following death.
Financial planning reimbursement. Beneficiaries are reimbursed for the cost of obtaining a financial plan from a certified financial adviser.
Trauma insurance for people over 65
People over age 65 may wish to consider adding Trauma Insurance to their life insurance plan, either as a linked benefit on their policy or as a standalone policy. Trauma cover can offer policyholder protection for up to 50 different medical conditions at a time in their life that they may be more susceptible for suffering a serious condition. Conditions covered can include heart attack, stroke, coma, out of hospital cardiac arrest and loss of independence.
Key features of a trauma insurance policy to consider
Be sure to go over these features
Buy-Back Feature. If the Trauma cover is linked to the life insurance plan and a benefit is paid for a trauma event, the life insurance sum-insured is reduced by what was paid for the trauma benefit. The buy-back feature allows the policy owner to repurchase the sum-insured 12 months after the claim was paid.
Chronic Diagnosis Advancement Benefit. Some policies will provide policy owners with an advancement of a portion of the sum-insured following the diagnosis of a specified condition.
Conversion to loss of independence. As most trauma policies will only provide cover to age 70, some policies will allow policy owners to convert the benefit to a "loss of independence" benefit. This benefit can generally remain in force until the age of 100.
Range of conditions covered. It is important for policyholders to review the range of conditions covered before application. Many medical events will have conditions on when a benefit may be paid.
Features and benefits for both trauma and life insurance will vary between policies making it even more important to get a clear understanding of what will and won't be included in your policy.
Tips on getting life insurance quotes for people over 65
In addition to the benefits and features of the policy being applied for, there are some key things to look out for when comparing quotes on life insurance policies.
Sum-Insured. What is the maximum amount of cover that can be taken out on the policy?
Cost. Are you getting good value for money? Does the policy have expensive extras that you don't really need?
Waiting period. How long is the period between the claim being made and the benefit being provided to the policy beneficiaries?
Maximum entry age. What is the cut-off age for applying for cover?
Cooling off period. What is the duration of time after the policy being taken out that cover can be cancelled and premiums refunded?
Claims process. What is the insurance provider's claims process? This should be stated on the insurers website.
Cover renewal. To what age can cover be renewed?
Of course these are just a few components of the policy to review when comparing quotes. An insurance consultant can help you compare different policies and explain any exclusions that may apply.