ClearView Life Insurance
ClearView Life Insurance: Get cover from a brand with the highest level of customer satisfaction during claim time.
With over 20 years experience, ClearView has grown to become one of the leading insurance companies on the Australian market. Clearview offers a comprehensive range of investment, superannuation, retirement and life and income protection options to ensure you and your family's financial future is protected.
We're reader-supported and may be paid when you visit links to partner sites. We don't compare all products in the market, but we're working on it!
Details
| | |
| --- | --- |
| Product Name | ClearView Life Insurance |
| Maximum Cover | No limit |
| Funeral Benefit | $25,000 |
| Guaranteed Renewability | |
| Online application | |
| Cooling-off (days) | 30 |
| | |
| --- | --- |
| Maximum cover amount | No set maximum, but it must be reasonable for your financial position and circumstances |
| Age of entry | 18 to 75 for stepped premiums, 18 to 45 for level premiums and 30 to 60 for hybrid premiums. |
| How do I apply? | With an adviser over the phone |
Based on the Life Insurance plan. Age of entry varies with the type of premium you choose.
About ClearView
ClearView is a combined financial services provider with a focus on building wealth and helping Australians reach their long term financial goals. The life insurance solutions are designed to help protect your wealth, and your family. In short:
ClearView started out as NRMA Life in 1976, and has been listed as ClearView since 2010.
Policies are often sold through a financial advisor to help find a match for your financial situation
The wide range of cover types and policy options available can make it easier to tailor your cover in many ways, for both affordability and effectiveness.
Cover options available from ClearView
Depending on your insurance needs, you can choose between the following products:
Life insurance
This policy will pay a lump-sum benefit amount in the event of your death (accident or any other cause) or if you're diagnosed as terminally ill with less than 12 months to live. This policy can be purchased directly or through a ClearView financial adviser.
There is no maximum benefit for this cover as long as the amount applied for is reasonable when compared to your personal financial circumstances.
Income Protection
The ClearView Income Protection pays an ongoing monthly benefit of up to 75% of your pre-disability income in the event you can't work as a result of sickness or injury. This benefit is paid monthly.
Total and Permanent Disability (TPD) Cover and Accidental TPD cover
ClearView TPD insurance will pay a lumpsum benefit in the event that you are permanently unable to return to work due to illness or injury. You can structure your insurance to have TPD as a standalone cover or bundled with your life insurance.
The maximum cover for TPD insurance is:
$2,000,000 (if applying for Home duties TPD definition)
$3,000,000 (if applying for Non-working TPD definition)
$5,000,000 (if applying for Own or Any occupation TPD definition)
Trauma Insurance
This benefit allows you to maintain a certain quality of life when suffering from a specific illness or injury as defined by the terms of the policy. Upon diagnosis, you will receive a lump-sum benefit that can be used to cover the cost of treatment, as well as pay off debt or finance an extended leave from work. You can apply for a maximum amount of $2 million for this type of cover with ClearView.
Get a quote for ClearView Life Insurance
Get in touch with a life insurance advisor
An adviser can help you find cover from trusted life insurance brands.
Get competitive quotes from multiple brands

Lower rate of declined claims (according to ASIC)

Save time and effort
---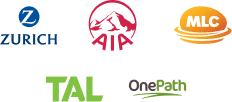 What types of exclusions exist?
For ClearView life insurance there is a 13 month exclusion for suicide and self inflicted harm, which applies after taking out a new policy or reinstating cover. If you have increased cover, this will also apply to the increased amount for 13 months.
With other forms of death cover, such as death cover with trauma insurance, there is a blanket exclusion for deaths caused directly or indirectly by self inflicted acts, at any time. Similarly, these will typically have not pay out for deaths resulting from participating in any criminal activity, being under the influence of alcohol or taking any drugs other than as prescribed.
Specific exclusions may also apply to your policy, such as for specific high risk pastimes, and you'll have a chance to agree to them before taking out cover.
How much will insurance from ClearView Cost Me?
The amount you pay in premiums is determined by the following factors:
The type of cover you choose
The amount for which you'd like to be insured
Your age
Extra options added to upgrade your policy
Personal factors about your health
Habits and lifestyle.
Your premium will also include the relevant additional charges and government taxes.
Payment options
Depending on your policy and cover type, your premium structure might be level, stepped or hybrid.
Level: Your premiums will not increase based on your current age.
Stepped: Your premiums will increase based on current age.
Hybrid: Available between age 30 and 60 with Life, TPD or Trauma cover, and between age 30 and 55 with select income protection policies. Your premiums start off level for the first 7 years, and then convert to stepped.
How do I make a claim with ClearView Insurance?
If you need to make a claim, make sure to give notice of your claim within 90 days of the insured event. Have the following ready to ensure your claim is processed quickly and efficiently:
The fully-completed claims form
The policy certificate
Proof of age
Any other documentation or evidence the insurer might require
Some more questions you might have about ClearView Life Insurance
Here are a few questions and answers about ClearViews' policies.