We're reader-supported and may be paid when you visit links to partner sites. We don't compare all products in the market, but we're working on it!
Both life insurance and income protection protect you in different ways, so what you need will depend on your circumstances.
If you have a family or someone who depends on you, life insurance can pay them a lump sum when you die. But if you work and rely on your income to pay the bills, you also need to think about income protection insurance, which can pay you a monthly benefit if you get sick or are injured.
Main differences between life insurance and income protection
Here's what both do in a nutshell:
To give you a better idea of how they differ, here's a breakdown of the main differences between life insurance and income protection.
| | Life insurance | Income protection |
| --- | --- | --- |
| How do they pay you? | In one lump sum | In monthly instalments, similar to your income |
| When does it pay out? | If you die or become terminally ill | If you become sick or injured and aren't fit to work |
| How much does it pay out? | You choose the amount when you purchase a policy | 75% of your monthly income |
| What can it pay for? | Debts, mortgage payments, living expenses for your family and more | Everyday expenses and bills, similar to your income |
| What's the cover expiry age? | You can usually hold a policy until the age of 99 | Policies can usually be held to the age of 65, but some will allow an extension of cover to age 70 |
| Is there a disability benefit? | As an additional option that provides you with a lump sum if the person becomes totally and permanently disabled | Yes, it usually comes as a built-in benefit that provides you with an ongoing benefit if you are unable to work due to total or partial disablement |
| Maximum entry age | Generally about 75 (Some insurers offer cover up to 80) | Generally about 64 |
Which one do I need?
Ideally, you could have both because life insurance and income insurance protect you for different situations. Understandably though, you might be reluctant to pay for two policies, so ask yourself this: does anyone depend on you?
If you answered YES, then you need to consider life insurance first and foremost. If you died, your family or partner would be left with a massive financial burden. Without a life insurance lump sum, they could be forced to move house, schools and significantly downgrade their current standard of living.
If you're the primary or sole earner and you pay the bills, income protection could be really helpful as well, particularly if you don't have or want to dip into your savings.
If you answered NO, then income protection is probably the better option. Most of us rely on our income to pay the bills and keep a roof over our heads. If you got sick or injured and needed to take some time off work, how could you do that? This is where income protection comes in handy.
Should I get life insurance and income protection combined?
If you work full-time, have a family or someone who depends on you and you want peace of mind, you should consider getting combined life insurance and income protection or getting two separate policies. Here's an example of what this could look like:
Daniel, a 42-year-old sales manager, was married with three children. He took out a life insurance policy and income protection policy with the following benefits:
A life insurance benefit of $1,000,000
An income monthly benefit of $4,000.
Daniel was suddenly diagnosed with lung cancer, which forced him to stop work and receive treatment for two years. Because he had income protection, he was able to continue to pay the bills once he'd served the waiting period. This included mortgage repayments, school fees, utilities, food and other everyday expenses.
When Daniel passed away, their life insurance policy paid out the $1,000,000 benefit to his family, allowing Daniel's partner to pay off the mortgage, credit card debt and pay for other everyday living expenses.
Compare income protection or life insurance from these brands
Compare provider features in the table below and click through to get a quote. You can typically get a combined policy when you head to the provider's website.
An adviser can help you find cover from trusted life insurance brands.
Get competitive quotes from multiple brands

Lower rate of declined claims (according to ASIC)

Save time and effort
---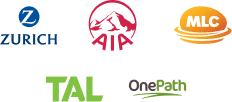 Common questions people ask when considering life insurance and income protection in Australia
More guides on Finder