Life insurance vs Income Protection Insurance
Do you work full time? Do you pay a mortgage or do you rent? Have you got any children?
We're reader-supported and may be paid when you visit links to partner sites. We don't compare all products in the market, but we're working on it!
These are some of the questions that determine whether you need life insurance, income protection insurance, or both.
If you work, are married and have children, you can't get by without life insurance. However, if you're single and rent but work full time, income protection insurance could be all you need. Having a look at your life situation is the first step in deciding which type of cover is for you.
What's the difference between the two?
Both can be bought through a life insurer. So what's the difference?
Life insurance
Life cover pays a lump sum to your partner or family members (your nominated beneficiaries) if you die or are diagnosed with a terminal illness.
Income protection
Income protection pays a monthly benefit of up to 75% of your salary for up to two years if you are temporarily unable to work due to illness or injury.
Event covered
Death by any cause
Death by accident
Terminal illness
Accident or illness that results in:
Cover type
Inability to do your job (in the short term)
Life insurance
Income protection insurance
Which product do I need?
Each type of insurance covers a different type of life situation. Life cover provides the promise of long-term financial security for your family in the event that you die, while income protection provides immediate financial assistance if your income stream is interrupted.
Look at your stage in life
Both are vital forms of protection to have, but one may be more important to you than the other, depending on where you are in your life cycle.
For example, if you are in the prime of life with a young family and a mortgage and at your highest earning potential, getting life insurance to safeguard their future if anything happens to you is a good idea. Income protection may also be added if you want extra protection in the event of an injury that puts you out of work.
On the other hand if you don't have any dependants and just want to cover your income, then income protection insurance should be considered.
Can I get combined cover?
It is not unusual for people to have both of these types of cover in place. In fact, most insurance advisers would recommend it.
Should I combine cover?
Many people who take out life insurance opt for both life cover and income protection and by doing so, protect themselves and their loved ones against both potential life scenarios. If you engage in full-time work then it's a good idea to consider income protection too.
Adding income protection insurance provides additional cover as you live
Having both forms of cover is a way of protecting yourself against all eventualities and ensuring your family will not suffer financial hardship either in the short or the long term:
If they fall ill or are injured and are temporarily unable to work. Their lifestyle and family needs are protected with a regular income stream until they recover.
If they develop a terminal illness and die. Their family's long-term needs will be taken care of with a lump sum payment.
Is it still worth considering income protection if I have Life insurance?
Both life insurance and income protection have been designed for different reasons. One of the primary purposes of life insurance is to provide cover for the policyholder's family and financial dependents after they have passed away.
Income protection essentially being what is known as "living insurance", providing support to the policy owner and their beneficiaries while they are still alive. It's also valuable for people with no financial dependents that still want to maintain their current standard of living if they are unable to work.
Combining income protection and life insurance provide you with a joint policy discount
Most Australian life insurance companies will offer multi-plan discounts if the policy owner is insured under a number of policies and the discount is usually applied to the premium and excludes stamp duty or policy fees that are applicable. Most insurers will require the policy owner to be paying a certain amount in premium payments each year.
Example AIA
AIA will apply a 12.5% discount for life cover policies if the policy owner has income protection insurance in place and is paying at least $700 or more per year in premium payments for both cover types.
Life insurance usually offers four types of cover: life cover, trauma insurance, total and permanent disability (TPD) insurance and income protection. Let's take a look at the differences between life cover and income protection and how to decide which is right for your particular life situation.
Some traps to watch for with income protection
Not all income protection policies are the same and these are some of the possible pitfalls to be aware of when comparing insurers:
Make sure the policy is index-linked – this means the premiums and insured amount increase each year in line with the Consumer Price Index so your policy keeps pace with inflation.
Make sure it has a guaranteed Future Insurability Benefit (FIB) – this allows you to increase your level of cover as needed (usually when you reach a new milestone in life such as a having a child or buying a home) without having to face further underwriting.
Make sure it is accessible if held in super – if your cover is through your superannuation, make sure the terms are acceptable (ie waiting periods, benefit periods etc) as these can differ to those in a policy held outside of super.
Make sure it uses the "own occupation" rather than "any occupation" definition – try and find a policy that pays out if you are unable to work at your own occupation, rather than at any occupation (which some insurers can use as an argument not to pay a benefit).
Terms to be clear about with life insurance
Two terms you should know when taking out life cover are "binding nomination" and "preferred beneficiary nomination". These can determine who receives your lump sum payment when you die, so it is important to get them right.
Binding vs preferred beneficiary nomination
A binding nomination is a legally binding statement that declares who you wish your benefit to go to after you die. A preferred or non-binding nomination means the executor of your will decides who receives your lump sum benefit in the absence of a binding nomination.
The advantage of making a binding nomination is that you can be sure your death benefit will be paid in accordance with your wishes. Having a binding nomination in place will also mean a challenge by a disgruntled beneficiary will be less likely to succeed.
Common questions people have when considering Life Insurance and Income Protection in Australia
Compare income protection or life from these brands
You can typically get a combined policy when you go to the providers website.
An adviser can help you find cover from trusted life insurance brands.
Get competitive quotes from multiple brands

Lower rate of declined claims (according to ASIC)

Save time and effort
---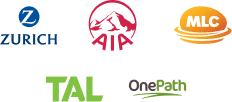 Picture: Shutterstock
More guides on Finder