Southern Phone NBN Sky Muster Standard Plus Small
Southern Phone offers a great value plan, with 50GB peak data and 50GB off-peak data at Standard Plus NBN speeds. That's decent speed with a solid amount of data for you to use during normal waking hours.

Keep in mind that NBN satellite plans have time limitations - with many plans offering you a lot more off-peak data that you won't actually use during the hours of 1am-7am.
25 Mbps




Typical evening speed

100 GB data

$

70

per month
Min. total cost of $70
Go to site
Our 'best' pick may not be the best option for you. If you're looking for something better suited to your needs, you can use our search engine to compare more satellite Internet plans.
Start comparing satellite Internet plans below
Remember to use our filters to customise different fields, like how much data usage you're looking for or a specific price range you might have in mind.
---
What you need to know:
If you're in a regional area and can't get NBN cabling to your property, satellite Internet options may be available.
The NBN's satellite rollout has increased connection speeds for many remote Australians.
Watch out for data usage being restricted to certain times of the day (on- and off-peak).
What is satellite Internet?
Satellite Internet is an NBN service that is mainly useful for people in rural or regional areas who don't have access to high-speed fixed-line connections. It uses satellite signals to send and receive data. The service operates via two so-called "Sky Muster" satellites that are owned by NBN, which relay signals between houses and a fixed tracking station on the ground to allow Internet access.
In order to connect to the NBN this way, a house or business must have a satellite dish installed on its home to exchange data with the satellites orbiting the Earth. Currently, satellite Internet is only offered by a small handful of providers in Australia and not by major companies like Telstra or Optus.
Where is NBN satellite Internet available?
NBN Satellite is only available to those who are not covered by the NBN's various fixed-line technologies. Anyone in Australia not eligible for fixed-line NBN will be able to access satellite NBN. There are some geographical requirements (like having no overhanging obstructions) that must be met before proceeding with installation, but your provider will discuss any issues at the time of installation.
You can find out if NBN satellite is available in your area by entering your address into our NBN tracker.
What equipment do I need to get set up?
While the technology involved in satellite Internet is complex, there are only a few pieces of equipment required on your end to get it working: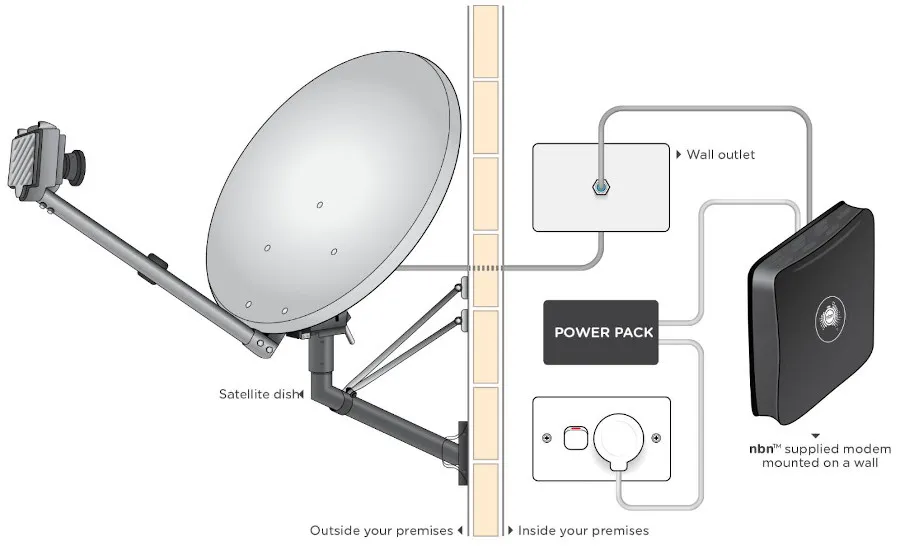 Image supplied by NBN Co
Satellite dish. This is a big metal dish installed on your roof that can send and receive signals from the Sky Muster satellites. This allows for data transfer between your house and the outside world.
Cable. High-speed fibre optic cable connects your satellite dish to an NBN connection box and allows for rapid transmission of information.
Modem. This hooks up directly to your NBN connection box and allows your devices to communicate with it, completing the connection between them and the NBN network. An appropriate modem will be supplied by your provider if you don't already have one.
What's the speed of satellite Internet like compared to the NBN?
Currently, using the Sky Muster satellites, residents have access to a service with a maximum possible download speed of 25Mbps and a maximum upload speed of 5Mbps. This is equivalent to the standard tier offered by the NBN that metro-based residents can choose from, but it is a huge upgrade from previous technologies that offered a download speed of a mere 6Mbps.
Realistically, how fast your satellite Internet will actually be depends on a couple of factors, including the quality of your broadband equipment, the plan you're on and the location of your house (which determines how well it can communicate with the satellites).
No matter what, your maximum speed will be half or a quarter of what you could get with a wired connection. It's also worth noting that data limits tend to be lower for this kind of service, with satellite Internet lacking plans that offer more than a few hundred GB a month.
What should I look for when comparing satellite Internet plans?
While you can't control the location of your house and the ability of how well it connects to the satellites, here are a few things you should consider when comparing NBN satellite plans:
Speed. NBN satellite is currently only available with Basic (NBN12) and Standard (NBN25) connections. As with fixed-line NBN, higher speed packs come at a higher price.
Cost. Pricing will vary across different providers, depending on speed and data inclusions. Most plans will cost anywhere between $34.95 and $199.95, with the cheaper plans all skewed towards having significantly lower peak-time data allowances.
On- and off-peak data allowances. Satellite Internet plans break up data allowances into peak and off-peak times, with peak times being from 7am to 1am, and off-peak from 1am to 7am. Watch out for plans that seem to offer high data allowances but actually give you more data during hours you won't be using it (off-peak times).
How long does it take to get connected?
So long as your property isn't particularly isolated or hard to reach, you can expect to have your satellite Internet service up and running within 4-8 weeks. In more isolated regions, you could face a wait of around 35 days, while areas that are accessible only by sea or air may take 3 months to get set up.
Is NBN satellite the only option for me?
The good news is that there may be, so long as you have enough mobile network coverage. A huge number of rural and regional areas enjoy mobile coverage thanks to Telstra and, more recently, Optus.
With mobile broadband, you'll be able to get data via the regular mobile network, and it could potentially be easier to set up and faster than what satellite Internet can offer. There's still a decision to make, though, because mobile broadband works out to be much more expensive for the same amount of data. It might only be worth it if you don't use the Internet much or you can stomach the extra cost.
You can use Telstra's network coverage map or Optus's map to check whether you're within their coverage area.
Who are the NBN satellite Internet providers?
Whilst the major telco networks don't offer NBN satellite Internet plans, the following providers do have a variety of plans available:
---
Frequently asked questions
Is satellite Internet a part of the NBN?
Yes, satellite Internet is still part the NBN. It's usually best suited for people in rural or regional areas who can't get access to normal fixed-line options, but still want a high-speed connection.
Can you get unlimited satellite Internet?
Unfortunately, no unlimited satellite Internet plans currently exist in Australia. Most plans offer data usage amounts around 200GB, with some going as high as 300GB a month. Keep an eye out for peak and off-peak data limits, which can affect how much Internet you're actually going to use.
How fast is satellite Internet?
Satellite Internet won't offer you speeds that are as fast as most fixed-line connections. Its speeds are around the equivalent of the Standard speed tier offered by the NBN, with a maximum possible download speed to 25Mbps. Speed can vary depending on the location of your house, the plan you choose and the quality of your equipment.
Is satellite Internet a good option?
If you're looking at getting a satellite Internet plan, chances are it may be the only option available to you in your location. If high-speed Internet is what you're after, you could explore mobile broadband as an option if you're within the coverage area, but it will be more expensive for the same amount of data.
Read more:
Read more on this topic
Lower your household bills