NBN satellite Internet plans
Compare satellite NBN plans and get connected. Prices start from $30/month.
We're committed to our readers and editorial independence. We don't compare all products in the market and may receive compensation when we refer you to our partners, but this does not influence our opinions or reviews. Learn more about Finder.
All you'll need is a satellite dish and a plan to get online, but watch out for data usage being restricted to certain times of the day (on- and off-peak periods).
Best NBN satellite Internet plan

Southern Phone NBN Sky Muster Plus Small
Southern Phone offers a great value plan, with 50GB peak data and 50GB off-peak data at Basic II NBN speeds. That's decent speed with a solid amount of data for you to use during normal waking hours.

Keep in mind that NBN satellite plans have time limitations - with many plans offering you a lot more off-peak data that you won't actually use during the hours of 1am-7am.
25 Mbps




Typical evening speed

100 GB data

$

70

per month
Min. total cost of $70
Go to site
Note: Our best pick may not always be the best option for you. If you're looking for something better suited to your needs, you can use our comparison table and filters below to compare more satellite Internet plans.
Compare NBN satellite plans below
Enter your address below to check that your property is able to connect to NBN satellite. You can also adjust the filters if you're looking for a specific data amount or price range.
3 things to help you find the best NBN satellite plan
To help you find the best satellite Internet plan for your needs, here are a couple of things we think you should keep in mind when comparing plans:
On- and off-peak data allowances
Satellite Internet plans break up data allowances into peak and off-peak times, with peak times being from 7am to 1am, and off-peak from 1am to 7am. Watch out for plans that seem to offer high data allowances but actually give you more data during hours you won't be using it (off-peak times).
Speed
NBN satellite is currently only available with Basic I (NBN12) and Basic II (NBN25) connections. As with fixed-line NBN, higher speed packs come at a higher price. Think about how often and what you use the Internet for - if you're not online very frequently, you could save by choosing a slower Basic I connection which will still allow you to do 'light' activities like browse the web and check emails.
Cost
As with many things in life - money matters. With NBN satellite, pricing will vary across different providers, depending on speed and data inclusions. Keep in mind that while cheap plans might seem like they offer a solid chunk of data, these cheaper plans are often skewed towards having significantly lower peak-time data allowances, which is when most people spend their time online.
If you're still unsure about which satellite Internet plan best suits your usage habits, check out our comprehensive guide below where we'll explain all the facets of NBN satellite plans.

Tangerine NBN Standard
Tangerine NBN offers unlimited data & 21Mbps typical evening speed for $49.90/month.
What is satellite Internet?
Satellite Internet is an NBN service that is mainly useful for people in rural or regional areas who don't have access to high-speed fixed-line connections. It uses satellite signals to send and receive data. The service operates via two "Sky Muster" satellites that are owned by NBN, which relay signals between houses and a fixed tracking station on the ground to allow Internet access.
In order to connect to the NBN this way, a house or business must have a satellite dish installed on its home to exchange data with the satellites circling the Earth. Currently, NBN satellite is only offered by a small handful of providers in Australia and not by major companies like Telstra or Optus.
How does satellite Internet work?
While the technology involved in satellite Internet is complex, there are only a few pieces of equipment required on your end to get it working: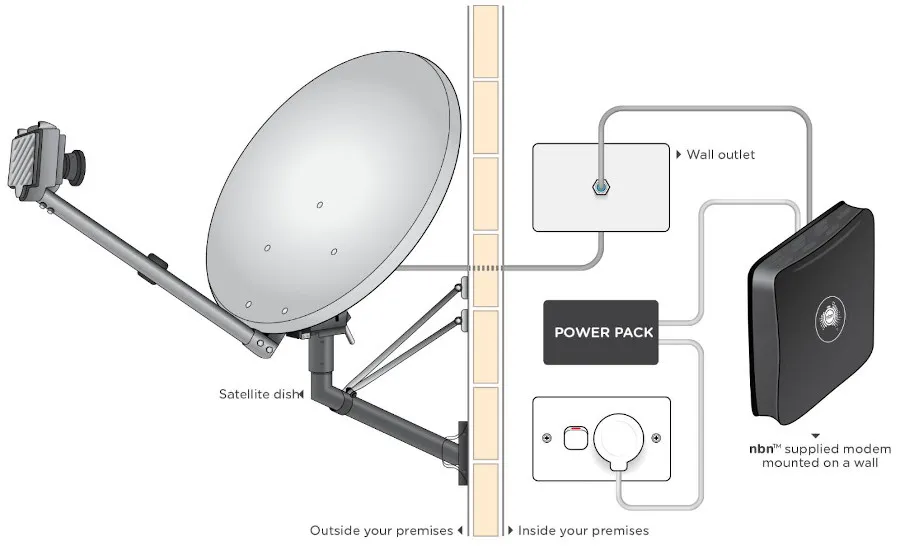 Satellite dish. This is a big metal dish installed on your roof that can send and receive signals from the Sky Muster satellites. This allows for data transfer between your house and the outside world.
Cable. High-speed fibre optic cable connects your satellite dish to an NBN connection box and allows for rapid transmission of information.
Modem. This hooks up directly to your NBN connection box and allows your devices to communicate with it, completing the connection between them and the NBN network. An appropriate modem will be supplied by your provider if you don't already have one.
How long does it take to get connected?
So long as your property isn't particularly isolated or hard to reach, you can expect to have your satellite Internet service up and running within 4-8 weeks. In more isolated regions, you could face a wait of around 35 days, while areas that are accessible only by sea or air may take 3 months to get set up.
Where is NBN satellite Internet available?
NBN Satellite is only available to those who are not covered by the NBN's various fixed-line technologies. Anyone in Australia not eligible for fixed-line NBN will be able to access satellite NBN. There are some geographical requirements (like having no overhanging obstructions) that must be met before proceeding with installation, but your provider will discuss any issues at the time of installation.
You can find out if satellite NBN is available in your area by entering your address into our NBN tracker.
What is the fastest satellite Internet speed?
Currently, using the Sky Muster satellites, residents have access to a service with a maximum possible download speed of 25Mbps and a maximum upload speed of 5Mbps. This is equivalent to the Basic II tier offered by the NBN that metro-based residents can choose from, but it is a huge upgrade from previous technologies that offered a download speed of a mere 6Mbps.
Realistically, how fast your satellite Internet will actually be depends on a couple of factors, including the quality of your broadband equipment, the plan you're on and the location of your house (which determines how well it can communicate with the satellites).
No matter what, your maximum speed will be half or a quarter of what you could get with a wired connection. It's also worth noting that data limits tend to be lower for this kind of service, with NBN satellite lacking plans that offer more than a few hundred GB a month.
What is the cost of satellite Internet?
Satellite Internet plans vary widely in cost depending on speed and data, but start at around $40 monthly and go up to over $100. With satellite NBN, unlike fixed-line connections, you pay increasingly more for each GB of data, such that $5 may buy you an extra 15GB peak data at lower tiers but less than 10GB further up.
The most important thing to consider is when you're planning to use data, since it's split up into peak and off-peak. Off-peak data is largely useless to a regular customer, but if you're willing to do most of your downloads in the early morning or use the Internet then, you can save a huge amount of money.
Sky Muster Plus plans are great for users who don't stream much video, since you need barely any data otherwise.
What's the difference between Sky Muster and Sky Muster Plus?
Sky Muster Plus is simply an upgraded version of Sky Muster, relying upon the same satellites to function but differing a little in the features offered. Where regular Sky Muster plans count everything you do online against your monthly data cap, Sky Muster Plus plans include unlimited (or "unmetered") data for certain activities. This includes general web browsing, checking your email and visiting social media, though there are some very specific limitations to what data is and isn't counted.
Here's the main differences between the two types of satellite NBN plans:
Speed. Sky Muster Plus is only available at NBN25 speeds, while regular Sky Muster can be NBN12 or NBN25. With Sky Muster Plus, you may also be able to access "burst" speeds above 25Mbps at certain times of the day, if available.
Data. Just like normal Sky Muster plans, data is split into peak and off-peak periods. However, Plus plans tend to have the data split evenly between the two periods, whereas regular plans are heavily weighted towards off-peak periods.
Price. Sky Muster Plus tends to be a fair amount more per month than regular Sky Muster, usually around $25+ extra monthly for an equivalent amount of peak data. Costs quickly skyrocket with higher data allowances, with 100GB and up plans costing well over $100 monthly compared to standard plans.
Unmetered activities. A big draw of Plus plans. Certain activities will not count against your data use on Plus, including static text or web browsing, non-video social media content, emails and operating system software updates. In terms of what content is excluded: any data routed through a Virtual Private Network (VPN) will be counted against your monthly cap, even if it falls into one of the above categories. Peer-to-peer file transfers are also metered, as is any video/audio streaming, online gaming and Voice over IP (VoIP) phone calls.
Whether Sky Muster Plus is worth it depends on whether you routinely hit your data cap and still need to access essential browsing services. It may also be worth it if you value fast speeds and can routinely access the "burst" speeds above 25Mbps.
Can you get unlimited satellite Internet?
Unfortunately, unlimited data satellite NBN plans do not exist, in much the same way that full-speed unlimited mobile data plans don't. While unlimited data is very much the norm for fixed-line connections, all NBN satellite plans are data-capped.
The main reason for this is that the two Sky Muster satellites that handle satellite traffic have a far more limited bandwidth than the network of fibres that make up terrestrial NBN. This means they can't handle as much traffic at the same time, leading to a case where too many unlimited plans would overload the network and slow it down for everybody. Limited data plans allow the network to de-prioritise people who have gone over their limit and prevents people from being online around the clock.
How much data do I need for satellite Internet?
This largely depends on what you're planning to use the Internet for. The table below gives you a rough idea of how much data certain online activities use up:
| Activity | Average data use |
| --- | --- |
| Web surfing | 2.5MB per page (about 60MB per hour) |
| Social media | 2.5MB per minute (with video content) |
| Music streaming | 1.5MB per minute |
| Standard video streaming | 12MB per minute |
| HD video streaming | 25MB per minute |
Data usage calculator
Not sure how much data you use each month? We've got an easy data usage calculator that will give you an estimate in 90 seconds.
Click here to calculate your usage
Of course, when you use that data is very important, since peak data limits are generally much lower than off-peak. If you download a bunch of movies during the early hours of the morning and watch them during the day, you'll be able to get away with much cheaper NBN satellite plans.
Is satellite Internet a good option?
When it comes to getting an NBN connection in rural areas, it's less about what makes a 'good' option and rather doing the best with what connection type you're dealt.
The good news is that if you're unhappy about the speeds and service you're receiving from satellite Internet, there may be other alternatives to satellite NBN, so long as you have enough mobile network coverage. A huge number of rural and regional areas enjoy mobile coverage thanks to Telstra and, more recently, Optus.
With mobile broadband, you'll be able to get data via the regular mobile network, and it could potentially be easier to set up and faster than what satellite Internet can offer. There's still a decision to make, though, because mobile broadband works out to be more expensive for the same amount of data. It might only be worth it if you don't use the Internet much or you can stomach the extra cost.
You can use Telstra's network coverage map or Optus' map to check whether you're within their coverage area.
What are the disadvantages of satellite Internet?
Compared to fixed-line connections, satellite Internet has a few downsides:
More variable speeds. Because you're beaming a signal through the sky, satellite Internet can be very prone to interference from weather and other things. Speeds in general are lower because of the way data is transferred.
Lower data caps. Due to the limited capacity of the Sky Muster satellites, data caps are much lower on NBN satellite plans and data costs more.
Latency. Data has to travel a long way on a satellite NBN connection. This can make online games very difficult to play.
Despite this, NBN satellite Internet has overall been a great boon for rural and regional users, boosting speeds over previous technologies.
Which is the best satellite Internet provider?
Choosing the best satellite Internet provider is highly dependent on where you live and what you're looking for. Whilst the major telco networks don't offer NBN satellite Internet plans, the following providers do have a variety of plans available:
Frequently asked questions
What are Internet options for rural areas?
In rural areas of Australia, getting access to fixed-line Internet can be very difficult. Thankfully, the NBN is still available in regional areas through the use of satellite Internet and fixed wireless NBN.
With satellite Internet, the antenna on your roof bounces signals to one of the Sky Muster satellites and then back to a signal tower on Earth. Fixed wireless involves broadcasting signals directly from your antenna to a signal tower. Essentially, fixed wireless Internet requires a signal tower in relatively close proximity, while satellites can connect residents who are far away.
As with all NBN connections, you don't really get a choice of what technology your connection uses. Your access to fixed wireless or satellite will depend entirely on where you live.
Is satellite Internet as fast as cable?
No. Satellite Internet maxes out at NBN25 connection speeds, while
HFC cable connections
can offer speeds up to NBN100 and beyond.
Does satellite Internet go out in bad weather?
Unfortunately, it's possible you'll lose your signal in particularly bad weather. Light rain and cloud cover shouldn't affect it too much, but heavy rain and thunderstorms can block or interfere with your signal so badly it gets lost.
What happens to my home phone connection?
With most NBN connections, the
existing copper telephone connections are removed
18 months after the NBN has been rolled out in that area. This doesn't happen with satellite connections. Instead, you are given the option of keeping your copper home telephone connection when you sign up for satellite NBN.
Can you use a VPN with satellite Internet?
Technically, yes, but you can expect poor performance. VPN services rely upon high speeds and steady connections, something NBN satellite is not known for. That aside, your provider may not support VPN activity, and your use of a VPN will be metered for purposes of Sky Muster Plus.
---
Image supplied by NBN Co
More guides on Finder
Lower your household bills