Family Life Insurance Australia
After life insurance for yourself and your family? Get family life insurance.
We're reader-supported and may be paid when you visit links to partner sites. We don't compare all products in the market, but we're working on it!
Life Insurance ensures your family is able to maintain the same quality of life in the event that you pass away or suffer a terminal illness. Many Australian Life Insurance providers also offer what is known as Family Cover, which provides extra protection under the same policy for your spouse and children.
Why should I consider family life insurance?
Having life insurance that covers the main income provider in a family offers protection in the event of their passing. However, if a family member dies or becomes terminally ill there are other costs that can arise that won't be covered on a standalone life insurance policy, including:
The cost of replacing the duties of a homemaker e.g. a spouse
The cost treatment of a child with a serious illness or injury
Coping with the loss of a loved one is hard enough to manage without having to worry about the financial loss that could also occur which is why families should ensure the right cover is in place for each family member.
Get life insurance quotes from these direct brands
Getting life insurance is the first step to making sure your family will be protected if you pass away. You can compare life insurance with the below brands so your family will have one less thing to worry about in the future.
An adviser can help you find cover from trusted life insurance brands.
Get competitive quotes from multiple brands

Lower rate of declined claims (according to ASIC)

Save time and effort
---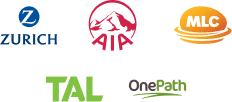 How can I take out family life insurance?
Family cover can be taken out with as:
A joint life insurance policy to protect both the policy owner and their spouse
An additional benefit for the child or spouse
1. Joint life insurance with a spouse
A joint policy will pay a lump sum benefit following the death of either policyholder. Under this arrangement there is a joint-ownership of the life insurance policy where the spouse is a co-owner of the policy and the benefit is paid to both or to one owner following the death of the other. There are a number of benefits to this arrangement:
Can be more affordable: Joint ownership policies are generally much more affordable than having two separate policies in place with some providers offering premium discounts as high as 10%.
Security for both people: Joint policies ensure that both parties will be protected from financial loss if the other is to pass away or suffer a terminal illness.
Less fees: There will only be one set of fees for policy owners to worry about. Such fees can include the policy fee (around $70 per year), premium frequency charge and stamp duty fee.
More convenient to manage: Joint policies offer the convenience of only having one policy to maintain. This includes the initial policy application, premium payments and future policy adjustments.
2. Additional cover: 'Family protection benefit'
Family protection benefit will provide policy owners with a lump sum payment following the occurrence of an event that happens to the policy holders spouse or children. This benefit can usually be attached to the policy owner's life cover or trauma policy.
What events will generally be covered under the family protection benefit?
Conditions covered will differ from policy to policy but will generally include:
Death
Terminal illness
Cancer events such as leukaemia, invasive cancer and skin cancer
Coronary attacks including heart attack, stroke and Cardiomyopathy
Coma
Blindness
Kidney failure
Major burns
Paralysis
Major burns
Can I add child cover to my existing policy?
Most insurers will allow applicants to add child cover to their existing cover for an additional premium loading. The convenience of child cover is that it is often included as an additional benefit to trauma or life policies.
---
What are some features to consider when comparing family protection options?
Conversion option. Can the sum-insured be converted to a trauma policy in their own name once they turn 21?
Indexation: Will the benefit amount for family protection increase with inflation?
Range of conditions covered. Does the policy provide cover for a comprehensive range of different medical conditions?
Sum insured. What is the maximum sum-insured that could be taken out on the policy?
Number of children covered. How many children can be covered under the policy?
---
Should I consider children's insurance in my family life cover plan?
Many may consider that children's insurance cover as not something that is absolutely necessary. But, safeguarding your family's well-being should also include having adequate protection for your children, as you may never know if one day they get sick or passes away unexpectedly.
Some policies include cover
Some insurance providers may provide children protection as an additional option at an extra cost or others may include it in the family life policy free of charge. If you are looking to protect your family as a whole, make sure you keep on a lookout for children's benefits when comparing family life insurance quotes.
Children's insurance will pay a benefit to the parents if the child is to suffer from a (but not limited to):
Major head trauma,
Meningitis,
Encephalitis,
Total and permanent loss of two limbs,
Loss of sensory abilities; deafness, blindness,
Paralysis, or
Accidental death.
These conditions will vary between insurance providers, so it is important to read the fine print of the children's cover before you sign away on the dotted lines.
---
What kind of expenses can family life insurance cover?
Its important for applicants to have an understanding of the expenses that surface following the loss of a loved one that is not the main income earner. Below are some typical costs that can arise:
Immediate costs
Loss of spouse income to household budget.
Funeral expenses
Medical expenses incurred before loss
Home Duties
Cost of child care
Homemaker to carry out daily chores
Transport for children
The significance of these expenses will differ from policy to policy so it is important for applicants to assess their own situation to help them determine an appropriate benefit.
---
What factors do I need to consider when it comes to family life insurance?
In addition to calculating the family's current and future finances, there are other factors that you may need to consider in determining your family's life policy coverage:
Your age and your spouse/partner's respective ages.
Replacing your income and your future expected earnings in line with inflation.
Whether or not your spouse/partner is working.
The amount of contributions of each parent to the family (such as family savings and paying off debts).
The number of children you have and their age.
The number of years you are considering to cover your family's ongoing needs.
Total available assets and superannuation funds (which can be used to reduce the amount of life coverage that you may need to take out).
Using your family's needs approach works well especially if you are looking to find out what sort of expenses your family will have to cover, if you were no longer around. It is particularly helpful in calculating the right life cover amount, without paying too much in premiums. You may like to utilise the Life Insurance Finder a life insurance calculator to help you work out this amount.
---
It can help to discuss life insurance with your family
It is important to discuss life insurance with your family, particularly with your partner, before you take out a life insurance plan. When you take out life insurance cover you need to have an idea of what sort of plan you want to opt for and how much coverage you should choose. This is something that you should probably talk over with your partner and perhaps with your children if they are older or grown up, as they may have some valuable input that can help you to make a more informed decision.
You can determine what level of coverage is going to be sufficient by discussing the following factors with your family:
Your family's financial needs in the event of your death
Whether you are main income earners
Your level of debt
What financial commitments you have
---
Reviewing life insurance after you have taken out your plan
It is also important to discuss life insurance after you have taken out your policy, even if you have already spoken to your family prior to taking out the cover. The importance of discussing cover with your family, and especially your partner, after you've taken out a policy comes from the need to go over exactly what the policy covers and to discuss the claims procedure.
Knowing whats covered. Having an understanding of what's covered will help your family avoid any false expectations.
Claims procedure if something happens. Knowing what to do in the even of a claim will mean the family can focus less energy on working out what to do and more time on grieving or recovering.
Whether your premium will go up each year. Some premiums will rise each year.
If your benefit remains the same with inflation. Benefits can increase to keep pace with inflation. It's a good idea to let anyone who pays for the policy in your family about this.
A startling number of people take out life insurance cover and then fail to talk to their partner or family about it. In the event of their death, which is what the policy is designed to cover, the family is then left to try and work through the plan, work out what the coverage and exclusions are, and try and work out how to make a claim. All this has to be done, of course, without the help of the person who actually took out the cover, as they are no longer around, which makes things all the more difficult for the family at a time when they already have enough to cope
---
Last minute tips for finding family life insurance
To help you find the right life insurance policy to cover your family, consider the following few tips:
Obtain and compare multiple quotes - Do not just go with the first cheapest policy you can get. It is important to get as many quotes as possible to determine which policy can give you the most comprehensive cover, without sacrificing affordability.
When in doubt, speak to an insurance adviser - Doing all the research on different types of family life insurance on your own may be time-consuming and confusing; however, you can always ask for assistance from an insurance. They can assess your needs and personal circumstances, and recommend life insurance policies that are tailored to match your needs.
Consider jointly-owned life policy with your partner/spouse - Besides having the advantage of costing less than individually-owned policies, it provides an additional layer of protection should one or both parents pass away unexpectedly.
Include children cover - It is important to consider adding children's benefit onto your family life policy, to give you the additional layer protection to include your entire family.
---
More guides on Finder