Compare Australian iPhone 11 plans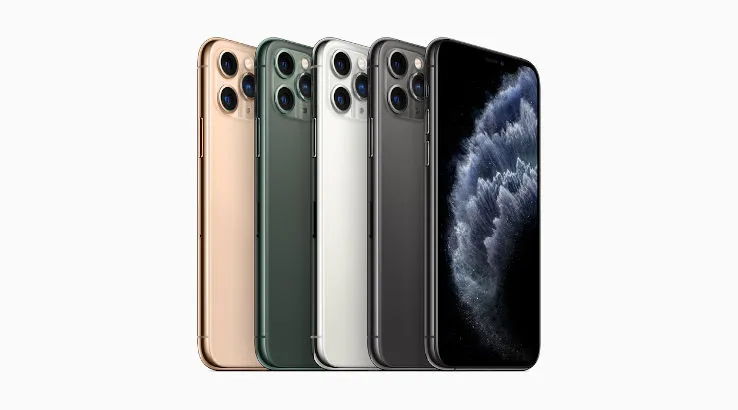 If you're after the iPhone 11, iPhone 11 Pro or iPhone 11 Pro Max on contract, you've got plenty of options to consider.
At its latest media event, Apple announced not one, not two, but three new models of iPhone: the iPhone 11, the iPhone 11 Pro and the iPhone 11 Pro Max. Unsurprisingly, each of the handsets carries quite a hefty sticker price, so it's fortunate that there are plenty of options for paying for them either in one large payment or on a fixed-term contract.
Telstra is offering a range of iPhone 11 plans on 24-month and 36-month repayment contracts. To sweeten the deal, it's also throwing in extra Telstra Plus points on select plans. Even better, all of its iPhone 11 plans allow you to continue accessing the Internet at no extra charge even after you've used up your monthly data quota. The only catch is that Internet speeds are limited to 1.5Mbps.
Vodafone also has the benefit of offering unlimited data on select iPhone 11 plans. Its Red Plus plans come with a standard data cap, but once you run out, you can continue browsing as much as you like at slower speeds of up to 1.5Mbps.
Optus might not have any unlimited data offerings like its competitors, but it does boast the largest standard data caps of all three telcos. You can get up to 200GB a month with its iPhone 11 plans, which should be more than enough to keep you bingeing Netflix while you're out and about.
You can see how iPhone 11 plans from all three telcos compare in the table below.
| Provider | Plan and Device | Monthly plan cost | Handset repayment | Total monthly cost | Data | Minimum term |
| --- | --- | --- | --- | --- | --- | --- |
| Telstra | Telstra S Apple iPhone 11 64GB | $50.00 | $50.00 | $100.00 | 15GB | 24 months |
| Telstra | Telstra M Apple iPhone 11 64GB | $60.00 | $50.00 | $110.00 | 60GB | 24 months |
| Telstra | Telstra L Apple iPhone 11 64GB | $80.00 | $50.00 | $130.00 | 100GB | 24 months |
| Telstra | Telstra XL Apple iPhone 11 64GB | $100.00 | $50.00 | $150.00 | 150GB | 24 months |
| Telstra | Telstra S Apple iPhone 11 128GB | $50.00 | $53.00 | $103.00 | 15GB | 24 months |
| Telstra | Telstra M Apple iPhone 11 128GB | $60.00 | $53.00 | $113.00 | 60GB | 24 months |
| Telstra | Telstra L Apple iPhone 11 128GB | $80.00 | $53.00 | $133.00 | 100GB | 24 months |
| Telstra | Telstra XL Apple iPhone 11 128GB | $100.00 | $53.00 | $153.00 | 150GB | 24 months |
| Telstra | Telstra S Apple iPhone 11 256GB | $50.00 | $60.00 | $110.00 | 15GB | 24 months |
| Telstra | Telstra M Apple iPhone 11 256GB | $60.00 | $60.00 | $120.00 | 60GB | 24 months |
| Telstra | Telstra L Apple iPhone 11 256GB | $80.00 | $60.00 | $140.00 | 100GB | 24 months |
| Telstra | Telstra XL Apple iPhone 11 256GB | $100.00 | $60.00 | $160.00 | 150GB | 24 months |
| Telstra | Telstra S Apple iPhone 11 Pro 64GB | $50.00 | $72.00 | $122.00 | 15GB | 24 months |
| Telstra | Telstra M Apple iPhone 11 Pro 64GB | $60.00 | $72.00 | $132.00 | 60GB | 24 months |
| Telstra | Telstra L Apple iPhone 11 Pro 64GB | $80.00 | $72.00 | $152.00 | 100GB | 24 months |
| Telstra | Telstra XL Apple iPhone 11 Pro 64GB | $100.00 | $72.00 | $172.00 | 150GB | 24 months |
| Telstra | Telstra S Apple iPhone 11 Pro 256GB | $50.00 | $82.79 | $132.79 | 15GB | 24 months |
| Telstra | Telstra M Apple iPhone 11 Pro 256GB | $60.00 | $82.79 | $142.79 | 60GB | 24 months |
| Telstra | Telstra L Apple iPhone 11 Pro 256GB | $80.00 | $82.79 | $162.79 | 100GB | 24 months |
| Telstra | Telstra XL Apple iPhone 11 Pro 256GB | $100.00 | $82.79 | $182.79 | 150GB | 24 months |
| Telstra | Telstra S Apple iPhone 11 Pro 512GB | $50.00 | $98.00 | $148.00 | 15GB | 24 months |
| Telstra | Telstra M Apple iPhone 11 Pro 512GB | $60.00 | $98.00 | $158.00 | 60GB | 24 months |
| Telstra | Telstra L Apple iPhone 11 Pro 512GB | $80.00 | $98.00 | $178.00 | 100GB | 24 months |
| Telstra | Telstra XL Apple iPhone 11 Pro 512GB | $100.00 | $98.00 | $198.00 | 150GB | 24 months |
| Telstra | Telstra S Apple iPhone 11 Pro Max 64GB | $50.00 | $79.00 | $129.00 | 15GB | 24 months |
| Telstra | Telstra M Apple iPhone 11 Pro Max 64GB | $60.00 | $79.00 | $139.00 | 60GB | 24 months |
| Telstra | Telstra L Apple iPhone 11 Pro Max 64GB | $80.00 | $79.00 | $159.00 | 100GB | 24 months |
| Telstra | Telstra XL Apple iPhone 11 Pro Max 64GB | $100.00 | $79.00 | $179.00 | 150GB | 24 months |
| Telstra | Telstra S Apple iPhone 11 Pro Max 256GB | $50.00 | $89.00 | $139.00 | 15GB | 24 months |
| Telstra | Telstra M Apple iPhone 11 Pro Max 256GB | $60.00 | $89.00 | $149.00 | 60GB | 24 months |
| Telstra | Telstra L Apple iPhone 11 Pro Max 256GB | $80.00 | $89.00 | $169.00 | 100GB | 24 months |
| Telstra | Telstra XL Apple iPhone 11 Pro Max 256GB | $100.00 | $89.00 | $189.00 | 150GB | 24 months |
| Telstra | Telstra S Apple iPhone 11 Pro Max 512GB | $50.00 | $104.00 | $154.00 | 15GB | 24 months |
| Telstra | Telstra M Apple iPhone 11 Pro Max 512GB | $60.00 | $104.00 | $164.00 | 60GB | 24 months |
| Telstra | Telstra L Apple iPhone 11 Pro Max 512GB | $80.00 | $104.00 | $184.00 | 100GB | 24 months |
| Telstra | Telstra XL Apple iPhone 11 Pro Max 512GB | $100.00 | $104.00 | $204.00 | 150GB | 24 months |
| Telstra | Telstra S Apple iPhone 11 64GB | $50.00 | $33.33 | $83.33 | 15GB | 36 months |
| Telstra | Telstra M Apple iPhone 11 64GB | $60.00 | $33.33 | $93.33 | 60GB | 36 months |
| Telstra | Telstra L Apple iPhone 11 64GB | $80.00 | $33.33 | $113.33 | 100GB | 36 months |
| Telstra | Telstra XL Apple iPhone 11 64GB | $100.00 | $33.33 | $133.33 | 150GB | 36 months |
| Telstra | Telstra S Apple iPhone 11 128GB | $50.00 | $35.33 | $85.33 | 15GB | 36 months |
| Telstra | Telstra M Apple iPhone 11 128GB | $60.00 | $35.33 | $95.33 | 60GB | 36 months |
| Telstra | Telstra L Apple iPhone 11 128GB | $80.00 | $35.33 | $115.33 | 100GB | 36 months |
| Telstra | Telstra XL Apple iPhone 11 128GB | $100.00 | $35.33 | $135.33 | 150GB | 36 months |
| Telstra | Telstra S Apple iPhone 11 256GB | $50.00 | $40.00 | $90.00 | 15GB | 36 months |
| Telstra | Telstra M Apple iPhone 11 256GB | $60.00 | $40.00 | $100.00 | 60GB | 36 months |
| Telstra | Telstra L Apple iPhone 11 256GB | $80.00 | $40.00 | $120.00 | 100GB | 36 months |
| Telstra | Telstra XL Apple iPhone 11 256GB | $100.00 | $40.00 | $140.00 | 150GB | 36 months |
| Telstra | Telstra S Apple iPhone 11 Pro 64GB | $50.00 | $48.00 | $98.00 | 15GB | 36 months |
| Telstra | Telstra M Apple iPhone 11 Pro 64GB | $60.00 | $48.00 | $108.00 | 60GB | 36 months |
| Telstra | Telstra L Apple iPhone 11 Pro 64GB | $80.00 | $48.00 | $128.00 | 100GB | 36 months |
| Telstra | Telstra XL Apple iPhone 11 Pro 64GB | $100.00 | $48.00 | $148.00 | 150GB | 36 months |
| Telstra | Telstra S Apple iPhone 11 Pro 256GB | $50.00 | $55.19 | $105.19 | 15GB | 36 months |
| Telstra | Telstra M Apple iPhone 11 Pro 256GB | $60.00 | $55.19 | $115.19 | 60GB | 36 months |
| Telstra | Telstra L Apple iPhone 11 Pro 256GB | $80.00 | $55.19 | $135.19 | 100GB | 36 months |
| Telstra | Telstra XL Apple iPhone 11 Pro 256GB | $100.00 | $55.19 | $155.19 | 150GB | 36 months |
| Telstra | Telstra S Apple iPhone 11 Pro 512GB | $50.00 | $65.00 | $115.00 | 15GB | 36 months |
| Telstra | Telstra M Apple iPhone 11 Pro 512GB | $60.00 | $65.00 | $125.00 | 60GB | 36 months |
| Telstra | Telstra L Apple iPhone 11 Pro 512GB | $80.00 | $65.00 | $145.00 | 100GB | 36 months |
| Telstra | Telstra XL Apple iPhone 11 Pro 512GB | $100.00 | $65.00 | $165.00 | 150GB | 36 months |
| Telstra | Telstra S Apple iPhone 11 Pro Max 64GB | $50.00 | $52.66 | $102.66 | 15GB | 36 months |
| Telstra | Telstra M Apple iPhone 11 Pro Max 64GB | $60.00 | $52.66 | $112.66 | 60GB | 36 months |
| Telstra | Telstra L Apple iPhone 11 Pro Max 64GB | $80.00 | $52.66 | $132.66 | 100GB | 36 months |
| Telstra | Telstra XL Apple iPhone 11 Pro Max 64GB | $100.00 | $52.66 | $152.66 | 150GB | 36 months |
| Telstra | Telstra S Apple iPhone 11 Pro Max 256GB | $50.00 | $59.00 | $109.00 | 15GB | 36 months |
| Telstra | Telstra M Apple iPhone 11 Pro Max 256GB | $60.00 | $59.00 | $119.00 | 60GB | 36 months |
| Telstra | Telstra L Apple iPhone 11 Pro Max 256GB | $80.00 | $59.00 | $139.00 | 100GB | 36 months |
| Telstra | Telstra XL Apple iPhone 11 Pro Max 256GB | $100.00 | $59.00 | $159.00 | 150GB | 36 months |
| Telstra | Telstra S Apple iPhone 11 Pro Max 512GB | $50.00 | $69.00 | $119.00 | 15GB | 36 months |
| Telstra | Telstra M Apple iPhone 11 Pro Max 512GB | $60.00 | $69.00 | $129.00 | 60GB | 36 months |
| Telstra | Telstra L Apple iPhone 11 Pro Max 512GB | $80.00 | $69.00 | $149.00 | 100GB | 36 months |
| Telstra | Telstra XL Apple iPhone 11 Pro Max 512GB | $100.00 | $69.00 | $169.00 | 150GB | 36 months |
| Vodafone | Vodafone Red $35 Apple iPhone 11 64GB | $35.00 | $49.95 | $84.95 | 5GB | 24 months |
| Vodafone | Vodafone Red/Red Plus $45 Apple iPhone 11 64GB | $45.00 | $49.95 | $94.95 | 30GB at Max speed (+unlimited data at up to 1.5Mbps on Red Plus plan) | 24 months |
| Vodafone | Vodafone Red/Red Plus $55 Apple iPhone 11 64GB | $55.00 | $49.95 | $104.95 | 80GB at Max speed (+unlimited data at up to 1.5Mbps on Red Plus plan) | 24 months |
| Vodafone | Vodafone Red/Red Plus $65 Apple iPhone 11 64GB | $65.00 | $49.95 | $114.95 | 120GB at Max speed (+unlimited data at up to 1.5Mbps on Red Plus plan) | 24 months |
| Vodafone | Vodafone Red $35 Apple iPhone 11 128GB | $35.00 | $53.29 | $88.29 | 5GB | 24 months |
| Vodafone | Vodafone Red/Red Plus $45 Apple iPhone 11 128GB | $45.00 | $53.29 | $98.29 | 30GB at Max speed (+unlimited data at up to 1.5Mbps on Red Plus plan) | 24 months |
| Vodafone | Vodafone Red/Red Plus $55 Apple iPhone 11 128GB | $55.00 | $53.29 | $108.29 | 80GB at Max speed (+unlimited data at up to 1.5Mbps on Red Plus plan) | 24 months |
| Vodafone | Vodafone Red/Red Plus $65 Apple iPhone 11 128GB | $65.00 | $53.29 | $118.29 | 120GB at Max speed (+unlimited data at up to 1.5Mbps on Red Plus plan) | 24 months |
| Vodafone | Vodafone Red $35 Apple iPhone 11 256GB | $35.00 | $60.37 | $95.37 | 5GB | 24 months |
| Vodafone | Vodafone Red/Red Plus $45 Apple iPhone 11 256GB | $45.00 | $60.37 | $105.37 | 30GB at Max speed (+unlimited data at up to 1.5Mbps on Red Plus plan) | 24 months |
| Vodafone | Vodafone Red/Red Plus $55 Apple iPhone 11 256GB | $55.00 | $60.37 | $115.37 | 80GB at Max speed (+unlimited data at up to 1.5Mbps on Red Plus plan) | 24 months |
| Vodafone | Vodafone Red/Red Plus $65 Apple iPhone 11 256GB | $65.00 | $60.37 | $125.37 | 120GB at Max speed (+unlimited data at up to 1.5Mbps on Red Plus plan) | 24 months |
| Vodafone | Vodafone Red $35 Apple iPhone 11 Pro 64GB | $35.00 | $72.87 | $107.87 | 5GB | 24 months |
| Vodafone | Vodafone Red/Red Plus $45 Apple iPhone 11 Pro 64GB | $45.00 | $72.87 | $117.87 | 30GB at Max speed (+unlimited data at up to 1.5Mbps on Red Plus plan) | 24 months |
| Vodafone | Vodafone Red/Red Plus $55 Apple iPhone 11 Pro 64GB | $55.00 | $72.87 | $127.87 | 80GB at Max speed (+unlimited data at up to 1.5Mbps on Red Plus plan) | 24 months |
| Vodafone | Vodafone Red/Red Plus $65 Apple iPhone 11 Pro 64GB | $65.00 | $72.87 | $137.87 | 120GB at Max speed (+unlimited data at up to 1.5Mbps on Red Plus plan) | 24 months |
| Vodafone | Vodafone Red $35 Apple iPhone 11 Pro 256GB | $35.00 | $83.29 | $118.29 | 5GB | 24 months |
| Vodafone | Vodafone Red/Red Plus $45 Apple iPhone 11 Pro 256GB | $45.00 | $83.29 | $128.29 | 30GB at Max speed (+unlimited data at up to 1.5Mbps on Red Plus plan) | 24 months |
| Vodafone | Vodafone Red/Red Plus $55 Apple iPhone 11 Pro 256GB | $55.00 | $83.29 | $138.29 | 80GB at Max speed (+unlimited data at up to 1.5Mbps on Red Plus plan) | 24 months |
| Vodafone | Vodafone Red/Red Plus $65 Apple iPhone 11 Pro 256GB | $65.00 | $83.29 | $148.29 | 120GB at Max speed (+unlimited data at up to 1.5Mbps on Red Plus plan) | 24 months |
| Vodafone | Vodafone Red $35 Apple iPhone 11 Pro 512GB | $35.00 | $97.87 | $132.87 | 5GB | 24 months |
| Vodafone | Vodafone Red/Red Plus $45 Apple iPhone 11 Pro 512GB | $45.00 | $97.87 | $142.87 | 30GB at Max speed (+unlimited data at up to 1.5Mbps on Red Plus plan) | 24 months |
| Vodafone | Vodafone Red/Red Plus $55 Apple iPhone 11 Pro 512GB | $55.00 | $97.87 | $152.87 | 80GB at Max speed (+unlimited data at up to 1.5Mbps on Red Plus plan) | 24 months |
| Vodafone | Vodafone Red/Red Plus $65 Apple iPhone 11 Pro 512GB | $65.00 | $97.87 | $162.87 | 120GB at Max speed (+unlimited data at up to 1.5Mbps on Red Plus plan) | 24 months |
| Vodafone | Vodafone Red $35 Apple iPhone 11 Pro Max 64GB | $35.00 | $79.12 | $114.12 | 5GB | 24 months |
| Vodafone | Vodafone Red/Red Plus $45 Apple iPhone 11 Pro Max 64GB | $45.00 | $79.12 | $124.12 | 30GB at Max speed (+unlimited data at up to 1.5Mbps on Red Plus plan) | 24 months |
| Vodafone | Vodafone Red/Red Plus $55 Apple iPhone 11 Pro Max 64GB | $55.00 | $79.12 | $134.12 | 80GB at Max speed (+unlimited data at up to 1.5Mbps on Red Plus plan) | 24 months |
| Vodafone | Vodafone Red/Red Plus $65 Apple iPhone 11 Pro Max 64GB | $65.00 | $79.12 | $144.12 | 120GB at Max speed (+unlimited data at up to 1.5Mbps on Red Plus plan) | 24 months |
| Vodafone | Vodafone Red $35 Apple iPhone 11 Pro Max 256GB | $35.00 | $89.54 | $124.54 | 5GB | 24 months |
| Vodafone | Vodafone Red/Red Plus $45 Apple iPhone 11 Pro Max 256GB | $45.00 | $89.54 | $134.54 | 30GB at Max speed (+unlimited data at up to 1.5Mbps on Red Plus plan) | 24 months |
| Vodafone | Vodafone Red/Red Plus $55 Apple iPhone 11 Pro Max 256GB | $55.00 | $89.54 | $144.54 | 80GB at Max speed (+unlimited data at up to 1.5Mbps on Red Plus plan) | 24 months |
| Vodafone | Vodafone Red/Red Plus $65 Apple iPhone 11 Pro Max 256GB | $65.00 | $89.54 | $154.54 | 120GB at Max speed (+unlimited data at up to 1.5Mbps on Red Plus plan) | 24 months |
| Vodafone | Vodafone Red $35 Apple iPhone 11 Pro Max 512GB | $35.00 | $104.12 | $139.12 | 5GB | 24 months |
| Vodafone | Vodafone Red/Red Plus $45 Apple iPhone 11 Pro Max 512GB | $45.00 | $104.12 | $149.12 | 30GB at Max speed (+unlimited data at up to 1.5Mbps on Red Plus plan) | 24 months |
| Vodafone | Vodafone Red/Red Plus $55 Apple iPhone 11 Pro Max 512GB | $55.00 | $104.12 | $159.12 | 80GB at Max speed (+unlimited data at up to 1.5Mbps on Red Plus plan) | 24 months |
| Vodafone | Vodafone Red/Red Plus $65 Apple iPhone 11 Pro Max 512GB | $65.00 | $104.12 | $169.12 | 120GB at Max speed (+unlimited data at up to 1.5Mbps on Red Plus plan) | 24 months |
| Vodafone | Vodafone Red $35 Apple iPhone 11 64GB | $35.00 | $33.30 | $68.30 | 5GB | 36 months |
| Vodafone | Vodafone Red/Red Plus $45 Apple iPhone 11 64GB | $45.00 | $33.30 | $78.30 | 30GB at Max speed (+unlimited data at up to 1.5Mbps on Red Plus plan) | 36 months |
| Vodafone | Vodafone Red/Red Plus $55 Apple iPhone 11 64GB | $55.00 | $33.30 | $88.30 | 80GB at Max speed (+unlimited data at up to 1.5Mbps on Red Plus plan) | 36 months |
| Vodafone | Vodafone Red/Red Plus $65 Apple iPhone 11 64GB | $65.00 | $33.30 | $98.30 | 120GB at Max speed (+unlimited data at up to 1.5Mbps on Red Plus plan) | 36 months |
| Vodafone | Vodafone Red $35 Apple iPhone 11 128GB | $35.00 | $35.52 | $70.52 | 5GB | 36 months |
| Vodafone | Vodafone Red/Red Plus $45 Apple iPhone 11 128GB | $45.00 | $35.52 | $80.52 | 30GB at Max speed (+unlimited data at up to 1.5Mbps on Red Plus plan) | 36 months |
| Vodafone | Vodafone Red/Red Plus $55 Apple iPhone 11 128GB | $55.00 | $35.52 | $90.52 | 80GB at Max speed (+unlimited data at up to 1.5Mbps on Red Plus plan) | 36 months |
| Vodafone | Vodafone Red/Red Plus $65 Apple iPhone 11 128GB | $65.00 | $35.52 | $100.52 | 120GB at Max speed (+unlimited data at up to 1.5Mbps on Red Plus plan) | 36 months |
| Vodafone | Vodafone Red $35 Apple iPhone 11 256GB | $35.00 | $40.25 | $75.25 | 5GB | 36 months |
| Vodafone | Vodafone Red/Red Plus $45 Apple iPhone 11 256GB | $45.00 | $40.25 | $85.25 | 30GB at Max speed (+unlimited data at up to 1.5Mbps on Red Plus plan) | 36 months |
| Vodafone | Vodafone Red/Red Plus $55 Apple iPhone 11 256GB | $55.00 | $40.25 | $95.25 | 80GB at Max speed (+unlimited data at up to 1.5Mbps on Red Plus plan) | 36 months |
| Vodafone | Vodafone Red/Red Plus $65 Apple iPhone 11 256GB | $65.00 | $40.25 | $105.25 | 120GB at Max speed (+unlimited data at up to 1.5Mbps on Red Plus plan) | 36 months |
| Vodafone | Vodafone Red $35 Apple iPhone 11 Pro 64GB | $35.00 | $48.58 | $83.58 | 5GB | 36 months |
| Vodafone | Vodafone Red/Red Plus $45 Apple iPhone 11 Pro 64GB | $45.00 | $48.58 | $93.58 | 30GB at Max speed (+unlimited data at up to 1.5Mbps on Red Plus plan) | 36 months |
| Vodafone | Vodafone Red/Red Plus $55 Apple iPhone 11 Pro 64GB | $55.00 | $48.58 | $103.58 | 80GB at Max speed (+unlimited data at up to 1.5Mbps on Red Plus plan) | 36 months |
| Vodafone | Vodafone Red/Red Plus $65 Apple iPhone 11 Pro 64GB | $65.00 | $48.58 | $113.58 | 120GB at Max speed (+unlimited data at up to 1.5Mbps on Red Plus plan) | 36 months |
| Vodafone | Vodafone Red $35 Apple iPhone 11 Pro 256GB | $35.00 | $55.52 | $90.52 | 5GB | 36 months |
| Vodafone | Vodafone Red/Red Plus $45 Apple iPhone 11 Pro 256GB | $45.00 | $55.52 | $100.52 | 30GB at Max speed (+unlimited data at up to 1.5Mbps on Red Plus plan) | 36 months |
| Vodafone | Vodafone Red/Red Plus $55 Apple iPhone 11 Pro 256GB | $55.00 | $55.52 | $110.52 | 80GB at Max speed (+unlimited data at up to 1.5Mbps on Red Plus plan) | 36 months |
| Vodafone | Vodafone Red/Red Plus $65 Apple iPhone 11 Pro 256GB | $65.00 | $55.52 | $120.52 | 120GB at Max speed (+unlimited data at up to 1.5Mbps on Red Plus plan) | 36 months |
| Vodafone | Vodafone Red $35 Apple iPhone 11 Pro 512GB | $35.00 | $65.25 | $100.25 | 5GB | 36 months |
| Vodafone | Vodafone Red/Red Plus $45 Apple iPhone 11 Pro 512GB | $45.00 | $65.25 | $110.25 | 30GB at Max speed (+unlimited data at up to 1.5Mbps on Red Plus plan) | 36 months |
| Vodafone | Vodafone Red/Red Plus $55 Apple iPhone 11 Pro 512GB | $55.00 | $65.25 | $120.25 | 80GB at Max speed (+unlimited data at up to 1.5Mbps on Red Plus plan) | 36 months |
| Vodafone | Vodafone Red/Red Plus $65 Apple iPhone 11 Pro 512GB | $65.00 | $65.25 | $130.25 | 120GB at Max speed (+unlimited data at up to 1.5Mbps on Red Plus plan) | 36 months |
| Vodafone | Vodafone Red $35 Apple iPhone 11 Pro Max 64GB | $35.00 | $52.75 | $87.75 | 5GB | 36 months |
| Vodafone | Vodafone Red/Red Plus $45 Apple iPhone 11 Pro Max 64GB | $45.00 | $52.75 | $97.75 | 30GB at Max speed (+unlimited data at up to 1.5Mbps on Red Plus plan) | 36 months |
| Vodafone | Vodafone Red/Red Plus $55 Apple iPhone 11 Pro Max 64GB | $55.00 | $52.75 | $107.75 | 80GB at Max speed (+unlimited data at up to 1.5Mbps on Red Plus plan) | 36 months |
| Vodafone | Vodafone Red/Red Plus $65 Apple iPhone 11 Pro Max 64GB | $65.00 | $52.75 | $117.75 | 120GB at Max speed (+unlimited data at up to 1.5Mbps on Red Plus plan) | 36 months |
| Vodafone | Vodafone Red $35 Apple iPhone 11 Pro Max 256GB | $35.00 | $59.69 | $94.69 | 5GB | 36 months |
| Vodafone | Vodafone Red/Red Plus $45 Apple iPhone 11 Pro Max 256GB | $45.00 | $59.69 | $104.69 | 30GB at Max speed (+unlimited data at up to 1.5Mbps on Red Plus plan) | 36 months |
| Vodafone | Vodafone Red/Red Plus $55 Apple iPhone 11 Pro Max 256GB | $55.00 | $59.69 | $114.69 | 80GB at Max speed (+unlimited data at up to 1.5Mbps on Red Plus plan) | 36 months |
| Vodafone | Vodafone Red/Red Plus $65 Apple iPhone 11 Pro Max 256GB | $65.00 | $59.69 | $124.69 | 120GB at Max speed (+unlimited data at up to 1.5Mbps on Red Plus plan) | 36 months |
| Vodafone | Vodafone Red $35 Apple iPhone 11 Pro Max 512GB | $35.00 | $69.41 | $104.41 | 5GB | 36 months |
| Vodafone | Vodafone Red/Red Plus $45 Apple iPhone 11 Pro Max 512GB | $45.00 | $69.41 | $114.41 | 30GB at Max speed (+unlimited data at up to 1.5Mbps on Red Plus plan) | 36 months |
| Vodafone | Vodafone Red/Red Plus $55 Apple iPhone 11 Pro Max 512GB | $55.00 | $69.41 | $124.41 | 80GB at Max speed (+unlimited data at up to 1.5Mbps on Red Plus plan) | 36 months |
| Vodafone | Vodafone Red/Red Plus $65 Apple iPhone 11 Pro Max 512GB | $65.00 | $69.41 | $134.41 | 120GB at Max speed (+unlimited data at up to 1.5Mbps on Red Plus plan) | 36 months |
| Vodafone | Vodafone Red $35 Apple iPhone 11 64GB | $35.00 | $99.91 | $134.91 | 5GB | 12 months |
| Vodafone | Vodafone Red/Red Plus $45 Apple iPhone 11 64GB | $45.00 | $99.91 | $144.91 | 30GB at Max speed (+unlimited data at up to 1.5Mbps on Red Plus plan) | 12 months |
| Vodafone | Vodafone Red/Red Plus $55 Apple iPhone 11 64GB | $55.00 | $99.91 | $154.91 | 80GB at Max speed (+unlimited data at up to 1.5Mbps on Red Plus plan) | 12 months |
| Vodafone | Vodafone Red/Red Plus $65 Apple iPhone 11 64GB | $65.00 | $99.91 | $164.91 | 120GB at Max speed (+unlimited data at up to 1.5Mbps on Red Plus plan) | 12 months |
| Vodafone | Vodafone Red $35 Apple iPhone 11 128GB | $35.00 | $106.58 | $141.58 | 5GB | 12 months |
| Vodafone | Vodafone Red/Red Plus $45 Apple iPhone 11 128GB | $45.00 | $106.58 | $151.58 | 30GB at Max speed (+unlimited data at up to 1.5Mbps on Red Plus plan) | 12 months |
| Vodafone | Vodafone Red/Red Plus $55 Apple iPhone 11 128GB | $55.00 | $106.58 | $161.58 | 80GB at Max speed (+unlimited data at up to 1.5Mbps on Red Plus plan) | 12 months |
| Vodafone | Vodafone Red/Red Plus $65 Apple iPhone 11 128GB | $65.00 | $106.58 | $171.58 | 120GB at Max speed (+unlimited data at up to 1.5Mbps on Red Plus plan) | 12 months |
| Vodafone | Vodafone Red $35 Apple iPhone 11 256GB | $35.00 | $120.75 | $155.75 | 5GB | 12 months |
| Vodafone | Vodafone Red/Red Plus $45 Apple iPhone 11 256GB | $45.00 | $120.75 | $165.75 | 30GB at Max speed (+unlimited data at up to 1.5Mbps on Red Plus plan) | 12 months |
| Vodafone | Vodafone Red/Red Plus $55 Apple iPhone 11 256GB | $55.00 | $120.75 | $175.75 | 80GB at Max speed (+unlimited data at up to 1.5Mbps on Red Plus plan) | 12 months |
| Vodafone | Vodafone Red/Red Plus $65 Apple iPhone 11 256GB | $65.00 | $120.75 | $185.75 | 120GB at Max speed (+unlimited data at up to 1.5Mbps on Red Plus plan) | 12 months |
| Vodafone | Vodafone Red $35 Apple iPhone 11 Pro 64GB | $35.00 | $145.75 | $180.75 | 5GB | 12 months |
| Vodafone | Vodafone Red/Red Plus $45 Apple iPhone 11 Pro 64GB | $45.00 | $145.75 | $190.75 | 30GB at Max speed (+unlimited data at up to 1.5Mbps on Red Plus plan) | 12 months |
| Vodafone | Vodafone Red/Red Plus $55 Apple iPhone 11 Pro 64GB | $55.00 | $145.75 | $200.75 | 80GB at Max speed (+unlimited data at up to 1.5Mbps on Red Plus plan) | 12 months |
| Vodafone | Vodafone Red/Red Plus $65 Apple iPhone 11 Pro 64GB | $65.00 | $145.75 | $210.75 | 120GB at Max speed (+unlimited data at up to 1.5Mbps on Red Plus plan) | 12 months |
| Vodafone | Vodafone Red $35 Apple iPhone 11 Pro 256GB | $35.00 | $166.58 | $201.58 | 5GB | 12 months |
| Vodafone | Vodafone Red/Red Plus $45 Apple iPhone 11 Pro 256GB | $45.00 | $166.58 | $211.58 | 30GB at Max speed (+unlimited data at up to 1.5Mbps on Red Plus plan) | 12 months |
| Vodafone | Vodafone Red/Red Plus $55 Apple iPhone 11 Pro 256GB | $55.00 | $166.58 | $221.58 | 80GB at Max speed (+unlimited data at up to 1.5Mbps on Red Plus plan) | 12 months |
| Vodafone | Vodafone Red/Red Plus $65 Apple iPhone 11 Pro 256GB | $65.00 | $166.58 | $231.58 | 120GB at Max speed (+unlimited data at up to 1.5Mbps on Red Plus plan) | 12 months |
| Vodafone | Vodafone Red $35 Apple iPhone 11 Pro 512GB | $35.00 | $195.75 | $230.75 | 5GB | 12 months |
| Vodafone | Vodafone Red/Red Plus $45 Apple iPhone 11 Pro 512GB | $45.00 | $195.75 | $240.75 | 30GB at Max speed (+unlimited data at up to 1.5Mbps on Red Plus plan) | 12 months |
| Vodafone | Vodafone Red/Red Plus $55 Apple iPhone 11 Pro 512GB | $55.00 | $195.75 | $250.75 | 80GB at Max speed (+unlimited data at up to 1.5Mbps on Red Plus plan) | 12 months |
| Vodafone | Vodafone Red/Red Plus $65 Apple iPhone 11 Pro 512GB | $65.00 | $195.75 | $260.75 | 120GB at Max speed (+unlimited data at up to 1.5Mbps on Red Plus plan) | 12 months |
| Vodafone | Vodafone Red $35 Apple iPhone 11 Pro Max 64GB | $35.00 | $158.25 | $193.25 | 5GB | 12 months |
| Vodafone | Vodafone Red/Red Plus $45 Apple iPhone 11 Pro Max 64GB | $45.00 | $158.25 | $203.25 | 30GB at Max speed (+unlimited data at up to 1.5Mbps on Red Plus plan) | 12 months |
| Vodafone | Vodafone Red/Red Plus $55 Apple iPhone 11 Pro Max 64GB | $55.00 | $158.25 | $213.25 | 80GB at Max speed (+unlimited data at up to 1.5Mbps on Red Plus plan) | 12 months |
| Vodafone | Vodafone Red/Red Plus $65 Apple iPhone 11 Pro Max 64GB | $65.00 | $158.25 | $223.25 | 120GB at Max speed (+unlimited data at up to 1.5Mbps on Red Plus plan) | 12 months |
| Vodafone | Vodafone Red $35 Apple iPhone 11 Pro Max 256GB | $35.00 | $179.08 | $214.08 | 5GB | 12 months |
| Vodafone | Vodafone Red/Red Plus $45 Apple iPhone 11 Pro Max 256GB | $45.00 | $179.08 | $224.08 | 30GB at Max speed (+unlimited data at up to 1.5Mbps on Red Plus plan) | 12 months |
| Vodafone | Vodafone Red/Red Plus $55 Apple iPhone 11 Pro Max 256GB | $55.00 | $179.08 | $234.08 | 80GB at Max speed (+unlimited data at up to 1.5Mbps on Red Plus plan) | 12 months |
| Vodafone | Vodafone Red/Red Plus $65 Apple iPhone 11 Pro Max 256GB | $65.00 | $179.08 | $244.08 | 120GB at Max speed (+unlimited data at up to 1.5Mbps on Red Plus plan) | 12 months |
| Vodafone | Vodafone Red $35 Apple iPhone 11 Pro Max 512GB | $35.00 | $208.25 | $243.25 | 5GB | 12 months |
| Vodafone | Vodafone Red/Red Plus $45 Apple iPhone 11 Pro Max 512GB | $45.00 | $208.25 | $253.25 | 30GB at Max speed (+unlimited data at up to 1.5Mbps on Red Plus plan) | 12 months |
| Vodafone | Vodafone Red/Red Plus $55 Apple iPhone 11 Pro Max 512GB | $55.00 | $208.25 | $263.25 | 80GB at Max speed (+unlimited data at up to 1.5Mbps on Red Plus plan) | 12 months |
| Vodafone | Vodafone Red/Red Plus $65 Apple iPhone 11 Pro Max 512GB | $65.00 | $208.25 | $273.25 | 120GB at Max speed (+unlimited data at up to 1.5Mbps on Red Plus plan) | 12 months |
| Optus | Optus My Plan Plus $45 Apple iPhone 11 64GB | $45.00 | $34.00 | $79.00 | 4GB | 36 months |
| Optus | Optus My Plan Plus $65 Apple iPhone 11 64GB | $65.00 | $24.00 | $89.00 | 60GB | 36 months |
| Optus | Optus My Plan Plus $89 Apple iPhone 11 64GB | $89.00 | $0.00 | $89.00 | 100GB | 36 months |
| Optus | Optus My Plan Plus $85 Apple iPhone 11 64GB | $85.00 | $10.00 | $95.00 | 80GB + 20GB bonus | 36 months |
| Optus | Optus My Plan Plus $105 Apple iPhone 11 64GB | $105.00 | $0.00 | $105.00 | 200GB | 36 months |
| Optus | Optus My Plan Plus $125 Apple iPhone 11 64GB | $125.00 | $0.00 | $125.00 | 200GB | 36 months |
| Optus | Optus My Plan Plus $45 Apple iPhone 11 128GB | $45.00 | $36.00 | $81.00 | 4GB | 36 months |
| Optus | Optus My Plan Plus $65 Apple iPhone 11 128GB | $65.00 | $26.00 | $91.00 | 60GB | 36 months |
| Optus | Optus My Plan Plus $89 Apple iPhone 11 128GB | $89.00 | $2.00 | $91.00 | 100GB | 36 months |
| Optus | Optus My Plan Plus $85 Apple iPhone 11 128GB | $85.00 | $12.00 | $97.00 | 80GB + 20GB bonus | 36 months |
| Optus | Optus My Plan Plus $105 Apple iPhone 11 128GB | $105.00 | $2.00 | $107.00 | 200GB | 36 months |
| Optus | Optus My Plan Plus $125 Apple iPhone 11 128GB | $125.00 | $2.00 | $127.00 | 200GB | 36 months |
| Optus | Optus My Plan Plus $45 Apple iPhone 11 256GB | $45.00 | $40.00 | $85.00 | 4GB | 36 months |
| Optus | Optus My Plan Plus $65 Apple iPhone 11 256GB | $65.00 | $30.00 | $95.00 | 60GB | 36 months |
| Optus | Optus My Plan Plus $89 Apple iPhone 11 256GB | $89.00 | $6.00 | $95.00 | 100GB | 36 months |
| Optus | Optus My Plan Plus $85 Apple iPhone 11 256GB | $85.00 | $16.00 | $101.00 | 80GB + 20GB bonus | 36 months |
| Optus | Optus My Plan Plus $105 Apple iPhone 11 256GB | $105.00 | $6.00 | $111.00 | 200GB | 36 months |
| Optus | Optus My Plan Plus $125 Apple iPhone 11 256GB | $125.00 | $6.00 | $131.00 | 200GB | 36 months |
| Optus | Optus My Plan Plus $45 Apple iPhone 11 Pro 64GB | $45.00 | $48.00 | $93.00 | 4GB | 36 months |
| Optus | Optus My Plan Plus $65 Apple iPhone 11 Pro 64GB | $65.00 | $38.00 | $103.00 | 60GB | 36 months |
| Optus | Optus My Plan Plus $99 Apple iPhone 11 Pro 64GB | $99.00 | $0.00 | $99.00 | 100GB | 36 months |
| Optus | Optus My Plan Plus $85 Apple iPhone 11 Pro 64GB | $85.00 | $20.00 | $105.00 | 80GB + 20GB bonus | 36 months |
| Optus | Optus My Plan Plus $105 Apple iPhone 11 Pro 64GB | $105.00 | $5.00 | $110.00 | 200GB | 36 months |
| Optus | Optus My Plan Plus $125 Apple iPhone 11 Pro 64GB | $125.00 | $0.00 | $125.00 | 200GB | 36 months |
| Optus | Optus My Plan Plus $45 Apple iPhone 11 Pro 256GB | $45.00 | $56.00 | $101.00 | 4GB | 36 months |
| Optus | Optus My Plan Plus $65 Apple iPhone 11 Pro 256GB | $65.00 | $46.00 | $111.00 | 60GB | 36 months |
| Optus | Optus My Plan Plus $99 Apple iPhone 11 Pro 256GB | $99.00 | $8.00 | $107.00 | 100GB | 36 months |
| Optus | Optus My Plan Plus $85 Apple iPhone 11 Pro 256GB | $85.00 | $28.00 | $113.00 | 80GB + 20GB bonus | 36 months |
| Optus | Optus My Plan Plus $105 Apple iPhone 11 Pro 256GB | $105.00 | $13.00 | $118.00 | 200GB | 36 months |
| Optus | Optus My Plan Plus $125 Apple iPhone 11 Pro 256GB | $125.00 | $8.00 | $133.00 | 200GB | 36 months |
| Optus | Optus My Plan Plus $45 Apple iPhone 11 Pro 512GB | $45.00 | $66.00 | $111.00 | 4GB | 36 months |
| Optus | Optus My Plan Plus $65 Apple iPhone 11 Pro 512GB | $65.00 | $56.00 | $121.00 | 60GB | 36 months |
| Optus | Optus My Plan Plus $99 Apple iPhone 11 Pro 512GB | $99.00 | $18.00 | $117.00 | 100GB | 36 months |
| Optus | Optus My Plan Plus $85 Apple iPhone 11 Pro 512GB | $85.00 | $38.00 | $123.00 | 80GB + 20GB bonus | 36 months |
| Optus | Optus My Plan Plus $105 Apple iPhone 11 Pro 512GB | $105.00 | $23.00 | $128.00 | 200GB | 36 months |
| Optus | Optus My Plan Plus $125 Apple iPhone 11 Pro 512GB | $125.00 | $18.00 | $143.00 | 200GB | 36 months |
| Optus | Optus My Plan Plus $45 Apple iPhone 11 Pro Max 64GB | $45.00 | $52.00 | $97.00 | 4GB | 36 months |
| Optus | Optus My Plan Plus $65 Apple iPhone 11 Pro Max 64GB | $65.00 | $42.00 | $107.00 | 60GB | 36 months |
| Optus | Optus My Plan Plus $85 Apple iPhone 11 Pro Max 64GB | $85.00 | $32.00 | $117.00 | 80GB + 20GB bonus | 36 months |
| Optus | Optus My Plan Plus $105 Apple iPhone 11 Pro Max 64GB | $105.00 | $20.00 | $125.00 | 200GB | 36 months |
| Optus | Optus My Plan Plus $125 Apple iPhone 11 Pro Max 64GB | $125.00 | $5.00 | $130.00 | 200GB | 36 months |
| Optus | Optus My Plan Plus $45 Apple iPhone 11 Pro Max 256GB | $45.00 | $60.00 | $105.00 | 4GB | 36 months |
| Optus | Optus My Plan Plus $65 Apple iPhone 11 Pro Max 256GB | $65.00 | $50.00 | $115.00 | 60GB | 36 months |
| Optus | Optus My Plan Plus $85 Apple iPhone 11 Pro Max 256GB | $85.00 | $40.00 | $125.00 | 80GB + 20GB bonus | 36 months |
| Optus | Optus My Plan Plus $105 Apple iPhone 11 Pro Max 256GB | $105.00 | $28.00 | $133.00 | 200GB | 36 months |
| Optus | Optus My Plan Plus $125 Apple iPhone 11 Pro Max 256GB | $125.00 | $13.00 | $138.00 | 200GB | 36 months |
| Optus | Optus My Plan Plus $45 Apple iPhone 11 Pro Max 512GB | $45.00 | $70.00 | $115.00 | 4GB | 36 months |
| Optus | Optus My Plan Plus $65 Apple iPhone 11 Pro Max 512GB | $65.00 | $60.00 | $125.00 | 60GB | 36 months |
| Optus | Optus My Plan Plus $85 Apple iPhone 11 Pro Max 512GB | $85.00 | $50.00 | $135.00 | 80GB + 20GB bonus | 36 months |
| Optus | Optus My Plan Plus $105 Apple iPhone 11 Pro Max 512GB | $105.00 | $38.00 | $143.00 | 200GB | 36 months |
| Optus | Optus My Plan Plus $125 Apple iPhone 11 Pro Max 512GB | $125.00 | $23.00 | $148.00 | 200GB | 36 months |
| Optus | Optus My Plan Plus $45 Apple iPhone 11 64GB | $45.00 | $51.00 | $96.00 | 4GB | 24 months |
| Optus | Optus My Plan Plus $65 Apple iPhone 11 64GB | $65.00 | $41.00 | $106.00 | 60GB | 24 months |
| Optus | Optus My Plan Plus $89 Apple iPhone 11 64GB | $89.00 | $20.00 | $109.00 | 100GB | 24 months |
| Optus | Optus My Plan Plus $85 Apple iPhone 11 64GB | $85.00 | $29.00 | $114.00 | 80GB + 20GB bonus | 24 months |
| Optus | Optus My Plan Plus $105 Apple iPhone 11 64GB | $105.00 | $14.00 | $119.00 | 200GB | 24 months |
| Optus | Optus My Plan Plus $125 Apple iPhone 11 64GB | $125.00 | $0.00 | $125.00 | 200GB | 24 months |
| Optus | Optus My Plan Plus $45 Apple iPhone 11 128GB | $45.00 | $54.00 | $99.00 | 4GB | 24 months |
| Optus | Optus My Plan Plus $65 Apple iPhone 11 128GB | $65.00 | $44.00 | $109.00 | 60GB | 24 months |
| Optus | Optus My Plan Plus $89 Apple iPhone 11 128GB | $89.00 | $23.00 | $112.00 | 100GB | 24 months |
| Optus | Optus My Plan Plus $85 Apple iPhone 11 128GB | $85.00 | $32.00 | $117.00 | 80GB + 20GB bonus | 24 months |
| Optus | Optus My Plan Plus $105 Apple iPhone 11 128GB | $105.00 | $17.00 | $122.00 | 200GB | 24 months |
| Optus | Optus My Plan Plus $125 Apple iPhone 11 128GB | $125.00 | $3.00 | $128.00 | 200GB | 24 months |
| Optus | Optus My Plan Plus $45 Apple iPhone 11 256GB | $45.00 | $60.00 | $105.00 | 4GB | 24 months |
| Optus | Optus My Plan Plus $65 Apple iPhone 11 256GB | $65.00 | $50.00 | $115.00 | 60GB | 24 months |
| Optus | Optus My Plan Plus $89 Apple iPhone 11 256GB | $89.00 | $29.00 | $118.00 | 100GB | 24 months |
| Optus | Optus My Plan Plus $85 Apple iPhone 11 256GB | $85.00 | $38.00 | $123.00 | 80GB + 20GB bonus | 24 months |
| Optus | Optus My Plan Plus $105 Apple iPhone 11 256GB | $105.00 | $23.00 | $128.00 | 200GB | 24 months |
| Optus | Optus My Plan Plus $125 Apple iPhone 11 256GB | $125.00 | $9.00 | $134.00 | 200GB | 24 months |
| Optus | Optus My Plan Plus $45 Apple iPhone 11 Pro 64GB | $45.00 | $72.00 | $117.00 | 4GB | 24 months |
| Optus | Optus My Plan Plus $65 Apple iPhone 11 Pro 64GB | $65.00 | $62.00 | $127.00 | 60GB | 24 months |
| Optus | Optus My Plan Plus $99 Apple iPhone 11 Pro 64GB | $99.00 | $30.00 | $129.00 | 100GB | 24 months |
| Optus | Optus My Plan Plus $85 Apple iPhone 11 Pro 64GB | $85.00 | $50.00 | $135.00 | 80GB + 20GB bonus | 24 months |
| Optus | Optus My Plan Plus $105 Apple iPhone 11 Pro 64GB | $105.00 | $35.00 | $140.00 | 200GB | 24 months |
| Optus | Optus My Plan Plus $125 Apple iPhone 11 Pro 64GB | $125.00 | $31.00 | $156.00 | 200GB | 24 months |
| Optus | Optus My Plan Plus $45 Apple iPhone 11 Pro 256GB | $45.00 | $84.00 | $129.00 | 4GB | 24 months |
| Optus | Optus My Plan Plus $65 Apple iPhone 11 Pro 256GB | $65.00 | $74.00 | $139.00 | 60GB | 24 months |
| Optus | Optus My Plan Plus $99 Apple iPhone 11 Pro 256GB | $99.00 | $42.00 | $141.00 | 100GB | 24 months |
| Optus | Optus My Plan Plus $85 Apple iPhone 11 Pro 256GB | $85.00 | $62.00 | $147.00 | 80GB + 20GB bonus | 24 months |
| Optus | Optus My Plan Plus $105 Apple iPhone 11 Pro 256GB | $105.00 | $47.00 | $152.00 | 200GB | 24 months |
| Optus | Optus My Plan Plus $125 Apple iPhone 11 Pro 256GB | $125.00 | $43.00 | $168.00 | 200GB | 24 months |
| Optus | Optus My Plan Plus $45 Apple iPhone 11 Pro 512GB | $45.00 | $99.00 | $144.00 | 4GB | 24 months |
| Optus | Optus My Plan Plus $65 Apple iPhone 11 Pro 512GB | $65.00 | $89.00 | $154.00 | 60GB | 24 months |
| Optus | Optus My Plan Plus $99 Apple iPhone 11 Pro 512GB | $99.00 | $57.00 | $156.00 | 100GB | 24 months |
| Optus | Optus My Plan Plus $85 Apple iPhone 11 Pro 512GB | $85.00 | $77.00 | $162.00 | 80GB + 20GB bonus | 24 months |
| Optus | Optus My Plan Plus $105 Apple iPhone 11 Pro 512GB | $105.00 | $62.00 | $167.00 | 200GB | 24 months |
| Optus | Optus My Plan Plus $125 Apple iPhone 11 Pro 512GB | $125.00 | $58.00 | $183.00 | 200GB | 24 months |
| Optus | Optus My Plan Plus $45 Apple iPhone 11 Pro Max 64GB | $45.00 | $78.00 | $123.00 | 4GB | 24 months |
| Optus | Optus My Plan Plus $65 Apple iPhone 11 Pro Max 64GB | $65.00 | $68.00 | $133.00 | 60GB | 24 months |
| Optus | Optus My Plan Plus $85 Apple iPhone 11 Pro Max 64GB | $85.00 | $56.00 | $141.00 | 80GB + 20GB bonus | 24 months |
| Optus | Optus My Plan Plus $105 Apple iPhone 11 Pro Max 64GB | $105.00 | $53.00 | $158.00 | 200GB | 24 months |
| Optus | Optus My Plan Plus $125 Apple iPhone 11 Pro Max 64GB | $125.00 | $49.00 | $174.00 | 200GB | 24 months |
| Optus | Optus My Plan Plus $45 Apple iPhone 11 Pro Max 256GB | $45.00 | $90.00 | $135.00 | 4GB | 24 months |
| Optus | Optus My Plan Plus $65 Apple iPhone 11 Pro Max 256GB | $65.00 | $80.00 | $145.00 | 60GB | 24 months |
| Optus | Optus My Plan Plus $85 Apple iPhone 11 Pro Max 256GB | $85.00 | $68.00 | $153.00 | 80GB + 20GB bonus | 24 months |
| Optus | Optus My Plan Plus $105 Apple iPhone 11 Pro Max 256GB | $105.00 | $65.00 | $170.00 | 200GB | 24 months |
| Optus | Optus My Plan Plus $125 Apple iPhone 11 Pro Max 256GB | $125.00 | $61.00 | $186.00 | 200GB | 24 months |
| Optus | Optus My Plan Plus $45 Apple iPhone 11 Pro Max 512GB | $45.00 | $105.00 | $150.00 | 4GB | 24 months |
| Optus | Optus My Plan Plus $65 Apple iPhone 11 Pro Max 512GB | $65.00 | $95.00 | $160.00 | 60GB | 24 months |
| Optus | Optus My Plan Plus $85 Apple iPhone 11 Pro Max 512GB | $85.00 | $83.00 | $168.00 | 80GB + 20GB bonus | 24 months |
| Optus | Optus My Plan Plus $105 Apple iPhone 11 Pro Max 512GB | $105.00 | $80.00 | $185.00 | 200GB | 24 months |
| Optus | Optus My Plan Plus $125 Apple iPhone 11 Pro Max 512GB | $125.00 | $76.00 | $201.00 | 200GB | 24 months |
---