Ergon Energy: Queensland electricity plans
Queensland energy provider Ergon generates and sells electricity across the Sunshine State.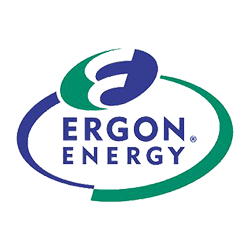 Is Ergon right for me?
What does Ergon Energy offer? Ergon generates and sells electricity to homes and businesses across most of QLD, except the south-east corner.
Product highlights: Ergon has a range of plan options and tariffs to suit a variety of household needs.
Watch out for: If you live in the Ergon distribution area, you unfortunately don't have a choice in electricity retailers.
---
Ergon electricity
While the south-east corner of Queensland is a deregulated energy market where customers can compare and switch retailers easily, the rest of Queensland can only access electricity through Ergon.
While there's not really any competition in areas that Ergon is available, the company's pricing is regulated, so it can't artificially increase the price of electricity thanks to its position as the sole retailer.
Ergon does have a range of plans for its customers to choose from, with both fixed and variable usage tariffs to suit an individual household's usage needs, so comparing your options with Ergon can still end up saving you money.
| State | ⚡ Electricity | ♨️ Gas |
| --- | --- | --- |
| NSW | ❌ | ❌ |
| VIC | ❌ | ❌ |
| QLD | ✅ | ❌ |
| TAS | ❌ | ❌ |
| ACT | ❌ | ❌ |
| SA | ❌ | ❌ |
| NT | ❌ | ❌ |
| WA | ❌ | ❌ |
---
Does Ergon offer solar power?
As part of its electricity generation network, Ergon owns and operates a number of renewable energy generators, including solar power stations at Doomadgee and Windorah.
For customers, Ergon has a lot of helpful information to help you work out if a solar PV system is right for your home, but won't do the installation for you.
However, it does offer feed-in tariffs for any solar system that's connected to the grid.
Does Ergon Energy offer GreenPower?
It's good news for Queenslanders looking to offset their electricity's carbon footprint as Ergon offers full support for the government's GreenPower initiative.
Ergon's Clean Energy program sources renewable electricity from wind, hydro and biomass sources, and is charged on a quarterly subscription, in addition to your regular usage charge. You can opt for 10%, 25%, 50%, 75% or 100% of your usage to be sourced from renewable sources, with a flat subscription charged based on the tier you choose.
---
How can I pay my Ergon Energy bills?
Ergon accepts a range of payment methods to help make paying your bill easy.
---
Why consider Ergon Energy?
Location. Ergon is the exclusive retailer for most of Queensland, so if you live within its retailer footprint, you don't really have a choice.
Green options. As well as generating its own electricity from renewable sources, Ergon also has a comprehensive GreenPower subscription platform allowing you to opt to source a percentage of your energy from renewable sources.
Supplies and sells electricity. Ergon supplies electricity to over 700,000 customers, across 97% of the state of Queensland.
---
Read more on this topic
Lower your household bills