VoIP in Australia
You can still use your home phone when you switch to the NBN thanks to VoIP phone services.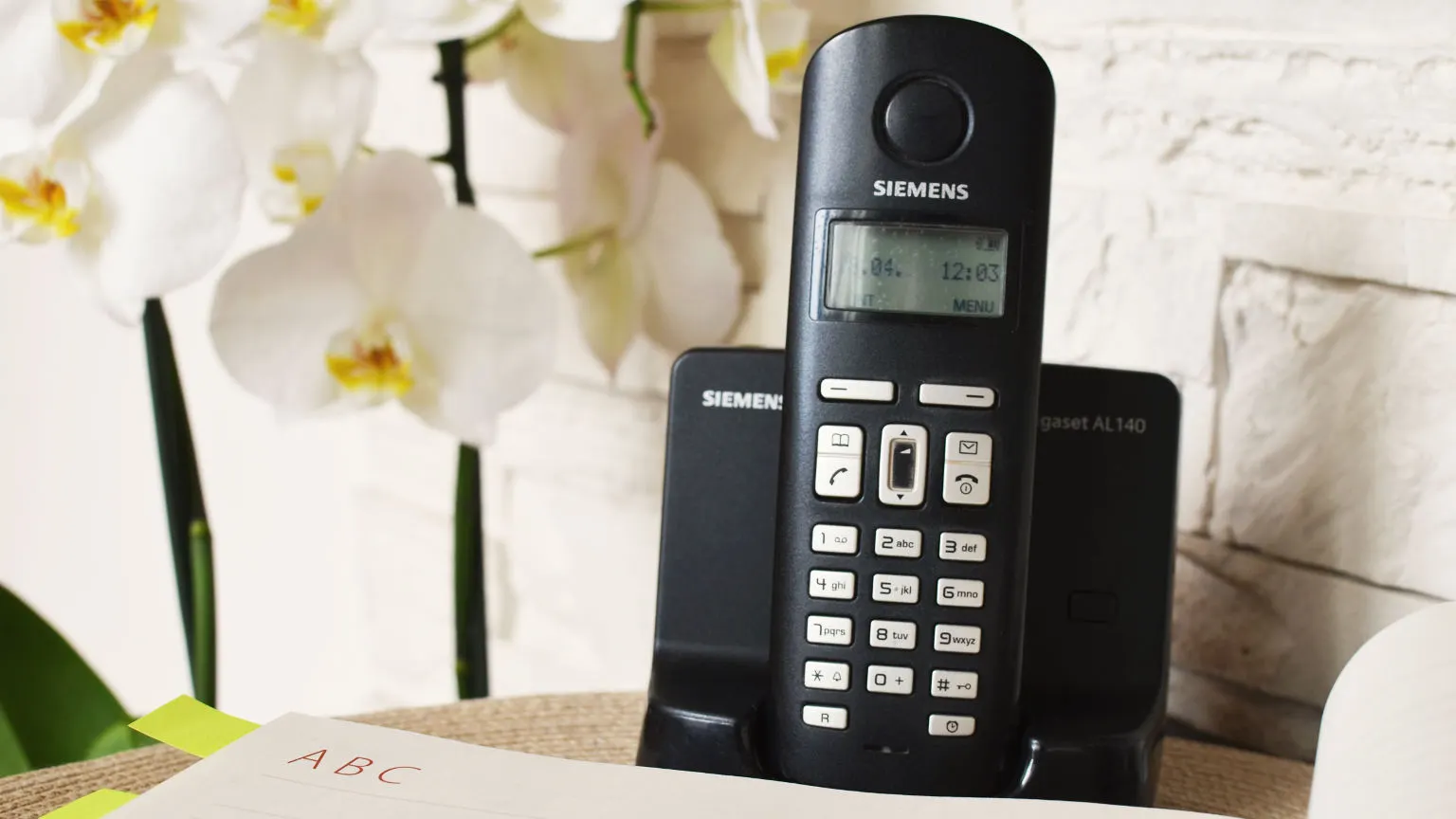 We're reader-supported and may be paid when you visit links to partner sites. We don't compare all products in the market, but we're working on it!
While many people now rely on their mobile phones to make calls, you can still using keep your home phone when you connect to the NBN. Home phone services on the NBN are known as Voice over IP (VoIP) telephone plans.
When you sign up to an NBN plan, depending on the provider, you'll be asked if you want to add any call packages. These call packages use VoIP technology so that you can continue using your home phone line.
Must read:
If you're on the NBN and want to continue using your home phone, you MUST sign up to a VoIP service. Unless you have a fixed wireless or satellite NBN connection, there is no other way to keep using your home phone line without VoIP.
What is VoIP and how does it work?
A VoIP phone service lets you communicate with other people using the Internet rather than traditional phone lines. When you call mobiles or landlines with a VoIP service, your voice is converted into digital data signals that are sent via the Internet, in much the same way as any other upload.
Essentially, VoIP uses a different type of technology for you to continue using your home phone line when you've connected to the NBN.
Compare VoIP NBN plans below
How is a VoIP service different from traditional phones?
While traditional phones and VoIP do more or less the same thing — allow you to call other people — the difference in technology has a few consequences:
No Internet? No power? No connection. If the NBN goes down, your VoIP service will stop working. Likewise, a power failure will shut off your NBN and kill your VoIP service (unless you have a backup battery, automatically included on Fibre to the Premises (FTTP) NBN).
Some devices may stop working. Emergency devices, security alarms and other equipment may stop functioning if they rely on traditional copper telephone wires.
Quality can vary. VoIP connections aren't perfect, and you can get bad call quality if your Internet is shaky or your bandwidth is put under strain. This is less likely as technology improves.
No line rental fees, but there's still a fee. The extra line rental fees you would often be charged to get copper phone services don't exist. This doesn't mean VoIP is free, though, as covered in the next section.
How do I get VoIP on an NBN plan?
Not all NBN providers offer VoIP options with their plans. Those that do usually sell it in one of three ways:
Default pay as you go. Many providers will give you a VoIP phone line for no added cost, instead charging you per minute for every call you make. A few, like Telstra, include the phone line and unlimited Australian calls for free.
Call pack add-ons. If you use your landline regularly, pay as you go costs can add up. Some providers have call packs, where you pay an extra monthly fee to get unlimited standard or international inclusions.
Standalone service. These aren't sold as part of a plan but are a separate subscription with various inclusions and features. Standalone VoIP is more common for businesses than individuals.
If the NBN has rolled out in your area and you want to keep your landline, you'll have to switch to a VoIP service since the telephone cables in your area will be removed in the near future. The exception is people with satellite or fixed wireless NBN connections since they can keep their traditional landline.
VoIP providers in Australia
Australia has dozens of providers who will sell you a VoIP phone service with your home Internet. Many providers will offer a home phone line when you sign up with pay as you go (PAYG) calls, and the option to add on call packs if you think you'll be using your home phone regularly.
In this section, we're highlighting the VoIP services and deals from Finder partners only — it's not an exhaustive list of everything available. If you're not keen on any of the below providers, make sure you do your own research to see what other options are available for you.
Click on a provider logo below to see its VoIP plans
Telstra NBN VoIP plans
No matter what NBN plan you get from Telstra, you'll get a home phone line included at no extra cost, plus the following:
Unlimited local, national and mobile calls in Australia
500 calls to "13" numbers
PAYG international calls
Aussie Broadband plans with VoIP
When you purchase any NBN plan from Aussie Broadband, you can add in a landline number with a call pack. Here are the three options:
Local and national calls at 15 cents per call and mobile calls at 22 cents per minute
International calls from 5 cents per minute
"13" numbers at 35 cents per call
Everyday for $10 a month, which makes local, national and mobile calls free
International Talk for $20 a month, which is the same as Everyday but adds on $15 of international talk credit
TPG NBN plans with VoIP
Home phone call packs are available on every TPG NBN plan except for its 100GB NBN12 option. This is what you can choose from:
Local/national calls at 25 cents per call and mobile calls at 39 cents per minute plus 39 cents at flag fall
International calls at various rates plus 39 cents at flag fall
"13" numbers at 30 cents per call
Oz Talk for $10 a month, which makes local, national and mobile calls free
Big Talk for $10 a month, which makes local and national calls free and adds 100 international minutes
Extra Talk for $20 a month, which makes local, national and mobile calls free and includes unlimited standard calls to 15 countries
Dodo VoIP NBN plans
If you purchase a Dodo NBN plan, you'll get a home phone included at no extra charge. Depending on how much extra you choose to pay per month, you'll get the following call inclusions:
Local calls at 25 cents per call and national calls at 29 cents per minute plus 45 cents at flag fall
Mobile calls at 39 cents per minute plus 45 cents at flag fall
International calls at rates depending on the destination
"13" numbers at 44 cents per call
Unlimited call pack for $10 a month, which makes local, national and mobile calls free
International landline pack for $15 a month, which gives you 2,000 minutes to landlines in 25 countries
International landline and mobile pack for $20 a month, which gives you 2,000 minutes to landlines and mobiles in 25 countries
iiNet VoIP with NBN plans
The NBN plan you select with iiNet will affect what home landline call packs you can purchase. This is what you can pick from:
Pay As You Go for free on all plans
Local/national calls at 15 cents per call and mobile calls at 29 cents per minute
International calls from 5 cents per minute
"13" numbers from 30 cents per call
Unlimited calls for $5 per month on NBN50 or $10 per month on NBN100 and make local, national and mobile calls for free
International Top 20 for $10 per month on all plans, which provides unlimited calls to landlines in 20 countries
Optus plans with VoIP
All of Optus's NBN plans have the option of a phone line for no additional charge. Call packs are as follows:
Local calls at 30 cents per call and national and mobile calls at 28 cents per minute plus 52 cents at flag fall
International calls at variable rates with 52 cents at flag fall
"13" numbers from 35 cents per call
Phone Everyday 10 for $10 a month, which makes local, national and mobile calls in Australia free
World Saver Ultimate for $10 a month, which includes unlimited calls to 25 countries and to mobiles in 7 countries
Internode NBN VoIP plans
Whichever NBN plan you pick, you can get a complimentary home phone line with Internode. These are your options as far as call packs go:
Local/national calls at 18 cents per call and mobile numbers at 29 cents per minute
International calls at variable rates plus 15 cents at flag fall
"13" numbers from 27.5 cents per call
Local, National and Mobile Call Pack for $10 a month, which makes calls to landlines and mobiles in Australia free
International Call Pack for $10 a month, which gives you unlimited calls to landlines in 20 countries