Stamp duty in Victoria
Find out how much stamp duty Victorians have to pay, calculate your own costs and work out if you're eligible for land transfer duty exemptions and concessions.
Stamp duty is a government tax in Victoria on certain purchase including real estate. When buying or otherwise taking possession of homes or land, it's referred to as the land transfer duty. Buying a home in Victoria can cost you tens of thousands of dollars in land transfer duties.
Fortunately there are concessions and exemptions to help keep costs down. In many cases, you won't have to pay any stamp duty on property purchases at all.
How is stamp duty calculated in Victoria?
The amount of duty payable is calculated on a sliding scale, starting at 1.4% for properties whose dutiable value is $25,000 and going up to 5.5% for properties with a dutiable value of $960,000 and above.
The dutiable value of the home is the greater of either the purchase price (including any non-monetary obligations), or the home's value on the open market.
| Dutiable value range | Duty payable |
| --- | --- |
| Up to $25,000 | 1.4% of the dutiable value of the property |
| $25,001 to $130,000 | $350 plus 2.4% of the dutiable value in excess of $25,000 |
| $130,001 to $960,000 | $2,870 plus 6% of the dutiable value in excess of $130,000 |
| $960,001 and above | 5.5% of the dutiable value |
Figures correct at time of publication and subject to change. Source: State Revenue Office of Victoria
Rates may vary depending on:
If you're a foreign buyer or an Australian resident
If you're a first home buyer, or not
Whether it's going to be your primary residence or an investment property
Whether you're buying land or a building
Whether you're buying the property, or taking possession of it in another way
Any other exemptions and concessions you're entitled to, such as for pensioners
You can use a stamp duty calculator to find out how much duty may be payable.
VIC stamp duty calculator
Use this calculator to get an estimate of your stamp duty costs on property in Victoria. Select VIC in the input box to ensure you get the right calculation.
First home buyer? Learn how to find the right home loan here
Are there Victorian stamp duty concessions for first home buyers?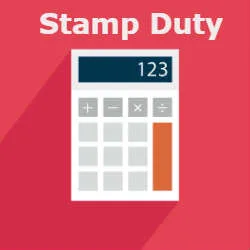 There's a range of land transfer duty concessions and complete exemptions, especially for first home buyers in Victoria.
Stamp duty exemption for first home buyers
First home buyers in Victoria may be exempt from stamp duty on eligible purchases.
You, and your partner if applicable, must both qualify as first home buyers and be Australian citizens or permanent residents. New Zealanders on a special category visa are also eligible.
Eligible purchases
The full exemption only applies to homes with a dutiable value up to $600,000. For homes valued at $600,000 to $750,000, you can still get partial exemption.
You must be buying your principal place of residence. This means you need to live in it for at least 12 continuous months, starting within 12 months of taking possession.
Here are some examples of how the Victorian stamp duty concession can affect your stamp duty costs.
| Purchase Price | First Home - New Home Duty |
| --- | --- |
| $605,000 | $1,045 |
| $625,000 | $5,428 |
| $650,000 | $11,356 |
| $675,000 | $17,758 |
| $700,000 | $24,713 |
| $725,000 | $32,141 |
Stamp duty is subject to changes so please use the above as a guide only.
Are there any other stamp duty concessions or exemptions in Victoria?
Land transfer duties are also exempt for:
Land transfers from deceased persons to their beneficiaries
Transfers between spouses and partners, including transfers after breakups such as part of a divorce settlement
Certain corporate consolidations or reconstructions
Other concessions include:
Off-the-plan purchase concessions
Pensioner duty exemption or concession
Charity and friendly society concessions
Young farmer exemptions or concessions
Learn more about each exemption:
How do I claim a Victorian stamp duty concession or exemption?
You can apply for a duty or concession through Victoria's State Revenue Office.
How and when do I have to pay stamp duty?
You must complete a Digital Duties Form online to pay your land transfer duty. You can do this as a buyer or your conveyancer will do it for you. You will need to register online and verify your identity.
The State Revenue Office of Victoria recommends you complete the form and payment "at least 30 days before settlement."
Do I have to pay upfront or can I pay stamp duty in instalments?
You're better off paying your land transfer duty upfront. It is possible to set up a payment plan lasting up to 12 months, but you will be charged interest at the "market rate" plus 8%. That's a hefty rate and could see you pay a significant amount of interest.
More questions about stamp duty in Victoria
Compare home loan options for first home buyers
After entering your details a mortgage broker from Aussie will call you. They will discuss your situation and help you find a suitable loan.
A comparison of home loans from multiple lenders.

Expert guidance through the entire application process.

Free suburb and property reports.
---

The Adviser's number 1 placed mortgage broker 8 years running (2013-2020)
Related Posts