Should I charge my partner rent?
If your partner moves in with you, working out how to manage your finances can be tricky. Here's what you need to do to prevent any fights or tears.
We're committed to our readers and editorial independence. We don't compare all products in the market and may receive compensation when we refer you to our partners, but this does not influence our opinions or reviews. Learn more about Finder.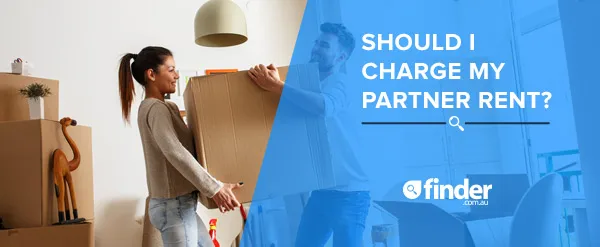 Deciding to move in together is a very exciting time for you and your partner. There's furniture to buy, plans to make and the promise of a long and happy future together.
But moving in together can also make things very tricky very fast. If you own a property and your partner moves in with you, how do you ensure that you both get a fair deal from a financial perspective? Are there any steps you need to take to ensure that you are protected in case your relationship turns sour in the future? Should you actually charge your partner rent?
The answer depends on multiple factors and only you can really answer it.
But with a bit of forward planning and knowledge of the risks involved, you can work out an arrangement to keep both you and your partner happy.
When your partner moves in
If you own a house or an apartment, working out a fair financial arrangement when your partner moves in can be difficult and awkward. Should you ask your partner to pay rent? You're most likely making regular mortgage repayments to pay off the property, so it's only fair that your partner makes some sort of financial contribution to the cost of owning the property.
But if you do decide to charge rent, how do you calculate your partner's rental amount? Would it be based on your ongoing mortgage repayments, or on what you consider to be a fair rent payment for a property of your type and size? You'll also need to consider whether paying rent will allow your partner to build equity in the property.
Alternatively, you may want to ask your partner to start making their own contributions to the mortgage. While this is more of a long-term commitment than just paying rent, it will also allow your partner to take on a share of ownership in the property, which they may prefer instead of paying "dead money" as rent.
Of course, there's also the matter of household bills to sort out, such as electricity, gas, internet, groceries and the like. How you split these bills is up to you, but working out a 50/50 arrangement or even opening a joint bank account could be a good idea.
Legal implications
Even if you're not married, asking your partner to move in with you has important legal ramifications that you must consider before getting a new key cut. For example, from the time the two of you start living together as a couple, Centrelink will consider the two of you to be in a de facto relationship, which can have a big impact on your eligibility to access Centrelink benefits.
However, you will also need to consider what impact the financial contributions your partner makes could have regarding the ownership of the property in the eyes of the law. For example, if your partner makes contributions of a capital nature, such as paying rent or helping pay for building insurance, they could have a claim to the property when you split up.
Under Australian law, if you've been in a de facto relationship for at least two years then any claims regarding property are treated in the same way they would be for a married couple going through a divorce. So if your partner has been making contributions to the property rather than simply paying for consumables like groceries and power bills, they may be able to claim a share of ownership of the property.
These sorts of situations can understandably get very messy in a short amount of time, so it's essential that you seek legal advice before sorting out any financial arrangements with your partner. Your solicitor will be able to advise you on how you can protect yourself in case your relationship with your partner ever turns sour.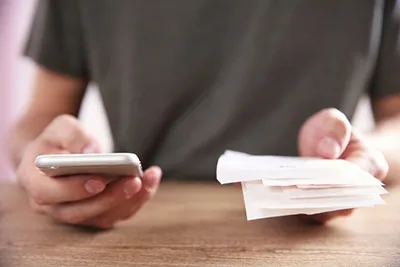 Plan ahead
Moving in together is a huge decision for both of you, not only from an emotional standpoint but also a financial one. With this in mind, don't put off discussing important financial matters and living arrangements until after your partner has moved in; the last thing either of you wants is any nasty surprises.
It's important that you and your partner sit down together before anyone moves anywhere and have an open and honest discussion about finances and your expectations. Lay all your cards on the table and make sure that you both have a clear understanding of how the two of you will manage rent or mortgage payments, bills, groceries and any other expenses.
In many cases, it's a good idea to get some legal advice and even hire a solicitor to help you draw up some sort of agreement. This agreement should outline each partner's share of the financial obligations and what this means for the future, for example, whether your partner will take a share in the ownership of the property.
If your partner will pay rent, how much will the rental amount be? If your partner's rental payments will allow them to build equity in the property, outline the precise details of this arrangement. If you decide to renovate the property, what sort of financial contribution will your partner have to make?
Yes, this is a completely unromantic way to discuss your future together and may take some of the joy out of the situation, but it's important to protect yourself against any potential problems that may arise down the track. Hopefully you'll never have to refer back to this agreement and the two of you will live happily ever after, but it's good to know it's there as a backup in case your relationship doesn't work out.
Image: Shutterstock
More guides on Finder