FTTP: Fibre to the Premises explained
FTTP will get you the fastest NBN connection, but only if you're lucky enough to gain access to it.
We're committed to our readers and editorial independence. We don't compare all products in the market and may receive compensation when we refer you to our partners, but this does not influence our opinions or reviews. Learn more about Finder .
The National Broadband Network (NBN) was intended to be a comprehensive network of high-speed fibre optic cables that would revolutionise Australia's Internet speeds. Instead, it has been implemented in a patchwork fashion, meaning that houses have been connected with a mix of old and new technologies.
Fibre to the premises (FTTP) may be the best connection available, but it's up to luck whether you have it since you don't get to choose what connection your property has to the NBN.
Compare FTTP NBN plans in the table below
What is FTTP and how does it work?
Fibre to the premises (FTTP) is the way the NBN was intended to work everywhere: by using high-speed fibre optic cables connected directly to your house. If you're lucky enough to have it, it's the best connection you can get.
FTTP operates by connecting your house directly to the NBN network using only robust, high-speed fibre optic cables (shown in the diagram below). Where other connection types rely upon older intermediate copper wire or cables, FTTP doesn't, reducing signal degradation and other issues.
Signals are sent through these fibre optics to a connection box attached to your building. Typically, a modem will then be wired to this box, allowing your devices access to the NBN and the Internet.
The NBN Co node shown in the picture represents one of the many distribution nodes installed around the country.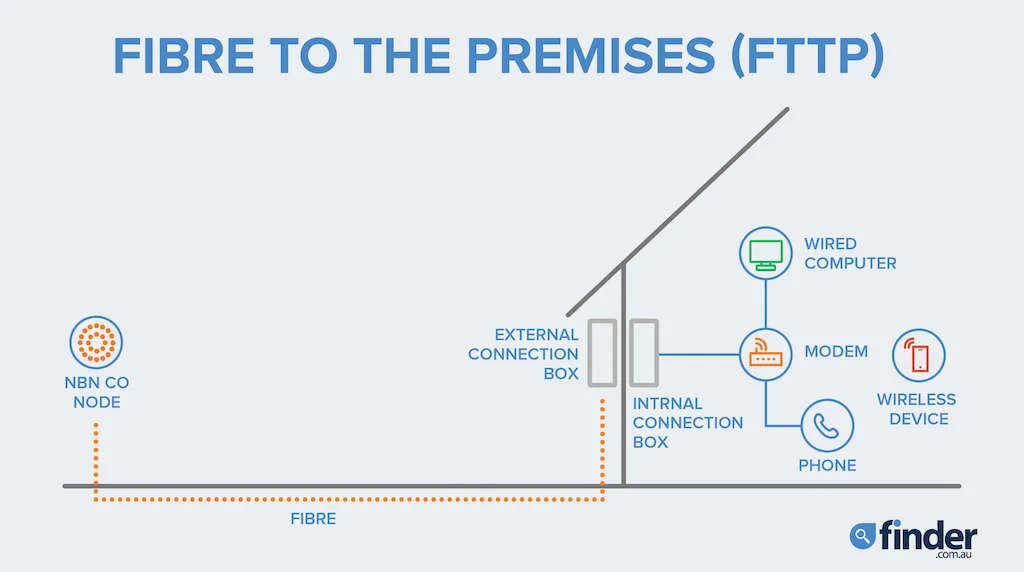 What equipment will I need?
Since the fibre optic cables and connection box will already be set up as part of the NBN installation at your property, you only need an NBN-capable modem and devices like computers or mobiles that can connect to it.
If you don't already have a suitable modem, your Internet service provider will sell their recommended one to you when you purchase a plan.
How fast is FTTP?
FTTP is capable of the fastest speeds the NBN has to offer. What speed you'll actually get depends on which speed tier you sign up to:
| NBN speed tier | Download/upload speed | Compare plans |
| --- | --- | --- |
| Basic I NBN12 | 12 Mbps/1 Mbps | |
| Basic II NBN25 | 25 Mbps/5 Mbps | |
| Standard | 50 Mbps/20 Mbps | |
| Fast | 100 Mbps/40 Mbps | |
The above are maximum speeds, and the actual speeds you'll experience will be slower due to other people using the network. However, FTTP gives you great odds of achieving the typical speed your provider promises.
Some providers like Aussie Broadband even have special FTTP plans that promise download speeds up to 250Mbps.
Where is FTTP available?
According to NBN Co, less than 20% of Australians will have access to a fibre-to-the-premises connection once NBN installation is complete in 2020. You're most likely to have one if you had your NBN connected before the federal government changed in 2013, or if you're in a housing estate that had pre-existing fibre optic cables.
You can find out whether your connection is FTTP by using our NBN tracker.
What should I look for when comparing FTTP plans?
With so many plans available on the market, here are a couple of things to keep in mind when choosing the right one for you.
Speed. With FTTP, you have the freedom to choose any speed that suits you since all NBN tiers should be supported by your high-quality connection. It's important to compare not just maximum speeds, but also the typical speed a provider promises when there's heavy network congestion in the evening. If you aren't sure what speed will work for you, check out our guide to selecting an NBN speed tier.
Data. Faster speeds mean you'll tear through data quickly, too. Unlimited data plans are common but not guaranteed, so make sure you have enough for your streaming and download habits.
Extras. Plenty of providers give the option of entertainment bundles, phone call inclusions and more. If there's a particular service or entertainment feature you want, there's likely a plan out there that offers it.
Frequently asked questions
Can I change my connection to FTTP?
No. The connection type your property has is fixed and can't be changed. If you don't already have FTTP, you won't be able to switch to it.
Will I need a new modem for FTTP?
This depends largely on whether you've been connected to the NBN before. If you haven't, you'll likely need a new NBN-compatible modem, which you can get from your provider along with your plan.
It's also possible that you might need to upgrade your modem to one capable of faster signal processing if you're raising your connection to the highest speed tier. Check with your provider to find out.
What happens to my home phone on FTTP?
You'll still be able to get a landline number from some NBN providers after switching to the new network. However, this will be linked to the NBN network, which means that if the network goes down or you have a power outage, you won't be able to make any calls.
Related Posts
Lower your household bills