Mobile data usage
How mobile data works, how much you need and how to manage your usage.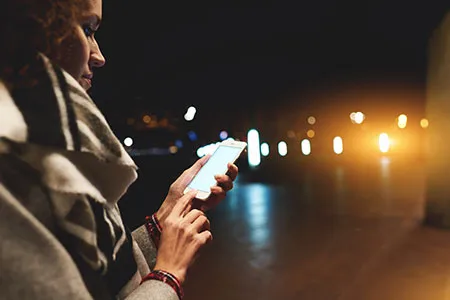 These days, the quality of a mobile plan is pretty much squarely rooted in how much data is included. More than 75% of mobile plans we list on finder.com.au have unlimited calls and texts to standard numbers – meaning discerning users need to look elsewhere to compare and find the best deals.
Unfortunately for most users, excess data fees are still a reality, with over 43% of Australians often exceeding their limits each month according to research done by Deloitte. To help, we've created a mobile data usage breakdown tool to help you find how much data you really need. Move the sliders to the usage levels that match yours and see the results update as you do.
Mobile Data Calculator
Adjust the sliders below to indicate your general habits per activity or type of usage.
If you're on mobile, you may need to refresh this page to use the widget below.
This estimate provides a general guide and your own requirements may be very different. Remember that other factors may also influence your data consumption.
App data usage
| App | Activity | MB/hour | Description |
| --- | --- | --- | --- |
| | Instagram | 750 | Instagram is one of the most popular – and data intensive – apps out there. You should be careful to ensure that any idle browsing doesn't turn into a huge data blowout. |
| | Facebook | 150 | The Facebook app is one of the most data-hungry apps out there. "Facebook Lite", a lightweight, low-data alternative for Android is a great option for those looking to save on data. |
| | Snapchat | 150 | Snapchat, like most media-sharing platforms, is another heavy hitter. Enable "Travel Mode" or disable cellular data entirely to curb excess charges. |
| | Spotify/music streaming | 150 | Spotify and other typical music streaming platforms typically consume about 100-150MB of data per hour, but be careful of high-quality services such as TIDAL's HiFi; these can be up to three times more draining. |
| | SD (standard) video streaming | 500 | Standard definition video streaming on services such as YouTube typically uses about 250-500MB per hour. Subscription services such as Netflix or Stan typically use much more. |
| | HD video streaming | 3000 | Netflix, and most other subscription streaming services, use about 3GB per hour for HD content (1080p+). Their standard definition content streams 1GB per hour, more than double YouTube's rate. |
| | WhatsApp/Messenger | 40 | For most, using your favourite instant messenger app will hardly make a dent on a typical mobile plan, but be careful of in-app video sharing and downloading as these will be the real killers. |
| | Video calling | 100 | Video calling using apps like Facetime or Skype aren't huge data hogs these days, but extended usage can drain your data allowance. |
Tips to reduce your data usage
If you don't read the fine print, you can find yourself with excess data charges on your bill. However, there are many simple actions you can take that can make a big difference.
"Unlimited" data plans
Set videos on social media to not auto-play
Turn auto-updating off on your apps
Set your phone to data saver mode
Download SD rather than HD movies/TV shows
Install "light" versions of data-hungry apps
Your smartphone may have options to monitor your data usage on a day-to-day basis
---
What is mobile data?
When you access the Internet on your mobile device, you're actually connecting to your mobile provider's network and requesting a data file, whether that's for an email, a video or the latest social media update. The size of each of those files may vary considerably and they don't necessarily line up with the amount of data your provider will charge you for.
That's because phone companies use a system whereby they split data usage into chunks, often called "packets". The size of these packets can differ from network to network, but it's these chunks that your telco counts against your overall data usage.
How is mobile data counted?
This process might sound confusing, so here's a breakdown of how the maths actually works.
Let's say you've got a 100MB mobile data allowance and you watch a YouTube video that's 5.5MB in size. If your telco counts data in an absolute sense, then you'd have 94.5MB of data left (100–5.5=94.5MB) for the rest of the month. Some telcos do indeed count data this way, calculating usage on a per-KB basis.
However, other telcos may count data in different ways. It wasn't that long ago that some providers counted data in 10MB segments. For a 5.5MB file, that would mean you'd be charged 10MB for accessing that single file, despite using just over half that actual amount.
The good news here is the vast majority of Australian telcos now charge in per-KB increments, meaning you're generally only paying for the data you actually use.
How to check your usage
One obvious way to determine how much data you need is to look at how much data you're already using. If you're still stuck on a plain old feature phone there's nothing you can really check, unless you're tethering your phone to use as a simple 3G modem. For smartphone users, however, the tools to track your ongoing data usage are already baked into your phone, or can be easily added.
Most telcos provide tracking tools to give you an ongoing figure, either via a mobile website, or increasingly via a specific app for your smartphone. The one issue to be aware of here is that they're often slow in updating your data usage, sometimes by as much as 24 hours.
If you're using an iPhone, head to Settings>Mobile and scroll down to check your mobile data usage for the current usage period, as well as how much data each app has used over that time period. If you're an Android user, the same data usage can be found by going to Settings>Data Usage. Windows Phone users have an app that handles data usage called Data Sense that allows you to enter your existing data plan provisions and then see your current mobile and Wi-Fi data usage.
It's quite likely that your usage will vary over time, so the larger the amount of usage data you can draw on, the more realistic picture of your ongoing data needs you're going to be able to produce. Even if you've only got a small sample, however, extrapolating out for a full month and giving yourself a small buffer to cover for times when you might use more data than you expected can be a useful guideline.
Find the best plan for your data needs
To find the perfect plan to suit your needs, click the "Filter results" button below and enter the "Total GB" amount from the mobile data usage tool above in the "Data usage per month" filter. Remember that other factors may also influence your data consumption, and that the above is an estimate based on typical usage.
Related Posts
Latest mobile plan deals on Finder