The best Internet deals for August 2020
We've compared nearly 1000 plans from 60 providers across 4 Internet categories to help you find the best Internet deals.
Best Internet Deals for August 2020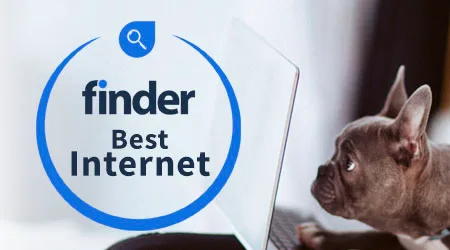 How did we pick this list?
970
Internet plans compared
Every month, our team of experts looks for the best Internet plans from hundreds of products in the market using
this methodology
. Keep in mind that our "best" picks may not always be the best for you, and you're always welcome to use our
Internet plans comparison table
to find one that works for you.
Finding the best Internet plan for you can be an overwhelming decision with all the different deals available on the market. We've rounded up our choices for the best Internet plans over a couple of categories to try and make things easier for you.
Best unlimited Internet plan
For the typical evening speed you get on TPG's NBN50 plan, you're also getting a steal when it comes to the price tag. This plan is one of the best-value Standard NBN plans on the market. It has enough juice to keep a household of 3 or more happy, whether you're streaming Netflix or gaming.

Besides giving you the most bang for your buck, this is also a month-to-month contract so you can leave at any time if you're not happy with your experience.
46 Mbps




Typical evening speed

Unlimited data

$

69.99

per month
Min. total cost of $199.94
Go to site
Also consider these best unlimited picks:
What's good about these plans?
With many Internet providers offering unlimited data these days, it's hard to pick just one singular best plan. These options are also great value Internet deals.
iiNet
has won customer service awards in the past and its NBN50 plan gives you a little bit more horsepower than TPG's plan. If you're looking for an even faster Internet option to help you while you're still working from home or self isolating,
Kogan's
Fast tiered plan should do the trick.
Best cheap Internet deal
Tangerine may not be a well known provider, but their plans are definitely great value. They're running a promotion on their 1 month Basic II speed plan - the first 6 months are $49.90, then it goes up to $59.90 - but you'll have the freedom to switch if needed.

At a much faster speed than other plans under $50 and unlimited data, this one's an easy recommendation if you're looking to save some cash.
21 Mbps




Typical evening speed

Unlimited data

$

49.9

per month
Min. total cost of $49.9
Go to site
Looking for more cheap deals? Check out more NBN plans under $50 here
Best fast Internet deal
Whilst Kogan is a pretty new face in the NBN market, it's quickly become known for its reliable speeds. The Kogan Gold plan delivers Fast speeds for a great price.

Its current offer is $78.90 for the first 6 months, and since there's no lock-in contract, it means you're free to leave at any time.
80 Mbps




Typical evening speed

Unlimited data

$

78.9

per month
Min. total cost of $78.9
Go to site
Best ADSL Internet plan
ADSL usually requires an active phone line to function. Unless you're paying for a separate phone service, you'll need a plan that comes with home phone line rental.

Most providers charge extra for this, which is why TPG's ADSL Home bundle is so attractive. At a lower-than-average price, it includes line rental, unlimited data and pay-as-you-go calls.
Unlimited data

$

59.99

per month
Min. total cost of $179.94
Go to site
Best mobile broadband plan

Spintel 4G Mobile Broadband 200GB
Spintel's 200GB mobile broadband plan is packed with value, especially when you compare its price with other competitors, who offer the same amount of data, but for nearly $20 extra per month.

Keep in mind that you'll have to purchase a modem from Spintel with this plan, or the data SIM won't work.
200GB data

$

54.95

per month
Min. total cost of $364.95
Learn more
Want a mobile broadband plan without a modem? Consider this next best pick:
Telstra's Large data plan is the most popular mobile broadband plan amongst Finder users. With 200GB of included data, you'll be able to connect to the Internet while you're out and about, whether it's for work or entertainment purposes. There's no modem purchase necessary so you're free to slip the data SIM into your device and go! It also comes with:

No excess data charges
Access to Telstra's 5G network
200GB data

$

75

per month
Min. total cost of $75
Go to site
Best home wireless broadband plan

Optus 5G Home Broadband Unlimited
Optus' plan comes out as the best for this month, not only providing unlimited data so you can stream and browse to your heart's content at home, but also because of its 5G capability.

You'll want to check the 5G coverage map on the Optus website, but if you're within the area, you can take advantage of faster speeds, that may even rival the NBN.
Unlimited data

$

70

per month
Min. total cost of $270
Learn more
The research

970
broadband plans compared

60
Internet service providers

4
broadband categories

6
Our expert's top picks
We've spent dozens of hours trawling through Finder's internal database using our ranking algorithm to find the best value deals for this guide.
NBN, ADSL and mobile broadband represent the vast majority of use cases for everyday Australians. We excluded connection types like Satellite or Fixed Wireless which are mostly used in regional or remote areas.
We excluded some providers only servicing limited regions, and evaluated the vast majority of the market.
We strongly preferred plans with unlimited data in the NBN and ADSL categories, and shorter contracts throughout.
Remember, our "best" pick may not always be the best for you. If this is the case, you can use our Internet Plans engine & filters to find a plan better suited to your situation.
How to choose the best Internet plan
What makes an Internet plan the "best" changes from person to person, so we've compiled a list of things to look out for when you're trying to choose the best Internet plan for you.
Price. Not all plans are created equal, and some providers will simply charge more for a comparable plan. Most plans offer unlimited data these days, but you could think about potentially saving on a limited data plan if you're not a heavy Internet user.
Speed. The NBN speed tiers aren't the only thing that matters. Every provider has a typical evening speed for their plans. This tells you what speed you can expect when everyone is online in the evening, and is what you should be comparing between similar NBN plans.
Contract type. Month-to-month plans offer flexibility and let you switch providers on a whim, but some longer contract plans let you waive set-up fees or include a modem as part of the plan.
Extras. Do you need a home phone line, or are you interested in entertainment bundles? Some providers will include extras that you can sign up for on their Internet plans.
Provider reviews. While reading reviews is important, be aware that some providers compensate people for writing positive reviews about them to improve their star ratings. Also check whether negative reviews are related to issues with the provider or simply written by customers who are angry for other reasons.
How to choose the best speed for your needs
The speed you get on your Internet plan will depend on which type of Internet you've gone for. We'll take a look at what different speeds are offered by NBN, mobile and ADSL connections, and whether you can choose a specific speed for your needs.
NBN speeds
The NBN is divided into four speed tiers, each with their own maximum upload and download speeds. Here's a quick breakdown.
Speed tier
Max download/upload speeds
Average speed during busy hours*
Who and what is it good for?
NBN 12
12/1 Mbps
N/A
Individuals. Light internet use such as emails, social media and browsing.
NBN 25
25/2 Mbps
22.4 Mbps
Small households. Light internet use and basic video streaming.
NBN 50
50/20 Mbps
42.6 Mbps
Four or more individuals. Medium to heavy use, like HD video streaming or lots of people online at once.
NBN 100
100/40 Mbps
84.5 Mbps
Four or more heavy users, or a small business. Lots of gaming, 4K video streaming, everyone using the Internet simultaneously.
*Based on data compiled by the ACCC in their May 2020 report
Mobile broadband speeds
The speed of mobile broadband can be highly variable, depending on where you are, how clear the space between you and the mobile tower is, and what technology you're using. Here's an idea of typical speed ranges for each technology:
3G: 2-10Mbps
4G: 20-50Mbps
5G: 100Mbps-1Gbps and up
ADSL speeds
You can't choose the speed of your ADSL as they tend to vary. ADSL speeds max out at about 24Mbps, but in reality, you'll likely be getting a connection speed closer to 8Mbps on an average line.
Mobile broadband or home wireless broadband? Which one is best for you?
Mobile broadband and home wireless tap into the same technology: both of them transfer data using existing mobile data networks. The big difference between them is that mobile broadband devices tend to be highly portable, meaning you can take them just about anywhere.
Home wireless broadband usually relies upon heavier modems that need an external power source and thus aren't very portable. In return, home wireless plans tend to have higher data limits and more consistent connections.
While they both use the same type of technology to function, the one that suits you best really depends on what you're looking to get out of your Internet connection. If you need a highly portable solution so you can work out of the office or stream content on the go, you'll probably be better off with a mobile broadband plan. Keep in mind that most mobile broadband plans won't offer anything higher than 100GB so you may need to think twice if you're planning to use it in a heavy capacity. Home wireless broadband, however, is more of an in-home solution, and has been called a possible alternative to the NBN. Because its modem is bulkier than mobile broadband modems, it's best if you use home wireless broadband in a single location, rather than moving it around throughout the day.
Want to decide for yourself? Compare more Internet plans to find the best for you
You can use the table filters to adjust price, data usage amount and download speed to narrow down your search.
Related Posts
Lower your household bills
Go to site