Estate Planning
Make sure all your personal, financial and business affairs are taken care of when you pass away.
We're reader-supported and may be paid when you visit links to partner sites. We don't compare all products in the market, but we're working on it!
What exactly is estate planning?
Making a plan to set out what will happen to your assets upon your death is crucial. This process is known as estate planning.
Estate planning involves developing a strategy to deal with your assets and investments when you pass away. Its aim is to provide peace of mind for you and your loved ones when you die, ensuring that your assets are passed on to your beneficiaries in the most simple and effective way.
One of the key tasks of estate planning is preparing a will. Your will provides instructions on how your estate is to be distributed amongst your nominated beneficiaries, but it's far from the only aspect you need to consider.
What's involved in creating an estate plan?
A thorough estate plan will also deal with a range of other matters, including:
Making a will (this is an official document that records the distribution of assets)
Superannuation death nominations (who gets your super benefits when you die)
The creation of testamentary trusts to distribute assets to your beneficiaries
Powers of attorney (appointing someone else to conduct your affairs if you are unable to do so)
Power of guardianship (giving someone else the power to make personal and lifestyle decisions for you if you lose your mental capacity)
Anticipatory direction or advance health directive (instructions on your wishes regarding medical treatment if you're unable to communicate)
How do I start estate planning?
The estate planning process can be broken down into a few simple steps:
Take stock of your assets. Create a list of all your personal assets, as well as other assets that form part of your estate (trusts, superannuation, life insurance etc.).
Identify risks. Identify any potential risks you want to plan around before and after your death, such as divorce, mental incapacity or your early death.
For help developing a comprehensive estate plan that covers all necessary issues, it's recommended that you seek independent legal advice. Your solicitor will be able to help you get started and provide expert advice tailored to your personal needs.
Turnbull Hill Lawyers
Work with an experienced lawyer to prepare your will. Available in Sydney, Newcastle, and the Hunter and Central Coast regions.
Preparing a will
A will is a critical legal document that outlines your wishes for the distribution of your assets after your death. By creating a clear and unambiguous will you can:
Ensure that your assets are distributed to the right people
Provide instructions on who will look after your children
Establish trusts to distribute assets among your beneficiaries more effectively
Donate money to charity
Provide instructions for your funeral
If you die without a will or with an invalid will, this is known as dying intestate. When this happens, each state and territory has its own laws regarding how your assets will be distributed. Though those assets will usually be distributed to your family members, this allocation may go against your final wishes.
With this in mind, it's essential that you create a will and update it regularly to reflect any changes to your legal rights.
Who is involved once I pass away?
When you create your will, you'll be required to nominate your executor. The executor's role is to carry out your wishes as specified in your will, and they have the power to administer the estate.
Depending on your personal circumstances, others may also be involved. For example, if you establish a testamentary trust in your will, you will also appoint a trustee whose job is to administer that trust.
Are my assets taxed when passed on?
The tax obligations faced by your beneficiaries vary depending on the assets they receive:
Capital Gains Tax (CGT) is only charged on the disposal of an asset, so CGT will not apply to a beneficiary who receives an asset. However, they'll be liable for CGT if they choose to sell that asset.
The tax on superannuation death benefits varies depending on a range of factors, such as whether the recipient is your dependent, and whether the benefits are paid as a lump sum or an income stream.
For more information on how your assets will be taxed, speak to your accountant or financial planner.
What happens to my super when I die?
As a general rule, superannuation is an asset excluded from your will. Most super funds allow you to nominate who you want to receive your super death benefit when you die. You can:
Make a binding nomination. Your super fund trustee must pay your death benefit to the person or people you nominate.
Make a non-binding nomination. This provides guidance on who you want the benefit to be distributed to, but the trustee gets the final say on where the money goes.
If you don't nominate anyone
The super trustee decides who your money will be distributed to.
How can a will or estate plan benefit me?
There are several important benefits of estate planning, including:
Peace of mind. The biggest benefit of estate planning is the peace of mind it provides, ensuring that your hard-earned assets will be distributed according to your wishes.
Financial support for the people you care about. By developing a comprehensive estate plan, you can guarantee that your assets go to the right people.
Eliminates disputes. A clear will and a good estate plan will help your loved ones avoid arguments, disputes and even messy legal battles about the fair distribution of your assets.
Tax-effective. With help from legal and financial professionals, you can distribute your assets in a way that minimises the tax obligations your heirs will face.
While estate planning might seem like a morbid and gloomy task, don't put it off. If you think about it and take action now, you can save your loved ones plenty of stress and heartache in the future.
Insurance: Things to check
If you have insurance you should check on a few things.
Your beneficiary
If you have a super fund there is usually insurance included. Just like your super death benefit mentioned above, if you don't nominate who the money goes to, the super trustee will decide.
If you hold a life insurance policy outside super that pays a lump sum on your death, the proceeds from the policy will go to your nominated beneficiaries.
The type of cover you have
Life insurance doesn't just cover death. There's also:
'Trauma cover' that pays out if go through a major health scare e.g. heart attack,
'TPD cover' that pays out if you become disabled and can't work again,
And 'income protection' which can keep your income going in case an illness or injury puts you out of work temporarily.
Make sure you check your life stage so see if the type of cover you have is right for you:
You learn more about your life insurance needs in our guide.
How do I bring up life insurance with my partner?
Before you approach your partner: How to prepare
The last thing you want to do is false-start the conversation a dozen times. Plan ahead and have the talk when you both have a good couple of hours to spare. A pre-talk checklist should include the following:
Work out your cover needs
Get an idea of how much it costs
Understand the options available
Working out your cover needs
The sum insured is the total amount payable in the event of death. Generally, it should be enough to cover the essentials with a buffer for unexpected costs.
The formula or calculator below may be useful for a quick estimate of the money you'll need. You might try doing both, and then checking for a significant difference between the two. If they're pretty similar then that might be your ballpark figure for the required sum insured, and you can then use this amount to look at costs.
Need help?
Working out the costs
Prices can vary between providers and checking a range of quotes can let you see how much it will generally cost. Our comparison tool lets you put in your sum insured and can then show you monthly prices from more than a dozen different providers.
Know the options available
At its core, life insurance pays benefits when an insured person dies. The other options you check with the above tool can extend your cover to pay out in other circumstances.
Inability to work. Income protection insurance can pay monthly benefits if the insured is unable to work for an extended period.
Serious medical events. Trauma insurance can pay a lump sum in the event of specific health issues such as cancer or a heart attack.
Permanent disability. Total and permanent disablement (TPD) insurance can pay a lump sum in the event of permanent disability.
Agreeing on your sum insured needs
Consider both the required sum insured and the different types of cover you might want. It can be a good idea to draw up an action plan in the event of something happening to help check your sum insured in practical terms. You need to think about the following:
Your household earnings. Talk about your household income, your investment earnings and the value of your assets. Discuss what you'll be selling if something happens and whether you'll be re-entering the workforce later. For example, you might plan to use benefits to pay off the mortgage and then move into a smaller place while renting the home as an additional income source. This would also allow you to eventually sell the house when the market is favourable.
The age of your children. How long will you need to provide for your children? One of you might want to only account for expenses up to age 18, while another might want an additional buffer. Depending on their age, you may also need to consider the possibility of extra childcare and homemaking expenses, such as nannies, if there will no longer be a stay-at-home parent.
Your expenses. Revise your expenses in line with anticipated changes. For example, if you'll be paying off all your credit card debt and your mortgage, then you may not need to plan for those expenses and can count on having additional assets.
Agreeing on your budget
Decide what your monthly life insurance budget is right now, and how it might change in the future. You will often able to adjust your cost by changing your cover later. For example, if the insured person is currently a smoker, but quits later, premiums may decrease considerably.
Decide on your current budget. This lets you compare only policies that fall within this price range.
Decide on your premium structure. This can have a substantial impact on your long-term costs.
What's your current budget?
It should be an amount that you both agree on and that you can keep up with. If you cancel your policy, it will typically cost more to get a new one later as premiums will be calculated in light of your increased age and any health conditions that may have developed.
Getting cover sooner is generally preferable to getting it later, even if you aren't in ideal health right now. For example, your partner might quit smoking and lose weight over the next five years and could then take a new medical test which awards lower premiums. If you can both agree on this type of plan, and stick to it, then erring on the side of more cover and higher premiums might be the way to go. It can also deliver a nice financial motivation for getting in shape, which might be the extra push that's needed.
Decide on a premium structure
An ideal life insurance policy is one you can hold for decades to come, and your premium structure can make a considerable difference over time. The two main options are stepped premiums and level premiums.
Stepped premiums increase with age and can get very expensive as decades pass. To partially counter this, you can access options like a "premium freeze" which lets you freeze your premiums in place at the cost of a decreasing sum insured. Generally, if you're after an effective long-term policy, it may be a good idea to avoid stepped premiums.
Level premiums can be preferable for long-term policies. These are fixed at the same rate as long as you maintain the policy but will cost more than stepped premiums for younger people. If you're after long-term cover, the extra initial cost of level premiums is often worth it.
You might start with a sum insured on the lower side of your calculations or skip other cover types for the moment in order to keep costs manageable and then add them later.
Note that your flexibility will vary between policies, and options may be limited. For example, you will generally be able to increase your sum insured with almost all policies, but may not always be able to add additional types of cover.
The price increase you get from increasing your sum insured later will be based on the age at which you first signed up for the policy. For example, cover for a 40-year-old might cost 1.5x as much per dollar insured as cover for a 30-year-old. If you sign up at 30 and then increase your sum insured at age 40, you'll still be paying the 30-year-old prices. In this way, getting cover with level premiums sooner means you can get enormous savings later, while still getting the sum insured you need.
Read out checklist for what to review when estate planning
Some questions you might have about estate planning and writing a will
An adviser can help you find cover from trusted life insurance brands.
Get competitive quotes from multiple brands

Lower rate of declined claims (according to ASIC)

Save time and effort
---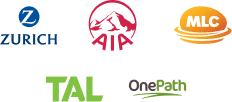 More guides on Finder