Are life insurance premiums tax deductible?
We explain when life insurance is tax deductible and reveal which benefits are tax-free 
We're reader-supported and may be paid when you visit links to partner sites. We don't compare all products in the market, but we're working on it!
Buying life insurance is an important decision but it's not always cheap. It's no surprise then that so many Australians ask whether their life insurance premiums are tax deductible.
Of course, wading through tax regulations can be tiring, not to mention tedious. So we thought we'd help out by breaking it down for you.
Types of life insurance
There are four main types of insurance which generally fall under the umbrella of life insurance. Whether your premium is tax deductible or not will depend on what kind of insurance it is and how you purchased it.
| Type of policy | What it does |
| --- | --- |
| Life (or death) insurance | Pays a lump sum to your family if you die. Will usually pay out early if you are diagnosed with a terminal illness. |
| TPD insurance | Pays a lump sum if you suffer a severe illness or accident that prevents you from ever working again. |
| Trauma insurance | Pays a lump sum if you suffer a major medical event such as a heart attack, cancer or stroke. |
| Income protection | Provides regular payments, usually monthly, which replace your income if you're unable to work for a while. |
Is life insurance tax deductible through super?
No. The Australian Taxation Office (ATO) states that premiums on insurance policies taken through super accounts are not personally tax deductible.
This is because the cost of the insurance comes from your superannuation balance, rather than your income. As such, any life insurance you have through your super is not tax deductible.
However, this may vary if you have a self managed super fund. To learn more about claiming tax deductions on insurance premiums within a self-managed super fund, it's best to contact a tax accountant or financial adviser.
Finder Award Winner 2020: Noble Oak Life Insurance
Fully underwritten with Trauma and TPD options. NobleOak offer up to $15 million maximum cover level.
Is life insurance tax deductible outside of super?
Life insurance, TPD and Trauma insurance are not tax deductible outside of super. However, the premiums you pay for income protection insurance are personally tax deductible, if you buy the policy outside of your super fund.
According to the ATO, insurance premiums aren't tax deductible if the policy pays a benefit for physical injury. So that rules out everything except income protection insurance.
Are life insurance benefits taxed in Australia?
The type of life insurance you have, how you bought it, and even who the beneficiary is, will influence whether or not the eventual payout is taxed.
For income protection insurance, it's likely that you'll have to pay tax on the monthly benefits you receive, just like you would with your regular income.
However, other life insurance policies are usually tax free. If the payment is made to a financial dependent, like a spouse or child, it will almost definitely be tax free.
The exception is when life insurance is purchased via a super fund and the benefit is paid out to an adult who is not classed as a financial dependant. In that case, the tax-free status could change and the beneficiary could be taxed up to 30%.
| Type | Are premiums tax-deductible? | Will I pay tax on benefits? |
| --- | --- | --- |
| Life Insurance (outside super) | | |
| Life insurance (inside super) | | |
| Trauma (outside super) | | |
| TPD (outside super) | | |
| TPD (inside super) | | |
| Income (outside super) | | |
| Income (inside supe) | | |
Compare life insurance policies outside of super
An adviser can help you find cover from trusted life insurance brands.
Get competitive quotes from multiple brands

Lower rate of declined claims (according to ASIC)

Save time and effort
---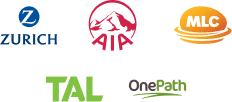 More guides on Finder