Direct life insurance
Looking for direct life insurance straight from a provider? Get cover without the hassle.
We're reader-supported and may be paid when you visit links to partner sites. We don't compare all products in the market, but we're working on it!
Direct life insurance is different to traditional retail cover: it's purchased directly from an insurer, as opposed to buying through an adviser or broker. Buying direct usually only requires a limited level of medical underwriting or non at all.
Compare direct life insurance policies
We know price is important to you, but we haven't included the costs in the comparison table because prices really depend on your personal circumstances. Instead, try comparing some of the features first, so you know which policy will fit your needs. Then request a quote that will be tailored to you.
Tip: Look out for extra options like TPD and Trauma. They can be added to some policies to give you a wider range of cover. They do come at an additional cost though, so run some quotes to see if they'll work for you.
An adviser can help you find cover from trusted life insurance brands.
Get competitive quotes from multiple brands

Lower rate of declined claims (according to ASIC)

Save time and effort
---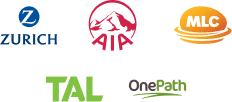 31 August 2018 update: A word on direct life insurance
Direct life insurance policies have come under scrutiny recently for poor claims outcomes and high cancellation rates. These situations however, are avoidable in most cases. When you buy a policy here's what you should know:
Pre-existing conditions
If you apply for a policy that is 'automatic acceptance' and there is no detailed medical questionnaire then you should understand that pre-existing conditions won't be covered. Things to know:
These policies are better designed for people in good health.
Go for a policy that has a medical questionnaire or use an adviser if you are unsure of exclusions.
Cost of premiums
Most policies have premiums that increase each year you hold the policy (as default).
These are called stepped premiums.
Most policies will also give you the option to take out a premium that stays the same (but starts at a higher cost). These are known as level premiums.
What's in this guide?
Should I buy cover direct?
How should I buy my life insurance cover?


Should I buy direct (without a financial planner)?
Direct life insurance vs buying with an adviser
When deciding which method of getting cover suits you, it's important to weight the pros and cons of both options and then deciding what's right for you.
Pros and cons
Direct
Adviser

You can save time getting covered
Automatic acceptance on most policies
Lot's of competition which means you can often find discount offers e.g. one month free

Can compare prices on most comparison websites
You can tailor your policy to your personal needs
An adviser help you understand the policy you are signing up for

You can't compare prices side-by-side (you'll need to get a quote on the insurers website)
If the policy offers automatic acceptance then pre-existing conditions are excluded
Poorer claims outcomes than buying through an adviser
Your policy might not be explained clearly to you

It takes longer to get cover
Some advisers also receive commissions from specific insurers
Making a claim: Direct vs Advised
Direct
When it comes to making a claim, you will need to do all the legwork yourself, liaising with doctors and chasing up your medical records. And even if you have no pre-existing conditions, the time involved can be weeks or even months, during which you will be without finances.
Advised
A financial adviser takes care of the legwork for you, dealing directly with the insurer and advocating on your behalf. So when considering buying your life insurance direct, be aware that the time saved when applying for cover can often be spent many times over at the other end of the process.
Which method of buying cover is right for me?
How to decide
Direct life insurance works as the name suggests. You'll compare policies directly either on a comparison site or on the insurers website. When you make a purchase, it will be directly from the brand without any commissions going to an adviser. Here's how buying direct compares to the options you have:
Direct vs using an adviser (example): How do the policy features compare?
Provider

How they compare?
Direct policy
Policy provided with advice
Medical questions
No detailed medical examination, just simple questions
Fully underwritten - you will need to go through a detailed medical and lifestyle questionnaire
Occupation
Not asked for
Full disclosure
Is advice provided?
No
Yes
Is a statement of advice provided?
No
Yes
Will an adviser advocate for me in the event of a claim
No
Yes
Can you claim with more than one policy from the same insurer?
No, premiums will be refunded for an extra policy
If disclosed, additional cover can be included
Exclusions
Direct policy
Policy provided with advice
Suicide or intentional self-inflicted injury or illness
Excluded
Excluded in the 13 months
Under the influence of drugs or alcohol
Excluded (unless under the direction of a medical practitioner)
Not excluded
Working underground or over 10 metres
Excluded
Maybe excluded (details are assessed when you apply)
If you mountaineer, rock climb, scuba dive or participate in dangerous activities.
Excluded
Maybe excluded (details are assessed when you apply)
Flying an airplane
Excluded (unless as a passenger on a regularly scheduled flight).
Not excluded
Note: The table above is purely for illustrative purposes and not indicative of a real policy. Source: Life insurance Industry Submission 64
Video: Should I consider an adviser?
'71% less likely' was calculated using figures from ASIC's Report 498: Life Insurance Claims: An Industry Review. The report states that the average declined claims in a non-advised policy is 12% in comparison to an advised policy at 7%. 12% (non-advised) is 1.71 times the amount of 7% (advised) hence a 71% less chance of an advised policy claim being declined.
Direct life insurance in detail
Are pre-existing conditions covered?
While direct life insurance is fast and easy to obtain, with few questions to answer and no need for medicals, this very lack of information could become a problem at claim time. That's because direct insurers don't ask many questions when you apply for cover, but many reserve the right to perform underwriting retroactively when you make a claim.
So if you have neglected to inform them of a pre-existing condition (quite possible, unless you have studied the fine print and are aware of the exclusions and conditions that must be declared), they are legally within their rights to deny your claim.
Consider a tailored policy from an adviser
A financial adviser knows what is and isn't covered and would have asked you the important questions upfront. This allows you to tailor cover to your specific circumstances. Before you obtain a direct life insurance quote, make sure you do your homework.
Do any direct brands offer tailored cover?
There are some brands that offer a more tailored policy, with a more detailed questionnaire upfront.
| Provider | Details |
| --- | --- |
| Virgin Money | Virgin offers two types of cover: Quick & Easy and it's Tailored cover. On it's tailored option you'll need to answer extensive health and lifestyle questions when you apply. |
| Nobleoak | Life Insurance from NobleOak is full underwritten. This means you go through an extensive health and lifestyle questionnaire then your premium and cover is tailored according to your answers. |
How has direct life insurance grown in Australia?
Direct life insurance is growing in popularity in Australia and is only expected to continue, with a Plan for Life report predicting that direct insurance will account for up to 40% of new products bought in the next 10 years.
Why are more customers looking at life insurance directly?
Direct life insurance is relatively new to Australian consumers and although some companies do include options such as income protection and total and permanent disability insurance, many others don't. Despite this, direct life insurance is easier to obtain and simpler because no financial planner is involved, it has fewer medical restrictions, can be obtained online, or over the phone and the cover is immediate.
Could direct cover threaten traditional purchase channels?
Despite this growth, there is a strong belief that there will always be a place for advisers in the Australian insurance industry. While the convenience of direct cover may appeal to many, there is still a number of people who would prefer to purchase through an adviser. At the end of the day there is benefits in both avenues and it really comes down to the type of buyer looking to purchase the cover.
Increased competition across market
The increase in popularity of direct insurance products means an increase in competition in the Australian market, bringing a greater selection of products to consumers each offering the most competitive premium possible. Australians are fortunate to have such a diverse market of products to choose from.
Common questions people ask about direct life insurance
Review featured direct life insurance products
* The products compared on this page are chosen from a range of offers available to us and are not representative of all the products available in the market. There is no perfect order or perfect ranking system for the products we list on our Site, so we provide you with the functionality to self-select, re-order and compare products. The initial display order is influenced by a range of factors including conversion rates, product costs and commercial arrangements, so please don't interpret the listing order as an endorsement or recommendation from us. We're happy to provide you with the tools you need to make better decisions, but we'd like you to make your own decisions and compare and assess products based on your own preferences, circumstances and needs.
More guides on Finder