Standard NBN 50 plans
An NBN50 plan will keep a fairly large family streaming and downloading in comfort.
We're committed to our readers and editorial independence. We don't compare all products in the market and may receive compensation when we refer you to our partners, but this does not influence our opinions or reviews. Learn more about Finder .
An NBN50 plan is the second-fastest plan you can get from an Internet service provider in Australia. They offer maximum download speeds of 50Mbps and uploads of 20Mbps, which makes it a high-performance network for multiple users.
A medium household should have no problem streaming videos, playing games or hosting video chats at the same time on an NBN50 connection.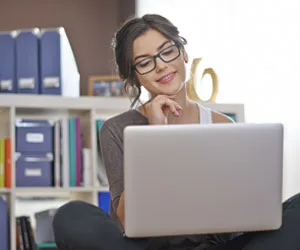 Pay $69.99/month
$99.95 setup fee
Pay-as-you-go local, national and mobile calls
46Mbps typical evening speed
Start comparing NBN50 plans here
More on Standard speed NBN50 plans
A "Standard" NBN50 plan provides maximum download speeds of 50Mbps and upload speeds of 20Mbps, making it the second-fastest connection you can sign up for in this country. It far outstrips older ADSL connections in terms of speed, allowing plenty of users to use the Internet all at the same time.
Download speeds refer to how fast it takes you to download things from the Internet, e.g., browsing (you're essentially downloading a webpage to view), streaming content, social media and downloading files.
Upload speeds are how fast it takes for you to upload things onto the Internet such as uploading photos onto social media or putting videos on your YouTube channel.
Our data shows that NBN50 plans are the most popular choice for Finder customers over the last three months. It's possible you might not need such a fast connection. You can save about $10 or more per month by dropping down to an NBN25 plan instead, something you should seriously consider if you're only a 1- or 2-person household.
What are NBN50 speeds like?
We've put together a table with a rundown of how fast various example upload or download activities will take on different NBN speed tiers, assuming you run at maximum speed the whole time. NBN speeds are given in megabits per second (Mbps), with 8 megabits adding up to a single megabyte (MB).
| Activity | NBN12 | NBN25 | NBN50 | NBN100 |
| --- | --- | --- | --- | --- |
| Downloading an album (100MB) | 1 min | 33 sec | 16 sec | 8 sec |
| Downloading a 2-hour HD movie off Netflix (5GB) | 1 hr | 29 min | 14 min | 7 min |
| Downloading a new video game (40GB) | 7 hr 7 min | 3 hr 34 min | 1 hr 47 min | 54 min |
| Uploading a 20-minute 1080p video to YouTube (1.2 GB) | 2 hr 45 min | 32 min | 8 min | 4 min |
| Uploading a batch of high-res photos to Dropbox (5GB) | 11 hr 7 min | 2 hr 15 min | 33 min | 17 min |
As you can see, NBN50 plans do things quite a bit faster than an NBN25 connection, mostly when it comes to hefty uploads. However, consider whether this speed is worth the additional $10 – $20 you might be spending every month for the privilege.
Unless you have a fairly large household of 4 or so, you're unlikely to need the bandwidth that NBN50 provides for activities like streaming videos or playing games. In this case, you might consider dropping down to an NBN25 plan.
How fast is NBN50 really?
If you're after the fastest Internet connection you can get, an NBN50 plan is an excellent place to start. So long as you have several moderate to heavy users in your household, you'll notice a difference between it and a lower tier like NBN25. Compared to an NBN100 plan, you'll be saving a fair amount per month, making this a good compromise for data-hungry large households.
When you're on an NBN50 plan, you're not very likely to actually get your maximum speed of 50Mbps. There are lots of factors that can play into why your actual connection is slower, including:
Network congestion. The more people who are online at the same time, the slower everyone's connection is. This is truer now than ever with the coronavirus outbreak confining many to their homes and moving many jobs or tasks online, so expect congestion to be at an all-time high.
Connection type. The technology used to connect your house to the NBN has an impact on how fast data can travel. Fibre to the premises connections will almost always run faster more of the time than a fibre to the node or fixed wireless connection.
Hardware and software. Your router and modem can affect your speed, as can the device you're using to connect. Older hardware can encounter slowdowns and devices on Wi-Fi will have a worse connection than something wired. Check out our guide to common fixes for slow connections for more.
Provider. Different providers purchase varying amounts of bandwidth and will offer a big range of typical evening speeds. We've listed the typical evening speeds offered by NBN50 plan providers below. You can click the "typical evening speeds" heading to rank providers in terms of speed.
| Providers | Typical evening speed on NBN50 plan |
| --- | --- |
| Activ8me | 43.02 Mbps |
| Barefoot Telecom | 42.00 Mbps |
| 10mates | 47.00 Mbps |
| Southern Phone | 38.00 Mbps |
| Aussie Broadband | 43.00 Mbps |
| Start Broadband | 45.00 Mbps |
| Kogan | 40.00 Mbps |
| Vodafone | 40.00 Mbps |
| Internode | 45.00 Mbps |
| Superloop | 44.40 Mbps |
| Inspired Broadband | 40.90 Mbps |
| Tomi Broadband | 43.60 Mbps |
| Flip | 43.00 Mbps |
| Exetel | 40.00 Mbps |
| TPG | 46.00 Mbps |
| iiNet | 46.70 Mbps |
| Harbour ISP | 42.20 Mbps |
| Tangerine | 42.00 Mbps |
| Optus | 45.00 Mbps |
| Telstra | 50.00 Mbps |
| SpinTel | Mbps |
| Australia Broadband | 40.00 Mbps |
| Belong | 40.00 Mbps |
| Mate | 42.00 Mbps |
| Clear Broadband | 35.00 Mbps |
| MyRepublic | 43.00 Mbps |
| Accord | 43.60 Mbps |
| DSCI | 44.00 Mbps |
| Origin Broadband | 40.00 Mbps |
| Westnet | 46.70 Mbps |
| Goodtel | 42.00 Mbps |
Should I get an NBN50 plan?
NBN usage quiz
It can be hard to know which NBN plan to choose. We've designed a simple data usage quiz designed to help you figure out how much data you might need.
Click here to take the quiz
Here's who would benefit from an NBN50 plan:
Large households of medium Internet users. When you have four or five people using a connection simultaneously, you need a fair amount of bandwidth. However, you only really need that extra bandwidth if everyone is using it for demanding tasks at once, like streaming videos.
People who just can't wait. It may be part of your job or livelihood to deliver things in a certain time frame or you might just not mind paying more for things to happen faster. An NBN50 plan will download bigger files and upload videos and photos a fair deal quicker than an NBN25 connection.
It's worth thinking about your needs when considering whether or not to buy an NBN100 plan because it will cost you a great deal more in the long term than the next step down. If you think you need one, consider starting at an NBN50 plan that doesn't have a lock-in contract and then upgrading if it turns out that you need more.
The same as with any NBN connection, consider your circumstances and needs before locking in to a particular speed tier. NBN50 may be the most popular tier, but it's often overkill for many of the people who have bought it. If you have a smaller household of 1 or 2 or not a huge amount of demand across 4 or 5 people, you have a good chance of being able to get away with a cheaper NBN25 plan.
If you think this might be you, try a month-to-month NBN25 plan first and then upgrade it later if you find it's not doing the job.
What's the cheapest NBN50 plan?
From the NBN plans available in our database, there are two options for the cheapest NBN 50 plans, both from Spintel. This plan will cost you a month with no setup fees. Depending on whether you choose month-to-month contract or sign up to a 6-month contract, you'll get up to 200GB of data, and a new modem. You can expect around Mbps during busy periods, which is slightly below the average typical evening speed for an NBN 50 plan.
Note that Spintel's NBN plans above aren't necessarily the cheapest NBN 50 plans in the market - there may well be cheaper out there - but they're the cheapest that we've got listed in our systems.
If you're keen on grabbing an NBN 50 plan with unlimited data, both Tangerine and Internode have some great deals available at $59.90 per month. Both plans come with no setup fee and offer decent typical evening speeds, 42.00Mbps and 45.00Mbps respectively. Keep in mind that the cost of these plans are introductory offers only, which means they're revert back to their original prices after 6 months. Also watch out for the difference in contracts here - Tangerine's is month-to-month, but you'll have to sign up to a contract with Internode. While Internode's plan is a 6-month contract, it still means you can leave after the price promotion ends.
Don't think NBN50 is for you? Check out plans with other speeds on offer
---
More guides on Finder
Lower your household bills