NBN 50 plans: Standard Plus speeds
Find the best NBN 50 plan for you by comparing more than 200 options from dozens of providers.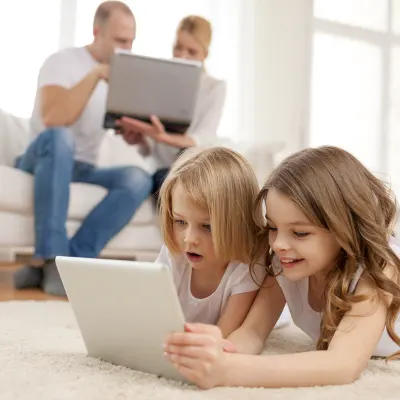 PAYG local, national & mobile calls

$10/month extra to get unlimited local, national and mobile calls

International call packs available
Min. Total Cost of $199.94
Need to know more about Standard Plus NBN plans first?
Looking for NBN 50 plans for your household? Compare plans below
Standard Plus NBN plans can deliver high speeds, even for large households with relatively extensive Internet needs.
This tier is well suited for home offices, self-employed workers and small businesses, although the limited upload speed means some of these businesses might need to look at faster plans, depending on the nature of their work.
Is a Standard Plus connection the right speed for me?
NBN usage quiz
This speed tier may be ideal in the following situations:
Large families or households with relatively extensive Internet needs, such as several people streaming videos or streaming and downloading at the same time.
Households where Internet usage varies enough that network speeds sometimes get frustratingly slow, especially during peak times.
Households that stream a lot of high quality video or engage in other heavy-duty Internet activity.
Business or homes that find Standard NBN plans to be inadequate and higher speeds to be worth the extra cost.
Small businesses, home workers or other businesses that require reliable download speeds but don't particularly need fast uploads.
Not sure if Standard Plus NBN is right for you?
Frequently asked questions
Related Posts
Lower your household bills