What's the real benefit of negative gearing?
Take a look at our case studies that calculate the benefits investors get from negative gearing.
We're reader-supported and may be paid when you visit links to partner sites. We don't compare all products in the market, but we're working on it!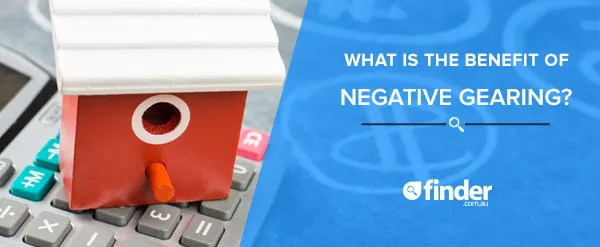 Property investors in Australia use negative gearing tax concessions to minimise losses while waiting for long-term capital gain. The strategy allows investors to deduct the net loss on a rental property from their taxable income. How does this all add up, and is negative gearing an effective tax strategy? Take a look at our case studies to find out.
Case studies in this guide
Purchase price
The point of negative gearing is to offset losses on your investment property to help you achieve capital gain. So the purchase price of your property is your starting point for figuring out when you will make a profit on your investment.
Stephanie's investment property

Stephanie decides to purchase an investment property to generate rental income with an eye toward eventual capital gain. She finds a one-bedroom unit in Sydney's Inner West suburb of Erskineville and pays $600,000 at auction for it. This price is Stephanie's starting point.
Rental income
The next factor in calculating your negative gearing deduction is your rental income. If you're looking to generate a regular income from your property, the rent you charge your tenants will have to outweigh the cost of your home loan repayments. You'll have to balance these costs while remaining competitive with rental prices in the area. It's also important to remember that your home loan repayment isn't the only cost of owning a rental property.
Stephanie's tenants
Stephanie decides to go through a property management company that charges a fee for advertising her property and helping her sort through applicants to find tenants. They also handle the ongoing management of her property, including collecting rent and handling all communication with the tenants. Eventually she finds tenants who will pay $500 a week to rent her property.
Loan details
The details of your loan are important because negative gearing allows you to deduct the interest you pay from your income. Many investors choose an interest-only loan, which means they only make payments towards the interest portion of the loan and not the principal amount borrowed. The goal with this strategy is to minimise the repayment and pay off the principal when the property is sold, hopefully for a capital gain. This also works well for negative gearing. The negative gearing concession allows you to deduct the interest you pay on your investment property home loan. If you're only making interest payments, this means you can deduct the entire home loan repayment.
Stephanie's loan
Stephanie pays a 20% deposit on her $600,000 property, meaning she borrows $480,000 on a 30-year interest-only loan. As an investor, she pays a slightly higher interest rate than an owner-occupier. At an interest rate of 4.75%, her fortnightly loan repayment is $876.92. With her tenants paying $500 a week, her rental property is thus far generating $61.54 per week in positive rental income.
Expenses
After taking into account your home loan repayment versus your rental income, it might at first appear you are positively geared. But negative gearing also allows you to deduct the expenses of maintaining and renting out your property. These expenses include:
Repairs and maintenance
Pest control
Lawn maintenance
Council rates
Strata fees
Property management fees
Land taxes
Insurance
Costs of acquiring tenants
Stephanie's investment property expenses
At the end of the tax year, Stephanie adds up her property expenses. She finds she's spent the following:
Repairs and maintenance: $500
Council rates: $750
Property management fees: $2,200
Lawn maintenance: $1,080
Landlord Insurance: $250
Strata fees: $3,600
Total: $8,380
These expenses will be offset against Stephanie's taxable income through negative gearing.
Depreciation
Some items involved in the upkeep of a rental property can't be deducted all at once, but can instead be depreciated over a number of years. These items are generally anything you've purchased for the property that would decline in value over time. Deductions can also be claimed for improvements carried out on the property. An improvement is anything that would fundamentally change the nature of an item being replaced, or would add to the overall value or appeal of the property, such as new curtains or renovations.
You can also deduct for capital works, which are building construction costs. This would be calculated at 2.5% over 40 years from the date construction was completed.
Stephanie's depreciation deduction
When she purchased the property, Stephanie also purchased a new stove and dishwasher for the kitchen. The stove was $500 and the dishwasher was $350. Using a calculator provided by the Australian Taxation Office (ATO), Stephanie is able to find out the deduction for the decline in value for these items would be $167.
Personal taxable income
Taxable income is the money you make upon with the ATO levies taxes. The point of negative gearing is to minimise this taxable income. Currently, the ATO levies taxes at the following rates:
Resident tax rates 2019–20
| Taxable income | Tax on this income |
| --- | --- |
| 0 – $18,200 | Nil |
| $18,201 – $37,000 | 19c for each $1 over $18,200 |
| $37,001 – $90,000 | $3,572 plus 32.5c for each $1 over $37,000 |
| $90,001 – $180,000 | $20,797 plus 37c for each $1 over $90,000 |
| $180,001 and over | $54,097 plus 45c for each $1 over $180,000 |
Foreign resident tax rates 2020–21
| Taxable income | Tax on this income |
| --- | --- |
| 0 – $90,000 | 32.5c for each $1 |
| $90,001 – $180,000 | $29,250 plus 37c for each $1 over $90,000 |
| $180,001 and over | $62,550 plus 45c for each $1 over $180,000 |
Source: ATOThis doesn't include the 2% Medicare levy.
Stephanie's taxable income
Stephanie's taxable income before any deductions is $90,000.

Capital growthThe idea behind negative gearing is to offset short-term losses in the pursuit of long-term capital gain. The strategy only works, of course, if the property's value increases over time. While much has been made of slowing property values of late, it's important to take a long-term view of house price appreciation. For instance, here's the performance of capital city dwelling values over the last seven years:

The graph above shows the value of a "buy and hold" strategy for property investment. Investors looking to flip property for a quick profit could be stung by sudden shifts in the market. But investors who take a long-term approach and can absorb short-term losses through strategies like negative gearing can come out ahead.
Stephanie's home value
Stephanie's property is in Erskineville, which, according to CoreLogic RP Data figures, saw annual capital growth of 5.45% last year. If the trend continues, Stephanie could reasonably hope for her property, which she purchased for $600,000, to be valued at $632,700 a year after she purchased and just over $782,000 five years after she purchased it.
Bringing it all togetherOnce you have the full picture of expenses, rental income, taxable income and capital growth, you'll be able to see if negative gearing is an appropriate and effective strategy for you. Before deciding on the strategy, it could be beneficial to seek out the counsel of a financial advisor.
Stephanie's full picture

So has negative gearing been an effective strategy for Stephanie? Let's look at the figures:Stephanie bought her property for $600,000She took out a $480,000 interest-only home loan at 4.75% with fortnightly repayments of $876.92.She found tenants for her property who pay $500 a week.She has maintenance and upkeep expenses of $8,380.She's able to claim another $167 for depreciation.Her taxable income is $90,000.Her property is appreciating in value by 5.45% per year.Stephanie's total rental income for the year is $26,000Her home loan interest repayments for the year are $22,800Her maintenance and depreciation expenses are $8,547This means her expenses are $31,347 while the income from her property is $26,000.Her property is negatively geared by a total of $5,347This means Stephanie can deduct $5,347 from her taxable income.So Stephanie has managed to offset her taxable income by $5,347. Meanwhile she's paying 4.75% in interest while her property is appreciating in value by 5.45%. If Stephanie can afford the cash flow required to continue the repayments, expenses and maintenance on her property, she can come out ahead when she sells her property for a capital gain.
More guides on Finder