We're committed to our readers and editorial independence. We don't compare all products in the market and may receive compensation when we refer you to our partners, but this does not influence our opinions or reviews. Learn more about Finder .
Smart meters are becoming more common across Australia. In fact, you may already have one installed in your home.
They've become the default for new meters being installed almost nation-wide.
But what exactly do they like? And how do you read them? What's the benefit of owning one?
This guide will take you through everything you need to know.
What is a smart meter?
You're probably already familiar with a normal or analogue electricity meter: a device that measures the flow of power in and out of your house.
A smart meter is simply a more advanced digital meter, which takes power readings every 30 minutes and sends that information on to your energy provider.
This communication with your provider is the biggest difference between "smart" and other "digital" meters since it removes the need for anyone to visit your property to read it manually.
As of December 2017, all meters being installed in new houses or to replace existing ones are smart meters.
What are the benefits of smart meters?
Smart meters offer a few additional advantages over older versions, though they fulfill all the old functions, too.
Extra detail. Smart meters offer more detailed info on energy consumption and solar export data, which can aid your home's power efficiency.
Remote access. They can be disconnected and connected without a technician on site, making it easier to switch providers.
Additional plans/options. Certain energy tariffs (like time of use) or special pricing from energy companies will require a smart meter for you to take advantage of them.
Battery/solar design. The usage data from a smart meter can potentially help you if you're designing a solar power system for your house or working out a battery-storage array.
Future uses. A smart meter may let you take part in an energy-trading scheme if these are implemented in Australia in the future.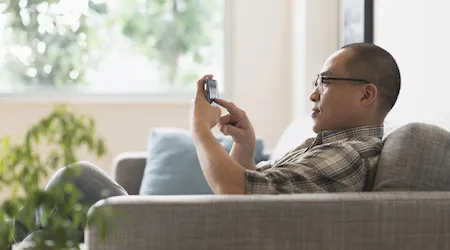 How do I read a smart meter?
Reading a smart meter is both easier and more difficult than a traditional meter. It's more difficult because you can't read the smart meter itself. Instead, you have to go through a third-party site like your retailer's to see the data. It's a bit easier because the data it provides is more detailed than the data from a non-smart meter.
In reality, not many people look up their usage data because of the extra steps involved. A good way around this is to invest in an in-home display.
In-home displays pair with your smart meter to offer up all the information you'd get by logging onto your retailer's site in a more accessible form. Some in-home displays have extra features, such as alerts or warnings to help keep track of your usage, and can assist you in driving down your energy use.
Getting a smart meter
It's much harder not to get a smart meter than it is to get one. Since December 2017, they are the default to be installed in the following situations:
You take out a plan with a retailer that requires a smart meter.
Your current meter needs replacing.
You have a new home with a similarly new connection point.
You specifically request a smart meter from your retailer.
What if I don't want a smart meter?
You can only refuse a smart meter if your current meter is functioning properly. If it's faulty or at the end of its functioning lifespan, you will have to accept a smart meter. Your retailer is required to notify you of your ability to opt out at least a couple of times.
How can I use a smart meter to save me money?
Tariff switch
A smart meter takes usage readings every half hour. With this level of granularity on your readings, you can analyse your usage and see if switching from your current plan or tariff may be able to save you money.
A time-of-use tariff splits electricity usage into peak and off-peak periods, with power used during peak periods more expensive than power used during an off-peak period. If your usage falls mostly into off-peak periods or you can shift your usage to do so, a time-of-use tariff could save you money over a single flat rate.
However, this requires a reasonable amount of analysis and is further complicated if you're generating solar power, too. In Victoria, you can upload your smart meter data to the government's Victorian Energy Compare service which will suggest electricity plans, but this process is far from perfect. Don't switch plans unless you're sure you'll save.
Solar and battery analysis
Another use for smart meter data is to assist you in picking the right solar system and battery storage unit for your house. Usage charts let you size up your consumption and see how much solar power you may require.
Smart meter data alone isn't enough, though, since it only shows the net flow of power and won't tell you how much solar energy you've generated. It may be made more effective using data from a solar inverter or other sources.
Costs of a smart meter
Although you may not have to pay straight up for your smart meter to be installed, you're likely to end up paying something extra. Smart meters cost your retailer a certain amount of money to install and maintain, and the majority will pass the cost onto you in some form. This may either come as a one-off charge in your next bill or be incorporated into your electricity supply charge.
---
More guides on Finder
Lower your household bills