Pre-approval
Getting home loan pre-approval makes the property buying process easier. Here's how it works.
When a well-organised home buyer is getting serious about purchasing a property, they approach a lender and get pre-approval. It's not a compulsory step, but it gives you a better idea of how much (if anything) a lender is willing to lend you.
What is home loan pre-approval?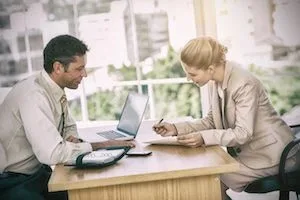 Pre-approval is an indication of how much money a lender is willing to lend you for a home loan. It's sometimes called conditional approval, or approval-in-principle.
Pre-approval requires a brief application, typically online (although some lenders require an in-person consultation) involving some identification and financial information.
Keep in mind that a home loan pre-approval is not the same as an actual mortgage. You may even get pre-approved by a lender only to be rejected at the actual application.
Pre-approval brings the following benefits:
You can get a more realistic idea of your borrowing power. This keeps you focused on properties you can afford.
It signals your seriousness to sellers. Pre-approval strengthens your negotiating position when it comes time to agree on a price. You will be considered a preferred buyer, similar to a cash buyer. This can really help in a tight auction.
A pre-approval can also reduce stress by helping to speed up the documentation process once you've found a home.
How long does it take to get pre-approved?
With many lenders offering online pre-approval, the whole process can take hours rather than days.
Online pre-approval is usually a system-generated process that is very quick but doesn't involve a qualified credit assessor reviewing your pre-approval application.
Some lenders may offer this, while others may require a fuller assessment that involves a lender's credit department. This usually involves a credit report.
Get a free credit score check before you apply for a home loan
How long does pre-approval last for?
Most lenders can issue you a pre-approval lasting around between three months. This gives you time to hunt for properties and get your actual application together.
Lenders who offer pre-approval
Not all lenders offer pre-approval, but here's a list of some who do:
How do I get pre-approved?
Follow these steps to get your mortgage pre-approval:
When should I apply for pre-approval?
You should get pre-approval once you've done your initial research. You should already have an idea of your borrowing power, your price range and the areas you're looking to buy in. Once you start looking seriously at properties with the intent to purchase then it is time for pre-approval.
What comes after pre-approval?
Once you find a property to buy, you need to get full or unconditional approval. This requires a more detailed application. Then you need to provide a contract of sale and the lender must conduct a valuation of the property and be satisfied that you haven't paid too much for the property
Once your application is approved it's time to draw up the loan documents. You'll need to read your loan contract carefully before signing, and your lender will check that you've filled out everything correctly.
Your conveyancer or solicitor can then review the contract of sale, before you and the seller can sign a copy. Once a settlement date has been arranged, your lender will provide confirmation of your loan details. This is also the time at which you can expect to be charged for stamp duty and registration costs.
At settlement the property is yours and it's time to start paying off your loan.
Need a home loan? Start comparing
Rates last updated March 31st, 2020
Image: Shutterstock
Related Posts