Death Insurance
Death insurance can support your family if you die or become terminally ill.
We're reader-supported and may be paid when you visit links to partner sites. We don't compare all products in the market, but we're working on it!
Death insurance cover (also called life insurance) pays out a sum of money, for example $500,000 so that your loved ones can take care of ongoing expenses - like a mortgage for instance. You may want to consider death cover if:
You're starting a family
You own a home and mortgage
You don't want your family to take on your debts when you die
We've compared death cover options from Finder partners below.
Compare death insurance and get a personalised quote
Death cover is not just limited to life insurance payouts. Most life insurers will offer benefits related to death cover like an advance funeral benefit. This will help with any immediate costs that a funeral requires. Take a look at the funeral benefit limits on the policies below and see how much will be able to put towards funeral planning.
An adviser can help you find cover from trusted life insurance brands.
Get competitive quotes from multiple brands

Lower rate of declined claims (according to ASIC)

Save time and effort
---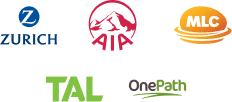 What is death insurance cover?

Death cover can deliver peace of mind for you and your family. If something happens, this type of insurance can help secure your family's future, and ensure that they don't need to face the burden of financial uncertainty while simultaneously coping with grief.
Lump sum payments in the event of death or terminal illness
Advance payments to help cover the immediate costs
Financial planning and counselling benefits for your family
Benefit payments available in the event of serious injury or illness
No one knows what will happen in the future, and it can be hard to tell what the immediate and ongoing effects of loss might have on your family. The range of benefits available with death cover policies can let you minimise the impact as far as possible, and take proactive steps to care for your children and partner.
Whether you want to ensure that your family can maintain their quality of life, not have to struggle with debts and mounting bills in your absence or simply want to minimise the financial burdens of loss, you can choose cover to suit.
What type of expenses am I covered for?
Some of the expenses that death cover can provide relief for, include:
Rent or mortgage repayments
Children's education expenses
Daily living expenses and needs, such as food and clothing
Costs to hire housekeeper or nanny
Home maintenance costs
Funeral expenses
Legal expenses
Estate settlement costs
How do I determine my life insurance needs?
It is difficult to set a standard insurance policy that would apply to all policy holders. There is not just one death cover that can be considered to be ideal to all, which is why it is important to assess and compare different policies to determine which plan would be most suitable to you and your family's needs. Deciding on the death cover amount to insure may not be such as a simple task, but the best way to calculate the right amount to match your needs, consider:
You current annual income. Replacing your lost income for the years required
Short-term and long-term debts. This often includes mortgage, credit card debts, personal loan, and car loan
Your immediate expenses. This includes food, clothing and shelter (rent payments, if you don't own your home)
Your children's education expenses. Consider the number of children you have and their respective ages to determine the total amount of expenses
Emergency funds. Work out how much of your expenses such as a funeral arrangement, medical treatments, legal fees and estate settlement costs can be covered by your savings.
You can use a life cover calculator to give you an indication on how much you may need for a death cover. If you require further assistance, an experienced death cover agent can help you in determining an ideal amount that will match your needs situation, as well as providing tailored advice on life policies that suit what you require.
---
What forms of death cover are available?
The two main types of life insurance are term life insurance and funeral cover, both of which can pay out the full sum insured on death. If you are not eligible to obtain term life insurance (such as due to medical conditions or age), a funeral plan may be a good option.
Term life insurance is generally a more flexible and detailed type of cover than funeral insurance. It lets you choose from a wider range of benefits and payout conditions that suit your needs, and will often have significantly higher maximum benefits than funeral insurance. Generally a term life insurance policy is designed to help provide for one's partner or family in years to come, and can be adjusted over the years as you enter different life stages, and your financial needs and obligations change.
A funeral plan lets you take out a specific amount of cover, such as $20,000, which is paid to your beneficiary when you die and can be spent at their discretion. It can be an important form of cover to help with the administrative costs and mortuary fees, as well as the funeral itself. For example, your beneficiary might use it to help the rest of your family travel to the funeral when it might otherwise be cost-prohibitive, make sure their own affairs are in order or anything else. You can generally have two people on the same funeral plan, and should either one pass away, the other can receive the benefits. This can make it a useful and relatively affordable way of planning ahead.
---
Death cover for different life stages
---
Can death cover pay for accidents and injuries?
In the event of a fatal accident or injury, death cover of both types, funeral plans and term life insurance, can pay out, while some benefits may also be available for survivable accidents or injuries, although these are generally only available with term life insurance policies.
---
What is funeral cover?
Funeral cover is a simple insurance product that can provide many benefits and you have the flexibility to choose the amount you want to insure yourself for. If you are in the older age group and have little debt all, you may want to consider a funeral plan that will take care of your funeral costs, which can be quite considerable in this day and age. Funeral costs are the type of expenses that you wouldn't want to burden your loved ones with and with a funeral plan in place, your family can be rest-assured that they can afford the arrangement that you would've wanted.
---
Read more:
More guides on Finder