Basic II NBN 25 plans
An NBN25 plan will let your small household access all that the Internet has to offer.
We're reader-supported and may be paid when you visit links to partner sites. We don't compare all products in the market, but we're working on it!
NBN25 plans are called "Basic II" for a reason. They offer maximum download speeds of 25Mbps and uploads of 5Mbps, allowing standard users to do pretty much anything they want with the Internet without trouble.
An NBN25 plan suits a smaller household that has an appetite for videos, downloading files and video calls.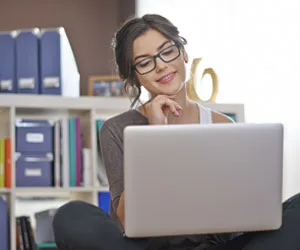 Pay $57.90/month for first 6 months, then $63.90/month thereafter.
$0 activation fee
23Mbps typical evening speed
Start your search for NBN 25 plans below
Basic II speed NBN25 plans explained
A "Basic II" NBN25 plan offers maximum download speeds of 25Mbps and upload speeds of 5Mbps, making it the third-fastest speed tier you can buy in Australia at the moment. They're significantly faster than older ADSL connections, allowing a few users moderate Internet use, even at the same time.
Download speeds refer to how fast it takes you to download things from the Internet, e.g., browsing (you're essentially downloading a webpage to view), streaming content, social media and downloading files.
Upload speeds are how fast it takes for you to upload things onto the Internet such as uploading photos onto social media or putting videos on your YouTube channel.
These plans are fairly balanced. They'll usually cost you $60 and up per month but should serve your needs almost as well as the next tier up, which usually costs around $10 extra monthly.
How do NBN25 Basic II speeds compare?
| Activity | NBN12 | NBN25 | NBN50 | NBN100 |
| --- | --- | --- | --- | --- |
| Downloading an album (100MB) | 1 min | 33 sec | 16 sec | 8 sec |
| Downloading a 2-hour HD movie off Netflix (5GB) | 1 hr | 29 min | 14 min | 7 min |
| Downloading a new video game (40GB) | 7 hr 7 min | 3 hr 34 min | 1 hr 47 min | 54 min |
| Uploading a 20-minute 1080p video to YouTube (1.2 GB) | 2 hr 45 min | 32 min | 8 min | 4 min |
| Uploading a batch of high-res photos to Dropbox (5GB) | 11 hr 7 min | 2 hr 15 min | 33 min | 17 min |
When looking at the above numbers, consider whether time is often an issue for you. Would it be a problem for something to take a couple of hours to download or upload, or could you just leave it running in the background? If time is a common issue for you, then consider upgrading to an NBN50 plan.
Having an NBN25 plan can save you quite a bit of money compared to higher speed tiers. An NBN50 plan will be at least another $10 per month and an NBN100 plan will cost you in the neighbourhood of $30 to $40 extra for its premium speeds. NBN25 plans can be the sweet spot for small households.
Things to consider about NBN speeds
When NBN12 is a bit too slow for you, an NBN25 plan can be a great solution. If you're only a small household but like streaming videos and playing games, you should easily be able to get away with an NBN25 plan. And if it turns out not to be quite enough, you can always bump it up to NBN50 so long as you're on a month-to-month plan.
All things being equal, you're unlikely to reach the full 25Mbps on your connection very often, if at all. Here's what plays into your connection speed at any given time:
Network congestion. The more people using the network at once, the slower everyone's connection is. This is truer now than ever with the coronavirus outbreak confining many to their homes and moving many tasks online, so expect congestion to be at an all-time high.
Connection type. The technology used to connect your house to the NBN has an impact on how fast data can travel. Fibre to the premises connections will almost always run faster more of the time than a fibre to the node or fixed wireless connection.
Hardware and software. What modem and router you use can affect your speed, as can the device you're using to connect (such as a laptop or tablet). Older hardware can struggle and devices on Wi-Fi will have a worse connection than something wired. Check our guide to common fixes for slow connections for more.
Provider. Different providers purchase different amounts of bandwidth and will offer a wide range of typical evening speeds. We've listed the typical evening speeds offered by NBN25 plan providers below. You can rank them in terms of speed by toggling with the "typical evening speeds" heading.
| Providers | Typical evening speed on NBN25 plans |
| --- | --- |
| Barefoot Telecom | Mbps |
| 10mates | 24.00 Mbps |
| Southern Phone | 19.00 Mbps |
| Aussie Broadband | 22.00 Mbps |
| Start Broadband | Mbps |
| Kogan | 23.00 Mbps |
| Vodafone | 23.00 Mbps |
| Internode | 22.00 Mbps |
| Superloop | 22.20 Mbps |
| Inspired Broadband | 20.40 Mbps |
| Tomi Broadband | 20.91 Mbps |
| Flip | 21.00 Mbps |
| Exetel | 20.00 Mbps |
| iiNet | 22.00 Mbps |
| Tangerine | 21.00 Mbps |
| Telstra | 25.00 Mbps |
| SpinTel | 25.00 Mbps |
| Australia Broadband | 20.00 Mbps |
| Mate | 19.00 Mbps |
| Clear Broadband | 17.00 Mbps |
| MyRepublic | Mbps |
| Accord | 20.90 Mbps |
| DCSI | 22.00 Mbps |
| Origin Broadband | 20.00 Mbps |
| Westnet | 22.00 Mbps |
| Goodtel | 21.00 Mbps |
| Mint Telecom | 15.00 Mbps |
Is an NBN25 plan the best option for me?
NBN usage quiz
It can be hard to know which NBN plan to choose. We've designed a simple data usage quiz designed to help you figure out how much data you might need.
Click here to take the quiz
This is who an NBN25 plan suits well:
A few moderate users. A household of 2–3 people who like watching videos (even in HD) or playing games should do fine on an NBN25 plan.
People who aren't in a rush. So long as you don't mind waiting a bit longer for some bigger downloads or uploads, an NBN25 can be a nice budget option.

It's still important to consider your needs when you buy any NBN plan. A month-to-month NBN25 plan is an excellent starting point for most smaller households because you can always bump up to an NBN50 plan if you find yourself struggling or not having quite enough bandwidth. There's a reason it's called the Basic II tier, after all.
Looking for a plan with a different NBN speed?
---
More guides on Finder
Get the best deal on your Internet plan