NBN 25 plans
The Standard NBN (NBN 25) speed tier suits a smaller household, balancing price and speed.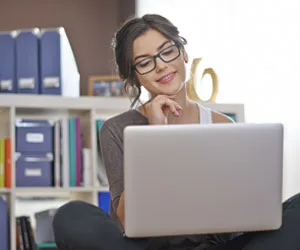 $63.90/month
$0 activation fee
21Mbps typical evening speed
Need to know more about Standard NBN plans first?
Standard NBN plans provide a noticeable step up from the entry-level Basic tier while still keeping costs down.
As a result Standard NBN is a significant upgrade from older ADSL connections, so people who sign up for this plan will generally notice an impressive increase in both download and upload speeds.
Is a Standard connection the right speed for me?
NBN usage quiz
The Standard NBN speed tier is a popular one. It is suitable for standard internet usage, while remaining more affordable than some of the higher speeds.
It's substantially faster than older ADSL plans and will generally be enough to let you take full advantage of the latest and greatest Internet offerings, including high-definition video streaming, much faster downloads of larger files and an all-around quicker Internet experience.
While the theoretical maximum speed of a Standard NBN connection is 25Mbps, you're unlikely to hit that speed in practice. Numerous factors such as the number of people connected to your Internet provider at a particular time will affect the kinds of speeds you'll receive, so it's important to compare the typical evening speed estimates advertised by different providers before making your buying decision.
In most cases, however, you'll be able to enjoy near-immediate loading of practically all web pages with a Standard NBN connection. However, this is largely dependent on how many people will be using the Internet simultaneously in your home, and what they're using it for.
This connection speed might be ideal in the following situations:
You don't have any special Internet needs, such as two or more people needing to stream video simultaneously in HD.
You've found Basic NBN plans to be slightly inadequate or have found it to be frustratingly slow during peak times.
You were fairly satisfied with your pre-NBN plan, but still want a faster connection.
You're looking for a suitable everyday household plan that can accommodate several users at once.
You don't have any particular upload needs and are fine with maximum upload speeds of 5Mbps.
You want to access ultra-high definition Netflix streaming.
You don't anticipate your household Internet usage increasing a lot in the near future.
Not sure if Standard NBN is right for you?
Frequently asked questions
Related Posts
Lower your household bills