Compare NBN Business Plans
The NBN provides your business with faster and more reliable broadband speeds. This guide will help you find the best NBN deal for you.
In the business world, fast and reliable Internet can be the deciding factor between a successful company and one that can't keep up with the demands of the modern era. As the NBN rollout continues, it's important to get your business NBN-ready as soon as possible.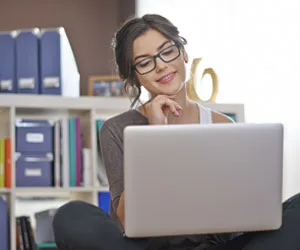 $95/month for 24 months
$0 setup fee
Unlimited data
Compare NBN business plans below
Why should you choose an NBN business plan?
Improved performance
Faster speeds provide your business with the opportunity to improve the way your business operates.

Greater support for business
Internet providers recognise the critical data needs of business customers, providing increased support for your business.

Increase efficiency
A fast and reliable broadband connection allows your business to work without interruptions.
The NBN is designed to replace the older and soon to be obsolete ADSL network, and to finally bring high speed Internet to more remote parts of Australia. To reach everyone, the NBN uses a mix of technologies including fibre optic connections, wireless, satellite and existing short-distance connections within streets and buildings. The majority of the network is made up of fibre-optic cables which are essentially glass tubes capable of transmitting large amounts of data much more quickly, with much less degradation over longer distances and with greatly reduced bottlenecking in high traffic compared to other connection types.
In short, the NBN provides an Internet connection that is much faster and more reliable than what many Aussies are used to. For business purposes, this matters. If you've ever found yourself frustrated at slow Internet and wondering how much productivity it's costing you, you'll understand the opportunities to be had with faster connections.
What to consider before applying for an NBN business plan
Data, communication and speeds: The right plan should match your business needs. Pay special attention to both the upload and download speeds, and consider the range of networked equipment your business uses as well as the typical day-to-day Internet use. It's generally a good idea to overestimate data needs for every person who will be using your business network so everyone can maintain productivity at "slow Internet" times. Essentially, the more people getting online and the more data you need, the larger the buffer you require.
Multiple phone lines: If your business has more than one phone line it's essential that your provider is able to accommodate them.
Enhanced service level agreement (eSLA): Business NBN plans often come with comprehensive support arrangements promising faster response times and more availability than standard residential NBN plans. The degree of support offered will differ from provider to provider, so it pays to investigate just how "dedicated" a provider's support channel is.
Monthly data allowance: For business purposes, it's generally a good idea to avoid capped NBN plans. You don't want to deal with excess download charges or a slowed Internet connection, so it's best to limit your comparisons to unlimited data plans.
Minimum monthly cost: This isn't always as straightforward as it seems. Some providers might offer attractively low monthly rates but offset them by charging high initial set-up fees or providing a lower-quality service. Similarly, other providers might charge no up-front costs but a steep monthly rate, and this can end up hurting your bottom line in the long run.
Call allowance and cost: Try to get an idea of how much phone calls will be costing you based on your typical usage. Also be on the lookout for a plan with phone features that suit your needs such as free, unlimited local calls or an international call allowance.
Set-up fees: You may only have to pay these once, but set-up fees are an important consideration. A lot of ISPs mask their set-up fees in the fine print, and you don't want to be surprised by hundreds of dollars of extra charges when your first bill arrives. Also bear in mind that no-lock-in, month-to-month NBN plans tend to have higher set-up fees than longer-term contracts, so it can be worth committing for the long haul if you're confident you've found the right NBN plan.
Early termination charges: With so many NBN providers out there, it's a good idea to look for a flexible, month-to-month plan that you can cancel at any time without penalty. The catch is that these plans typically incur extra up-front costs, and some are even more expensive on a monthly basis than their long-term counterparts. Be sure to weigh any potential early termination charges against the cost difference of a no-lock-in plan.
Hardware and equipment: Does the plan include any routers, signal boosters or other equipment? Knowing whether a modem is right for your business can be tricky, and just because it's bundled with a business plan doesn't mean it's suitable for your company's specific needs. Research the different models on offer and what features they come with, and also consider whether a provider charges extra to bundle in a modem or not – it might be worth purchasing a modem or router separately since you can then pick one you know will be up to the task.
Customer support: When your business depends on it, you want to know there are prompt answers available and support for any outages or issues. This means not only checking the service agreement but researching the provider's reputation online, specifically with an eye towards how other business customers have had their issues resolved, how long it took and whether there were any unreasonable charges involved.
Additional benefits and perks: Discounts, bundle options, bonuses and other perks are widely available as competitors jostle for your business. It can be worth factoring these into your decision, but generally not at the cost of finding a plan that suits your needs.
How the NBN can help your business
Engage customers better. A faster Internet connection can greatly improve the experience of your customers. This means fewer people leaving your site because it's too slow, plus it gives you the ability to make your site much more immersive with better features, higher quality images, more videos and whatever else you need. If you want to use more videos or high-resolution images as marketing material, it's quicker and easier to send them out with a fast broadband connection. If your business has a lot of customers overseas, the improvements can be even more significant.
Bolster productivity. Higher speeds naturally mean less downtime and more productivity, but they also help remove obstacles for remote, overseas or at-home workers. This allows them to engage as easily and readily as if they were in the same office.
More flexible data access with cloud services. Cloud-based services provide access to important information and materials no matter where someone is or what device they have with them. The biggest caveat with cloud services is the speed of uploading and downloading files, so a zippy NBN connection can be the key to unlocking the potential of the cloud.
Save money. Having a faster, higher-quality connection can help your bottom line in a number of ways including the time and money spent on travel. For example, a doctor's office with the NBN can share X-rays of exceptional quality with specialists around the world for faster and more accurate diagnoses. On an old copper ADSL connection, this would have been time- and cost-prohibitive. Your business might also be able to conduct meetings via video conferencing, engaging with customers and suppliers from around the world with all the efficiency benefits of face-to-face communication. The NBN goes a long way to removing the barriers and costs of distance.
Which NBN technology is right for my business?
Depending on where you're situated, the NBN will arrive at your business in a different way. It is important to note that you can't choose which type of NBN connection you will receive – this is determined by the infrastructure available at your address.
The main NBN technologies are:
FTTP (Fibre to the premises): Fibre optic cable running right to your office. The advantage of FTTP is that it allows for the highest possible speeds.
FTTN (Fibre to the node): Fibre optic cable running to a nearby node and from there using the existing copper network to cover the distance to your place of business. The speeds of FTTN can be variable and lower than advertised speeds depending on your specific location and the distance that needs to be covered over copper wire.
FTTB (Fibre to the basement/building): Fibre optics running to the base of a shared building – typically the basement – before switching over to the copper network for the remaining distance to your office. In most cases, FTTB should offer speeds approaching FTTP and better than FTTN.
HFC (Hybrid fibre coaxial): Uses the existing pay TV (eg Foxtel) or cable network to cover the distance to your premises from a nearby fibre node. This typically results in a faster connection than FTTN.
FTTdp (Fibre to the distribution point): A cross between FTTP and FTTN in both price and quality. It uses fibre optic cables to connect to a distribution point closer to your premises than an FTTN node before making the switch to copper. The idea was devised partway through the development of the NBN, and is intended to alleviate concerns with the lower-than-expected speeds of FTTN.
Fixed wireless: Intended for areas where installing fibre-optic cables is not feasible or is cost-prohibitive. An estimated 4% of Australians will end up with fixed wireless NBN. Fixed wireless uses line-of-sight transmission towers to deliver wireless Internet to the premises in a way that performs significantly better than copper over longer distances.
Satellite: For some rural and remote addresses, a satellite connection is the only way to receive the NBN. In this case, a satellite dish is installed on the premises, typically on the roof. Satellite is the slowest type of NBN connection available, but because it's generally reserved for the most remote regions of the country, it still amounts to a significant upgrade over the broadband connections previously available.
It's important to know what kind of NBN technology you'll receive because this determines what your speed limits will be. FTTP is generally the fastest, with all of the others having technical bottlenecks which may prevent you from achieving the speeds advertised by the fastest plans. Any technology that uses the existing copper network, for instance, can be significantly impacted by factors like the age, quality and condition of the copper cables.
That said, in most cases the NBN should still be significantly faster than the old ADSL network.
Can I upgrade from one NBN technology to another?
If your business is located within an FTTN, HFC or other non-FTTP area, you can request for nbnco to replace the existing infrastructure with fresh fibre cables. This will allow you to sign up for the highest-speed FTTP connections, but bear in mind that this process is not cheap. Depending on the size and nature of the infrastructure upgrade, you may be slogged thousands or even tens of thousands of dollars. Not only that, the process itself can take a long time to complete. Most importantly, only the owner of the premises can submit an upgrade request to nbnco, so if you're leasing your office, you'll need to convince your landlord to agree to the plan before it can go ahead.
What NBN speed does my business need?
Consider both the download and the upload speeds when looking at plans.
Download: The speed at which you can receive inbound traffic, such as download files or streaming a video
Upload: The speed of your outgoing traffic, such as sending emails or transferring files to a remote location. Upload speed is typically a lot more important for businesses than it is for residential plans since you'll often need to send large files to clients, off-site employees and other businesses. Depending on your specific business needs, you may even want to prioritise upload speed over download speed.
NBN tier
Maximum theoretical speeds
Business type
Basic (NBN 12)
For businesses with basic phone and Internet usage
Standard (NBN 25)

25Mbps down and 5Mbps up
25Mbps down and 10Mbps up

For small businesses requiring an upgrade in speed from the standard plan offering but also wanting to manage costs
Standard Plus (NBN 50)

50Mbps down and 20Mbps up

For small businesses with high definition streaming needs, uploading and downloading large files
Premium (NBN 100)

100Mbps down and 40Mbps up
100Mbps down 100Mbps up

Ideal for small-to-medium businesses with several employees accessing the Internet simultaneously
For a more in-depth breakdown, take a look at our guide to NBN speeds.
How to switch to the NBN
If the NBN is available in your area and your business is ready to upgrade, making the switch itself is relatively straightforward. Simply contact your chosen Internet provider and prepare your establishment to get the ball rolling.
NBN checklist: Moving your devices over to the NBN
It's essential to make sure your business is prepared before switching to the NBN. Other than the Internet itself, certain equipment and services might also be disrupted.
PBX systems or multiple phone lines: Contact the equipment or service provider for advice on compatibility with the NBN and any changes that may be required.
Fax machines and fax lines: Check with the phone company whether your equipment and their service is compatible with the NBN.
ATM on site: Contact the relevant bank to see whether it's compatible with the NBN.
EFTPOS terminals: Contact the bank or other relevant provider for advice on minimising disruption and downtime. The same applies for HICAPS and health claim terminals, or similar networked card-reading devices.
Cloud services: Contact your chosen Internet service provider for information on expected disruptions and ways of minimising it.
Wider area networks such as VPN: Speak with the equipment and service providers to find ways of minimising disruption, and to check up on any bandwidth requirements your new NBN connection might need to hit.
Unified communications (eg video conferencing systems): Contact the equipment and Internet service provider for ways of minimising disruption and to find out how taxing they'll be on your new NBN connection.
Telephony (eg VoIP): Consult the equipment and Internet services provider for information on compatibility, bandwidth requirements and ways to reduce disruption.
Monitored security alarms or cameras: Check with the equipment provider to ensure the gear is compatible with the NBN, and if not, any changes you may need to make.
Fire alarms and lift emergency phones: If you have a monitored fire alarm or lift emergency phone, register them with nbnco and consult your lift maintenance provider for any compatibility issues.
Medical alarms or autodiallers: Register these with nbnco and check with the equipment providers to make sure they're compatible and to avoid any break in service.
Business NBN frequently asked questions
Got any other questions? Contact us below in the comments section and we'll get back to you within 24 hours.
Back to top
Related Posts
Lower your household bills