Home loans with free offset accounts
Pay off your home loan earlier than you had originally planned with a free offset account.
A home loan with a free offset account works much like a home loan with a linked transaction account but with one major difference: it allows you to save money by reducing the amount of interest being charged on your loan balance.
With this type of free feature added to your home loan, more money is applied to your principal balance with each monthly repayment that you make.
Offset home loans comparison
*The table below contains mortgages with offset accounts attached. While the majority of them charge no extra fee for this there may be some that add a small extra fee if you wish to open an offset account.
Rates last updated April 1st, 2020
How does a home loan with a free offset account work?
As mentioned, an offset account functions as a regular transaction account which is linked to your home loan. If the account is a 100% offset account, any funds in it will offset the interest charged on your home loan. For example, holding $10,000 in your offset account on a home loan of $200,000 will see interest-only charged on $190,000.
This means that the daily interest on your loan is calculated on a smaller amount. This type of account will save you money on interest and help you to pay off your loan faster than expected.
Offset accounts can be free or charge monthly fees. If your offset account is being offered with no monthly or annual fees, you will save even more money over the lifetime of your home loan.
How do I compare mortgages with free offset accounts?
Fees and interest rates. When looking at a home loan that offers an offset account, be sure that you are not going to be charged any other fees for this service, such as higher annual fees or application fees, or higher interest rates. Also be sure to look into the comparison rate in addition to advertised interest rate, as this takes into account some of the fees due.
Percentages. You'll find some lenders that are only offering offset accounts at low percentages. To get the full benefit of such an account, you want to make sure that 100% of your transaction account balance is being deducted from the balance of your home loan before the interest for the day is calculated.
Accessibility. Make sure that you are able to withdraw and deposit funds from your offset account where you'll want to access them, such as ATMs, online and with a teller.
offset account fees. While you may not be charged any fees for having your offset account, the bank could try and make up for it with fees for different transactions or to receive statements. Compare things such as monthly charges, cheque fees and charges for ATM use when comparing different lenders' offset accounts.
Case study
Jim's offset account search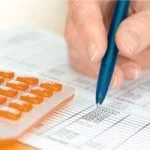 Jim applies for a home loan with an interest rate of 5.5%p.a., with an offset account but first wants to make sure that not only are there no added fees being charged for this feature but that he's getting a 100% offset account.
Jim has a smaller loan balance of $150,000 and plans to keep $5,000 in the linked offset account. With a 100% offset account, the interest rate would be applied to a balance of only $145,000. If Jim finds a home loan with only a 50% offset account, interest would be applied to the amount of $147,500 as only half of the $5,000 would be applied against the principal balance.
Jim uses the finder.com.au home loan offset calculator to find out how much this balance would save him over the 15 years of his loan.
The calculator shows that Jim will pay his loan off five months earlier and save $2,200 in interest. If he bumps his offset account balance up to $10,000, he would save nine months off his home loan and save $4,268.98.
Pros and cons of a home loan with an offset account
Pros
Pay off your loan quicker. When used right, an offset account can allow you to pay off your home loan faster than your original terms.
Save money on interest. By having your account balance deducted from your loan amount, you are being charged less in interest fees with each repayment.
Flexible transaction account. With an offset account you also get all of the flexibility and options that you expect with a transaction account. You can have your salary paid into it directly, and use your account for a variety of purchases.
Cons
Interest earned. The balance of your offset account won't be earning interest like it could in other types of transactions accounts. This is usually outweighed by the fact that most savings accounts will offer an interest rate lower than that of your home loan, meaning you actually gain more from placing funds in your offset account as opposed to a savings account.
Fees. Check for any fees associated with the transaction account you plan to use. Even if you're not charged monthly fees for having an offset account, there might be fees for different transaction types or services.
What should I avoid when it comes to home loans with free offset accounts?
Low offset percentage. When looking into a home loan that offers a free offset account make sure that it is a 100% offset account. If not, you will not be getting the full benefit of this feature.
High-fee transaction account. Avoid linking a transaction account that has high monthly or annual fees. These can quickly eat into the savings you get from reducing the interest amount of your home loan.
Frequently asked questions
When is the interest calculated on my home loan?
The interest on a home loan is typically calculated on a daily basis and then added together at the end of each repayment period.
Related Posts