Everything you need to know about FTTC
Fibre to the Curb promises faster speeds and less stress.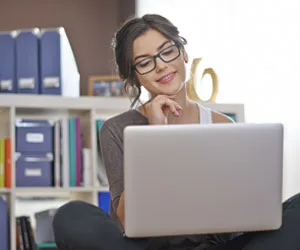 Pay $69.99/month
$99.95 setup fee
Pay-as-you-go local, national and mobile calls
45.6Mbps typical evening speed
FTTN, FTTB and FTTP – the NBN is flush with more acronyms than a mad scientist in a kids' cartoon. Recently, it's added another one to its ranks: FTTC, or Fibre-to-the-Curb. Replacing the now obsolete term Fibre-to-the-Distribution-Point (FTTdp), FTTC represents a new approach to delivering fibre Internet to Aussie homes; one that will exist alongside the other technologies in the NBN's Multi-Technology Mix.
In FTTC's case, this approach involves fibre cable running all the way to the telecom pit outside your house. From there, the fibre cable connects to a Distribution Point Unit (DPU) that utilises the existing copper network to cover the remaining distance to your house.
This positions FTTC as a superior alternative to Fibre-to-the-Node (FTTN), which runs fibre to an FTTN cabinet hundreds of metres away from your home before switching to the copper network. At the same time, FTTC is less expensive and disruptive to install than Fibre-to-the-Premises (FTTP), which runs fibre directly to your house.
What advantages are there to FTTC?
FTTC connections offer a number of benefits over other NBN connection types. For one, you won't have to worry about your front lawn being turned into an excavation site during the installation process, since FTTC utilises the existing copper network to cross the distance from the curb to your house. And while you'll have to provide the electricity to power the FTTC Distribution Point Unit, it uses less electricity on average than the Network Termination Device installed with FTTP connections, so your upkeep costs will be lower on FTTC than FTTP.
The biggest advantages to FTTC come when comparing it to FTTN. While FTTN relies on the much slower copper network to cover distances of around 400 metres, FTTC only suffers reduced copper speeds for the dozen or so metres from the curb to your house. This can mean a significant difference in Internet speed between FTTN and FTTC, with FTTC able to take advantage of new copper-acceleration technologies like G.fast and XG.FAST that bridge the gap between copper and fibre speeds.
What is copper acceleration?
To reduce the speed loss incurred when switching from fibre to copper, the NBN currently makes use of a technology called VDSL, or Very-high bit-rate digital subscriber line. VDSL functions like a souped-up version of ADSL, delivering higher speeds by transmitting data across a wider spectrum of frequencies, albeit over much shorter distances. FTTN connections rely on VDSL and its successor VDSL2 to deliver NBN speeds, but depending on how far your house is from your nearest node, you might not have access to some of the NBN's higher speed tiers.
However, with FTTC, the minimal distance from the curb to your house makes copper acceleration far more viable. Using the VDSL technology it will launch in 2018, FTTC can hit all current NBN speed tiers without issue. Even better, FTTC connections could be upgraded in the future to more advanced copper-acceleration technologies like G.fast and XG.FAST to achieve even higher speeds. Tests by nbn have shown G.fast capable of 600Mbps over 100 metres of copper cable, while the bleeding-edge XG.FAST can hit a whopping 8Gbps over 30 metres of the same cable.
Ultimately, thanks to technologies like G.fast and XG.FAST, FTTC has the potential to deliver faster Internet speeds without requiring significant changes to the underlying infrastructure.
Who will receive FTTC?
nbn plans to deliver FTTC to over one million premises around Australia by 2020, with 400,000 of those currently serviced by Optus's Hybrid Fibre coaxial (HFC) network. FTTC will also replace planned FTTN installations in semi-rural areas where the cost of building an FTTN cabinet is impractical.
You can check your NBN availability using our NBN tracker.
When will FTTC be available?
nbn co has already started rolling out FTTC connections to eligible premises across Australia.
Why isn't it FTTK?
Grammar fans will recognise that in Australian English the correct spelling of the stone edging to a pavement is "kerb", not "curb", which is a North American variant that also means "to restrain". nbn says that it has stuck with the North American spelling because FTTC is "already a globally-understood acronym with its own definition".
Start comparing NBN plans here
Check what NBN technology is available at your home with our address checker below.
---
Latest broadband headlines
Picture: Shutterstock
Related Posts
Lower your household bills