Unlimited Mobile Data Plans
Tired of excess data charges? Compare mobile plans that will let you browse and stream to your heart's content.
"Endless data" plans are the closest thing currently available to getting unlimited data on your mobile plan. Currently, only Telstra and Vodafone offer unlimited data plans in Australia. Both telcos' plans enforce speed limits once you exceed a fixed amount of data.
That means, instead of charging you for going over a certain limit, your download speed gets slowed down to 1.5Mbps.
Vodafone's SIM-only endless data plans
Vodafone is another provider that provides unlimited data plans. On top of their basic plan inclusions, Vodafone also has several other features and offers.
Bonus data for students. Get more data for the same price on postpaid plans.
Discounts on bundled plans. Put your plans together on the same account and you could be eligible for discounts.
30-day network satisfaction guarantee. Drop your plan with no penalty if you aren't happy with Vodafone in the first 30 days of service.
$5 roaming. You can get some international roaming packs for $5 a month.

Have a look at Vodafone's unlimited data plans in the table below.
Telstra's SIM-only unlimited data plans
Telstra won't charge you any excess data fees if you go over the limit on their SIM-only plans. In addition to their basic plan inclusions, Telstra has a whole lot of other features and offers:
5G trial. You can join on the Telstra 5G trial until June 2020 so long as you have a compatible device and live in one of the serviced locations.
Telstra Air Wi-Fi. You gain access to over 1 million free Wi-Fi hotspots on any Telstra plan.
Free sports streaming. No data use when streaming certain sports like AFL, NRL and others.
Free music streaming. No data use when listening to Apple Music, though you still need your own subscription.

You check out Telstra's endless data plans below.
How exactly does unlimited mobile data work?
When you hit your monthly data cap on an unlimited data plan, your connection speed will be slowed down from whatever it normally is to about 1.5Mbps. To give some context on how slow that is, a regular 4G connection has a maximum speed of 150Mbps and an average speed of around 15Mbps. Essentially, your connection is being cut to about 10% of its regular level.
This probably won't have a huge impact on your basic browsing, but what does it mean for streaming video? According to Netflix's minimum speed recommendations, 1.5Mbps is the absolute minimum you should have to be able to even watch something, though it will be very poor quality and probably highly pixelated. You need at least a 3Mbps connection to watch a video in decent SD quality.
Vodafone's unlimited mobile data plans with a phone
No matter which Red Plus plan you choose with your phone, you'll get access to unlimited data with Vodafone. By default, we're only showing plans that come with the Samsung Galaxy S20 range or the iPhone 11, but you can pick whatever phone you like by clicking the 'filter results' button.
Telstra's unlimited mobile data plans with a phone
The good news is that all of Telstra's plans with a phone offer an unlimited data feature, so you can pick whichever suits you. The table below shows only the iPhone 11 and Samsung Galaxy S20 range by default, but you can plug in whatever model you want by clicking the 'filter results' button.
Unlimited streaming options
If you're super keen on your media, there are several providers that offer unlimited or bonus streaming of certain services with their mobile plans. Using these services when on one of these plans will either let you stream data-free or will give you some bonus data (like 10GB) exclusively for using these services.
Common ones you should keep an eye out for include Apple Music, Spotify, Apple TV and Netflix. Be aware that you'll usually need a paid subscription to the service in question to take advantage of this.
Are unlimited mobile data plans worth it?
This really depends on how much data you use and what you use it for. If you mostly chew through data watching videos, 1.5Mbps probably won't cut it for your streaming habits. You're likely better off shelling out for a plan with a higher data cap. If you just browse and look at social media, you should be fine.
On top of this, the two providers that offer unlimited data plans – Vodafone and Telstra – are far from the cheapest options out there, so you'll be paying a premium on the full-speed data you do get. Check out your data use with our mobile data calculator and consider looking for a plan that simply provides the amount of data you need.
Frequently asked questions
Can I use my endless data overseas?
No. Unlimited data from both Vodafone and Telstra only applies when you're in Australia.
Can I share my endless data plan with other family members?
Yes, so long as you all use Vodafone. Vodafone's Red Plus plans allow you to share your full-speed data with other Red Plus plan members. While they don't get access to your unlimited data, they'll naturally have unlimited data of their own by virtue of having a Red Plus plan themselves.
---
Latest mobile news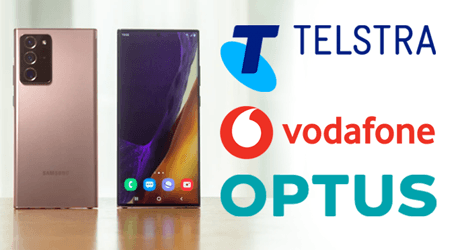 Find out which provider has the best value plan for the new Samsung Galaxy Note 5G range. Read more…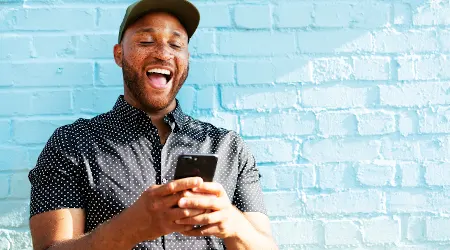 Check out Optus' 5G coverage areas, plans, and compatible mobile devices in our guide. Read more…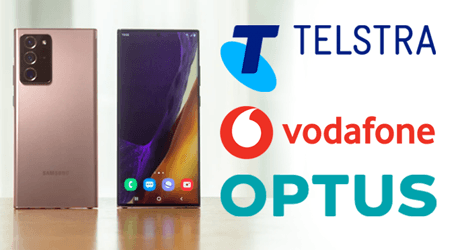 Find out more about coverage areas, plans and compatible mobile devices in our Vodafone 5G guide. Read more…
Related Posts