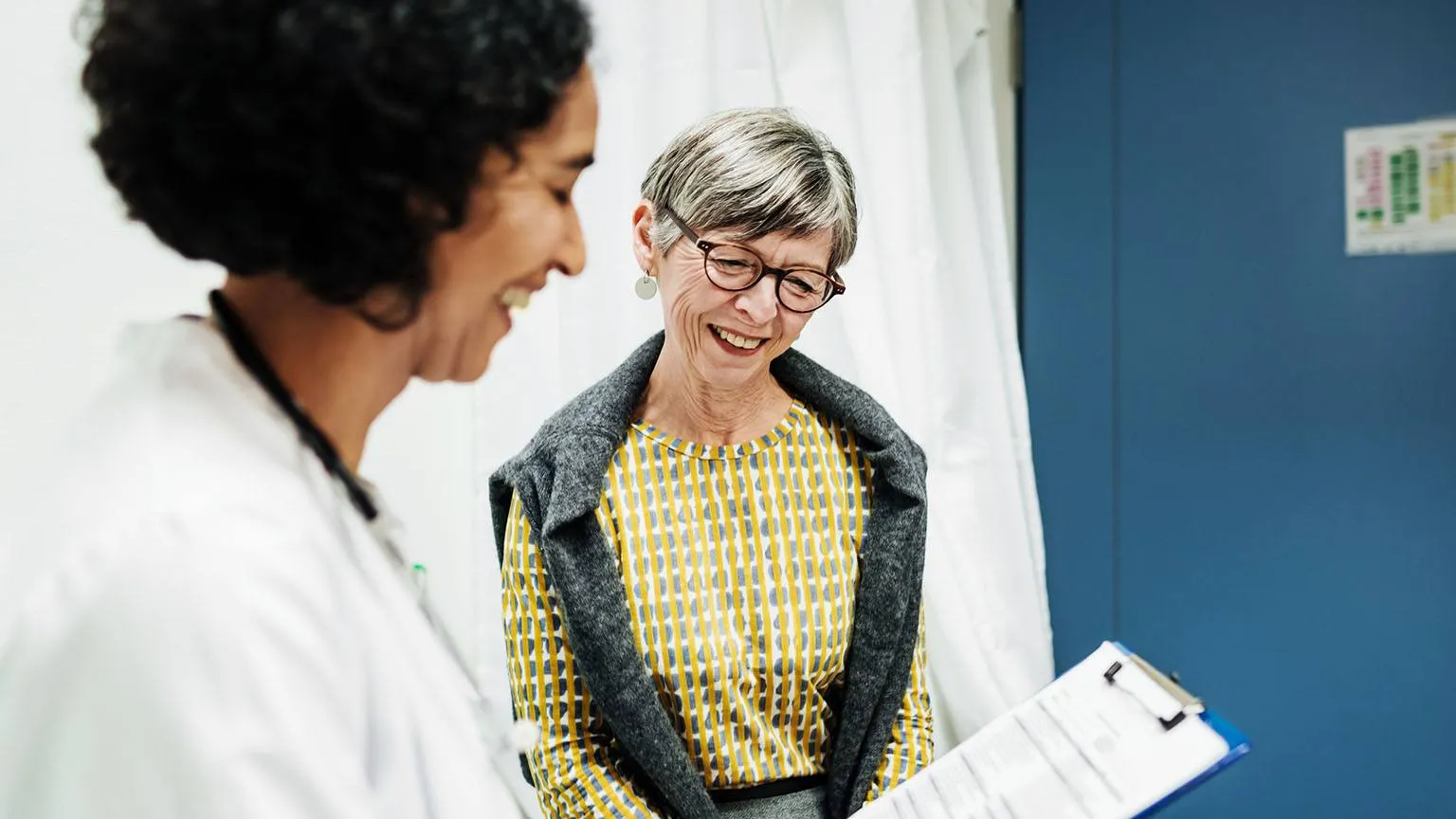 Our medical needs change as we grow older and our families fly the nest. Instead of looking for pregnancy benefits or cover that includes kids, we become more focussed on other things, like insurance for pre-existing conditions, cardiology or joint replacements.
However, finding the best health insurance for seniors takes a little bit of research because there aren't any policies which have been specifically designed for over-65s. Instead, you have to compare policies and see which ones offer the benefits you need, for a price you can afford.
That's where we come in.
We're here to help you compare health insurance and pick the best policy for you. To do that, there are a few things you should take into account before looking for health insurance:
Pricing – You won't pay more for health insurance just because you're over 65. However, if you want lots of benefits, you'll pay more for your policy.
Waiting periods – If you have a pre-existing condition, your insurance company can't decline you, but it can apply a waiting period. This means you might not be able to claim for certain treatments until the waiting period has passed.
Type of cover – For health insurance, you can choose hospital, extras or a combination of the two. By having a combination of the two you can claim money back for dental treatments and prescription glasses under your extras policy, but you'll also be able to use private hospitals and jump surgery waiting lists.
Hospital cover – Hospital cover comes in four tiers: Basic, Bronze, Silver and Gold. The amount of cover you get increases as you ascend through the tiers, but so does the price.
Compare seniors health insurance in Australia
The comparison tool below lets you see hundreds of policies side by side, making it easier to choose one that's right for you. Select what's most important to you – we suggest "Better Cover" – then fill in your details and choose whether you want hospital cover, extras cover or both.
Once you've clicked "Search Policies", you can refine your search by selecting the benefits that are most important to you, such as heart surgery, joint replacement or pre-existing conditions.
Are you switching health funds or getting a policy for the first time?
Before going any further, it's important to know whether you're getting cover for the first time or looking to change health funds. Which situation best describes you?
What should you consider before you switch?
If you've already got cover and you're looking to switch funds, you'll need to ask yourself why you're switching. Are you trying to save money or have your needs changed?
Are you trying to save money? If you're trying to save money, make sure it's not to the detriment of your cover. If you've had a policy for a while, your benefit levels may be higher than those offered on newer products. Before you switch to any policy, make sure you've compared those limits so you don't end up locking yourself into a worse product. What you're saving yourself in the short term by switching to a cheaper policy could end up costing you more in the long run.
Have your needs changed? As you get older, your health insurance needs change. You may have been on a top hospital policy, with pregnancy, which you no longer need. Conversely, you may have had a basic policy, which does not serve your growing needs.
What about waiting periods?
The good news is you won't have to re-serve any waiting periods for items that your previous policy covered. However, if the policy you're switching to has higher benefit limits or cover for treatments not covered by your original policy, you will have to serve those waiting periods.

Do seniors need health insurance or is Medicare good enough?
We're lucky to live in a country where everyone has access to hospital cover with little to no out-of-pocket costs thanks to Medicare. Before taking out a health insurance policy, you should weigh up the pros and cons of having private cover, as you might be better off just sticking with the public system. Some items to consider when weighing up public vs private hospital as a senior include the following:
Medicare
Private hospital
Premiums

Free (other than the levy)
Costs $75/month+ extra if you earn over $90,000

Starts at $69 per month (and cancels out your Medicare levy surcharge)

Doctor and hospital

You can choose your own hospital and doctor

Accommodation

You may get a private room in a hospital or stay in a private hospital

Waiting times

You could wait months for non-urgent treatment

You can skip the queue and have more choice over your appointment time

Hospital and medical costs

Medicare pays 75% and the remaining 25% plus any additional fees are paid by you and your insurer

Specialised services

Treatments such as weight loss surgery and IVF can be covered but are hard to access

Top policies will cover this type of treatment (often there is a 12-month waiting period)

Emergencies

Ambulances are not free unless you live in Queensland or Tasmania

Emergency ambulances are covered even in a basic policy
Medicare doesn't cover everything
While Medicare definitely has its pros in regard to hospital cover, it has more cons than pros when it comes to extras cover. Extras cover is there to cover you for treatments that fall outside of the auspices of hospital cover such as optical, dental and physio.
Public vs private waiting times for procedures
Source: Australian Institute of Health and Welfare (AIHW) Private health insurance use in Australian hospitals 2006–07 to 2016–17
How does the Commonwealth Seniors Health Card work?
Once you turn 65, the Australian government officially considers you a senior and you may be eligible for a Commonwealth Seniors Health Card (CSHC). This is a concession card for older Australians that allows you to access cheaper pharmaceuticals and government-funded medical services. The eligibility requirements and benefits you can claim with this card are outlined below:
Eligibility criteria
Benefits
To qualify for the CSHC, you must meet the following criteria:

Be of pension age (65) or older
Be an Australian resident currently living in Australia
Don't qualify for a Department of Veterans' Affairs pension
Don't qualify for any other Department of Human Services payments
Meet an income test

CSHC holders can access the following:

Bulk-billed visits to your GP (depending on your doctor).
Increased Medicare Safety Net benefits.
Cheaper prescription medication through the PBS.
Other benefits that vary depending on where you live. These may include discounted utilities bills and property rates, cheaper health care costs (including ambulance, dental and eye care) and discounted public transport.
What should you look for in a policy if you're over 65?
It's not as easy as finding a health fund and clicking on the seniors health insurance button, because none of them has a policy called "seniors health insurance" or "health insurance for seniors".
Health insurance falls into two categories: hospital or extras.
Health insurance type
Main features
What else is covered
Hospital cover

Access to a private or shared room in a private hospital
Choose the doctor who treats you and the hospital you attend
Ability to avoid lengthy public hospital waiting lists for procedures

Read more
Extras cover

Claim for out-of-hospital services that are largely excluded from Medicare
A huge number of benefits available ranging from dentistry to exercise classes
Can be combined with hospital cover for dual protection

Read more
A typical seniors health insurance policy with hospital cover may include
Deciding whether you want a hospital, an extras or a combined policy will come down to your personal circumstances. However, hospital has the big-ticket items that are relevant to seniors. These include cover for the following:
Accommodation as a private patient in a private or public hospital
Operating theatre fees
Intensive care costs
In-patient X-rays, MRIs, CAT scans and pathology
Eye surgery
An extensive assortment of other surgeries and procedures (such as hip and knee replacements, back surgery, colonoscopies, dental surgery, hernia repair, renal dialysis and more)
Cardiothoracic surgery (heart, lungs and chest)
Cancer and stroke treatment
In-patient pharmaceuticals
Rehabilitation services
Prostheses
Organ transplant
In-patient psychiatric treatment
Gap cover for when you visit your GP
Palliative care
Notice anything missing from this list that would normally be covered by a top hospital policy? Yep, you guessed it: pregnancy. When an insurer or comparison site refers to a seniors policy, what they're really saying is: "Here is our top hospital policy minus cover for pregnancy, obstetrics, IVF, etc".
Different tiers of hospital cover
Since 2019, hospital insurance has been broken into four tiers: Basic, Bronze, Silver and Gold. As a general rule, if you're a senior, you're going to want to look for a top hospital policy as it provides you with the greatest access to the widest range of procedures and treatments.
A seniors hospital insurance policy that has extras may include the following
Some benefits you might find include:
Ambulance. Health insurance will cover your emergency ambulance bills.
Optical. Includes glasses and contact lenses. Extras will pay a set amount towards your glasses, normally $150 or $200. Medicare will pay for your eye test.
Dental. Including check-up, clean and scale, crowns and bridges, root canal therapy, dentures, implants, teeth extraction etc. Extras will pay a percentage of your treatment costs, from 50% up to 100%.
Chiropractic. Extras will pay a percentage of your treatment costs, from 50% up to 75%. Your policy will come with a limit which is the total amount claimable.
Physiotherapy. Extras will pay a percentage of your treatment costs, from 50% up to 75%. Your policy will come with a limit which is the total amount claimable.
Hearing aids. Policies will typically pay a set cost, rather than cashback rebates. There can be a waiting period from 12–36 months.
Non-Pharmaceutical Benefits Scheme (PBS) pharmaceuticals. Cover for non-PBS medications is included on some high-level extras cover. There will be a limit on the amount you can claim per item, for example $50.
Blood pressure monitors. The amount you receive is either a cost limit or a percentage of total cost. Monitors can be listed in either a hospital or extras policy.
Occupational therapy. Because occupational therapy is such a broad category, certain components are covered by Medicare while others are only covered by private health funds, but you will need a referral from a doctor.
Podiatry. Treatments include arthritis complications affecting the legs and feet, skin and nail problems, corns, calluses, ingrown toenails, bunions and orthotics. You'll get a yearly limit on treatment.
Psychology. Extras will pay a percentage of your sessions. Your policy will come with a limit which is the total amount claimable. Medicare may also be able to help.
Preventative tests. Such as bowel screening and bone density testing.
What does the best seniors policy look like?
While you won't find a "seniors" policy on the market, there are a number of key features you should look for when buying health insurance in later life. First things first, you're generally going to want top cover. Next, you're going to want to look for policies that provide a high level of cover for relevant treatments such as heart surgery, major eye surgery and joint replacement.
If you're looking to have cover for out-of-hospital treatments, you're going to want to look for an extras policy that provides a good level of cover for dental (both general and major), along with optical, physio, health aids (such as hearing aids and blood glucose monitors) and ambulance.
How much does it cost for seniors?
Health insurance is community rated, which means no matter whether you're 18 or 88, you're going to pay the same amount for the same level of cover. How much your health insurance will cost will come down to the following:
Whether you choose extras only, hospital only or a combination cover
The level of cover – top hospital costs more than basic hospital
The brand
Where you live
How much you'll be hit by the LHC if you're getting cover for the first time
On average, a single hospital + extras policy can cost from $67.15 per month to $277.41 per month for a female living in NSW.
Are seniors eligible for a health insurance rebate?
Yes and if you're over the age of 65, your private health insurance rebate increases, provided you're not classified as a high-income earner ($140,001 or more for singles and $280,001 and over for families, single parents and couples).
You can claim the rebate either as a premium reduction through your health fund or as a tax offset when you lodge your tax return with the Australian Taxation Office (ATO).
How much is the Lifetime Health Cover (LHC) loading going to cost you?
If you're getting health insurance for the first time as a senior, you're going to be impacted by the Lifetime Health Cover (LHC), which is a loading of 2% on top of your premiums for every year over the age of 31 you didn't have private health insurance. This can make buying health insurance as an adult prohibitively expensive for seniors.
How much more will health insurance cost if the LHC applies to you?
Let's assume you're 70 years old and have never held cover. The maximum loading of 70% will apply to your policy for the first 10 years you hold it. If the normal annual premium for your seniors health insurance policy was $1,800, you'd need to pay an extra $1,260 per year, not counting any rebates you might be eligible for. While an additional $100 or so each month is nothing to sneeze at, getting insured can still be worth it if you make the most of your policy.
When don't you have to pay the LHC?
There are a few exceptions where seniors won't have to pay the LHC, the most relevant exemption is whether you were born on or before 1 July 1934. If you were, then you don't need to worry about the LHC.
Continue reading:

Icons made by Vectors Market from www.flaticon.com is licensed by CC 3.0 BY
Picture: GettyImages

Read more on this topic
You might like these...