ADSL2+ and ADSL plans
No NBN? No problem. Get unlimited data on an ADSL plan and get ready to switch.
We're committed to our readers and editorial independence. We don't compare all products in the market and may receive compensation when we refer you to our partners, but this does not influence our opinions or reviews. Learn more about Finder .
The NBN is set to be fully rolled out by the end of 2020, so pick up a month to month ADSL plan to make it easy to switch. A multi-month contract could leave you facing early exit fees when the time comes to upgrade to the NBN.
Compare ADSL plans below
Use our filters to find the right ADSL plan for your needs. You can choose how much data you're after or what price range you're going for.
3 things to ask yourself when comparing ADSL plans
How much data do you need?
While it's become normal to automatically gravitate towards an unlimited Internet plan these days, think about how much data you actually need. For people who don't use the Internet very often, you could save with a data-capped plan, which is usually cheaper than an unlimited ADSL plan. To see an estimate of how much data you use at home, give our data usage calculator a try.
Should you lock into a contract?
Some ADSL plans will offer incentives like reduced set-up fees if you sign up to an extended contract, while others can be bought month to month and ended at any time. Be careful about signing onto a lengthy contract, as you could face a steep exit fee if you want to leave early.
Are you after any extras?
Some ADSL providers will offer you extra features for an additional monthly fee. There's very little consistency with bundles across the market, but you'll find providers offering anything from home phone call packs to bonus streaming services to gaming deals. Take a look to see if any incentives stick out to you with something you'd be interested in.
Since ADSL is phasing out around Australia, there aren't a lot of providers that still offer ADSL plans. Instead, they've made way for NBN plans. However, that doesn't mean you can't still strike a good deal by comparing ADSL plans.
To find out more on ADSL and how it works, check out the rest of our guide below.
What is ADSL/ADSL2+?
ADSL (Asymmetric Digital Subscriber Line) is an Internet service that works by sending signals through existing copper telephone lines. It uses different frequencies to the telephone and can exist alongside or independent of a phone service.
ADSL2+ uses the same basic technology as ADSL but achieves faster data speeds, maxing out at about 24 Mbps. Not all telephone lines can support ADSL2+, but these types of plans are cheaper and more common than regular, slower ADSL connections.
The signals involved in ADSL connections degrade with their distance from a signal exchange, with a functional limit of about 5km.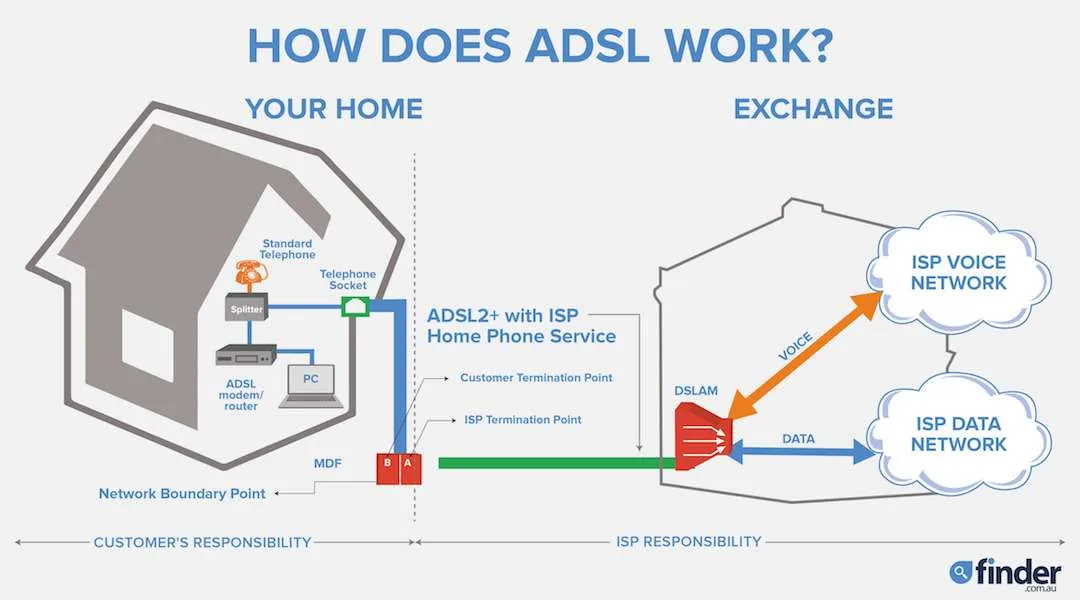 NBN vs ADSL: What's the difference?
While the NBN and ADSL both provide access to the Internet, they're completely different technologies. ADSL runs through the old copper lines that are already used to carry phone signals, while the NBN requires dedicated fibre optic cables to send large amounts of data at high speed.
The NBN is intended to replace these older copper connections, with the older cables removed as the NBN is established. In neighbourhoods where the NBN is fully installed, households will be unable to access ADSL since the cables it uses will no longer be present.
ADSL and ADSL2+ is expected to be fully supplanted by the NBN Australia-wide by the end of this year.

Tangerine NBN Standard
Tangerine NBN offers unlimited data & 21Mbps typical evening speed for $49.90/month.
What is the fastest ADSL2+ speed?
An ADSL2+ connection has a maximum download speed of 24Mbps and maximum upload speed of 3Mbps. As with any Internet service, it's important to note that this 24Mbps figure is a maximum, and the actual speeds you'll experience will likely be slower. Speeds will be very variable and depending on where you live or what time of day you're accessing the network, you might get something more like 8-20 Mbps.
To put this in perspective, the variable download speeds offered by ADSL can be comparable to ranging from the first and second of the four NBN speed tiers, NBN12 and 25, which offers roughly the same. However, NBN has higher speed tiers which can offer almost 4 times this download rate, making ADSL2+ pretty middle of the pack compared to the NBN.
Where is ADSL and ADSL2+ available?
Both ADSL and ADSL2+ is available anywhere in Australia that is both within 5km of a signal exchange and doesn't have the NBN. As previously mentioned, the old copper lines get decommissioned when the NBN has been installed.
To check whether your property is still using ADSL or is now connected to the NBN, check out our NBN tracker.
Frequently asked questions
Does ADSL use a phone line?
Yes, ADSL uses an existing phone line in order to work. This may mean you need to pay line rental for ADSL, which isn't the same as paying for a home phone service. Luckily, most providers bundle the cost of line rental into their ADSL plans now, so the cost doesn't appear as high.
Is ADSL phased out?
It's expected that once the NBN has rolled out in Australia by the end of 2020, ADSL will no longer be an available service. It's important to take note of when ADSL connections will be switched off in your suburb - you'll get 18 months from the date when the NBN is activated in your area to switch to an NBN plan.
I'm not happy with my NBN connection. Can I switch back onto ADSL?
Unfortunately, once the NBN is available in your area, staying on an ADSL connection isn't possible. As previously mentioned, the old copper wires involved in an ADSL connection get decommissioned once the NBN becomes available in your suburb.If you're unhappy about the speeds you're receiving on your new NBN connection, check out our guide on
how to fix slow NBN
. Otherwise you could also look at getting a
home wireless broadband
connection which uses mobile networks to get you connected.
Do I need to buy a new modem to connect to ADSL?
It's highly likely that if you already own a modem, you won't have to buy a new one to get your ADSL connection working. Since ADSL has been around for quite a long time as far as Internet technology goes, your modem should be ADSL2+ compliant unless it's extremely old. Even then, a new ADSL2+ wireless router or modem won't cost you too much to buy.
---
More guides on Finder
Lower your household bills