How to switch mobile providers and get a better deal
Changing providers doesn't mean losing your number - here's everything you need to know about changing providers and finding a better mobile plan today.
---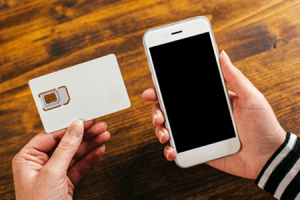 When you change carriers in Australia for whatever reason (we won't judge), you're entitled to take your mobile phone number with you. This is really convenient because it means you don't have to update all your contacts with your new number, while taking advantage of better pricing available through other competitive phone service providers.
The process of changing your mobile phone number over to a new carrier is known as mobile number porting.
What is mobile number porting?
Transferring your mobile number to another network is known as "mobile number portability", and it's a process that's designed to be quick, easy and free of charge.
By law, every carrier in Australia is obliged to support mobile number portability, so if you want to switch carriers, you're absolutely entitled to take your existing mobile phone number with you.
How to port my number
The actual process for mobile number portability is exceptionally easy.
Contact your new provider, either on the phone or online depending on your new provider's account setup mechanisms.
Indicate that you wish to port over an existing mobile number.
Tell your new telco the number and the name of your existing provider.
Then it's up to your new provider to contact your old provider and transfer your number over.
Compare plans with special deals
Keen to switch to a new provider? Check out these plans with special deals:
How long should it take to port my number?
According to the mobile number portability industry code, 90% of mobile number transfers should be completed within three hours, and 99% should be completed within two days. Most telcos only operate porting facilities from Monday to Saturday, and not on Sundays or public holidays, so keep that in mind when you decide to switch providers.
The reality for mobile number portability is that the time it takes can vary considerably. For some customers it's a matter of minutes, but it can take some hours in certain circumstances. Bear in mind that your new provider can only port your number from a "live" service with your old provider. This means you can't cancel the service and then request mobile number portability.
What can I do if the port doesn't work?
It's not entirely unheard of for problems to occur. If you've requested mobile number portability and it hasn't taken place within two days, tell your new provider that the process hasn't gone through.
Your new provider will then check whether or not your old provider has released your number or if another error has occurred.
The full process for this is defined in the Telecommunications Numbering Plan. You need to give your provider a chance to rectify the problem, but if the problem drags out over an unreasonable period of time, you can complain to the Telecommunications Industry Ombudsman (TIO).
How can I stay connected in the meantime?
Most mobile number portability requests are completed within three hours, but if you need constant communication facilities, pick up a prepaid SIM and activate it before you begin the mobile number porting process. You should typically only need to rely on your prepaid SIM for a few hours, which should see your phone and even data needs met in the meantime.
Are there any advantages to not keeping my number?
Your new provider can give you a new number at no additional cost to you, and that can be preferable in some cases. A new number can represent a clean break from the old number, which can protect you from unwanted calls from your ex or an annoying telemarketer.
If your old number was similar to an existing business number and you received a lot of misdialled calls, it may be wiser to shift to a new number. If your old number was particularly hard to remember, a new number might offer you an easier experience, although you won't be able to pick the exact combination.
What you can't do with mobile number portability is get out of any contractual commitments to your previous carrier. If you still owe money on a mobile bill, switching carriers won't get you away from that debt.
Back to top
---
Image: Shutterstock
Related Posts
Latest mobile plan deals on Finder