Life Insurance for Australian Expats
Find out about expat life insurance and how you can get life insurance if you're an expat living overseas.
We're reader-supported and may be paid when you visit links to partner sites. We don't compare all products in the market, but we're working on it!
It's possible for Australian expatriates living overseas to take out life cover with an Australian insurance provider. However, there are some important restrictions to be aware of, including:
Official government warnings for overseas country. Most insurers will not provide cover for expats in countries with a level 5 classification from the Department of Foreign Affairs and Training (DFAT).
Maximum length of time overseas. Policies will state a maximum length of time of 5 years for Australian expats overseas.
Does life insurance cover deaths that occur overseas or abroad?
Whether or not an Insurance Provider will offer cover and on what terms is often dependent on the country that they are or intend to reside in. Most life insurers will work through reports from the Department of Foreign Affairs when determining risk levels of countries and in most cases will not insure expatriates in high risk countries (DFAT 5). Warnings on DFAT for countries range from "Exercise Normal Safety Precautions" to "Reconsider Your Need to Travel". Reasons for countries being considered dangerous can include;
Terrorist threats
High rates of kidnapping
Political unrest
Serious crime
Military conflict
Disease
Insurers will generally consider each country on a case-by-case basis. In some instances, insurers may place exclusions on the policy depending on the country. For example, the application of a political instability clause is common for many policies. The country travelled to may also impact the length of time that an insurer is willing to provide cover for. You can also check Smartraveller for any travel warnings placed on a country.
---
Who is recognised as an expat?
An expat is recognised as an Australian Permanent Resident or one with Citizenship status who intends to live and work overseas for an extended period time but expects to return to Australian is the foreseeable future.
There is usually a restriction on the duration of time that the applicant can stay in the country for the policy to remain in force. Most insurers will only provide cover for up to five years. In the event that the policyholder has no intention to return to permanently live in Australia, an insurer will generally recommend that they seek cover options available in their new country of residence.
---
Is it possible to get expat life insurance if I'm already residing overseas?
For Australians who are already living and working overseas, there are a number of factors that will impact whether or not they can take out cover with an Australian provider. This include:
Duration of time already spent overseas. Insurers will examine the period of time that the applicant has already spent in the country and how much longer they intend to stay there. As mentioned previously, some insurers will recommend they look to taking out cover from a provider in that country.
Occupation. An insurer will consider the nature of the person's occupation while overseas in their assessment on whether or not to provide cover. Occupations that may be considered to carry an extra level of risk (especially in the country being applied for) may carry an extra premium loading or be rejected altogether.
Legal Requirements of Country. The country may have certain legislation in place that will prevent the foreign workers to purchase a life insurance policy from within their country due to licensing issues.
---
Things to consider when looking at expat life insurance?
Existing life insurance. If you have existing life insurance, you should check if you provider will provide cover if you become an overseas resident. You may find that they will not cover you if you're overseas or they might have conditions where your cover expires after a certain period of being out of Australia.
Family considerations. If you move overseas for work, you need to consider your family arrangements. Do you have a partner and are they coming overseas? Will they be reliant on your income only? What about other dependants like children? If you are going to be the primary income earner while living overseas, you may need to think about increasing your cover to ensure your family will be able to survive if something happens to you.
Increased income and expenses.You might find that after moving overseas for work, your income and costs will often increase. Things like private schooling, international health insurance and potentially the maintenance of overseas property mean you will need to consider you level of cover to make sure these costs can be maintained if you become sick, disabled or pass away.
Unplanned return to Australia. If you become injured, sick or die, will you need to return to Australia? How will you cover those costs, especially if you need special assistance? You should consider looking at insurance that will help you cover these costs if needed. For example, some life insurance policies offer a funeral advance benefit that could be used to help cover the repatriation of a deceased person which can be extremely costly. Always check the conditions to make sure you will be covered while overseas.
---
Who is eligible to take out expat life insurance cover?
Some general requirements for expats looking to take out protective cover include;
Applicant must be an Australian citizen or have permanent residency.
Applicant must have plans to return to Australian after a period of 5 years. Applicants that decide to stay overseas may be required to take out a policy in their country of residence.
Any additional medical examination that is required during the underwriting process must be carried out in Australia by an approved medical practitioner.
---
An adviser can help you find cover from trusted life insurance brands.
Get competitive quotes from multiple brands

Lower rate of declined claims (according to ASIC)

Save time and effort
---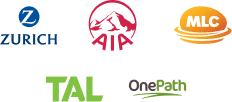 * The products compared on this page are chosen from a range of offers available to us and are not representative of all the products available in the market. There is no perfect order or perfect ranking system for the products we list on our Site, so we provide you with the functionality to self-select, re-order and compare products. The initial display order is influenced by a range of factors including conversion rates, product costs and commercial arrangements, so please don't interpret the listing order as an endorsement or recommendation from us. We're happy to provide you with the tools you need to make better decisions, but we'd like you to make your own decisions and compare and assess products based on your own preferences, circumstances and needs.
More guides on Finder