Life insurance and heart conditions
You can get cover even if you have a pre-existing heart condition. Here's what you need to know.
We're reader-supported and may be paid when you visit links to partner sites. We don't compare all products in the market, but we're working on it!
Finding life insurance for pre-existing heart conditions can be challenging so we've put together some of the options out there.
Pre-existing conditions
When looking for life insurance, once you've told a provider about your heart condition, they'll usually decide on one of the four following courses of action:
Offer you a standard premium with cover. They might agree to insure you for cardiac events at a standard price, despite your pre-existing condition.
Offer an increased premium with cover. They might agree to cover cardiac events but with increased premiums and/or excesses.
Offer you standard life insurance cover. That is, with a special exclusion for heart conditions in your policy.
Refuse to insure you. If this is the case, there are options elsewhere.
Protection in the future
If you have no pre-existing conditions and you're looking to protect yourself in the future, trauma insurance can cover you for heart conditions. That way, if you're diagnosed with a heart condition down the line, a trauma insurance policy will help you pay for the care you need with a partial or lump sum payment.
Compare your options life insurance options
Compare direct life insurers who assess conditions during the application process
Tip: Hit the 'Optional cover - Trauma' row to sort policies that offer critical illness as an option.
An adviser can help you find cover from trusted life insurance brands.
Get competitive quotes from multiple brands

Lower rate of declined claims (according to ASIC)

Save time and effort
---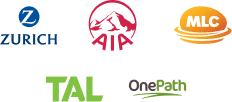 How do life insurance brands define heart conditions?
There are many different types of cardiac events which can be covered by insurance, and these will usually be separately categorised in policies. These might be listed as:
Broad terms like heart failure. This is more commonly found in general life insurance policies.
Illnesses, diseases or conditions like cardiomyopathy
Specific treatments such as coronary bypass surgery. This is more commonly found in trauma insurance policies.
Combined life and trauma insurance policies will generally list all of the above types of heart conditions.
What are some included heart conditions?
Some of the heart conditions you will see on many insurance policies include:
Cardiomyopathy: When you see cardiomyopathy on an insurance policy, it refers to heart disease. If you have a chronic or pre-existing heart condition then it is often a form of cardiomyopathy.
Dilated cardiomyopathy is the thinning and stretching of heart muscles.
Hypertrophic myopathy is the thickening and enlargement of heart muscles. This can strike any age group, and even perfectly healthy people and athletes.
Restrictive cardiomyopathy is more common in old age and refers to the heart becoming rigid, such as because of a buildup of scar tissue. The term cardiomyopathy on insurance policies will cover all of these. If you have a pre-existing heart condition and the insurance company doesn't want to cover it, they may add a special exclusion for cardiomyopathy.
Heart attack. A heart attack occurs when the flow of blood to the heart is suddenly blocked. This is relatively likely to follow conditions like coronary artery disease which refers to the narrowing of blood vessels. Plaque, cholesterol and fat are able to narrow and block the blood vessels, and can also create blood clots if they rupture. This interrupts the flow of blood and can cause severe damage. These conditions often requires surgery to treat them, such as coronary artery bypass surgery or other alternatives like aorta repair surgery, depending on the severity of the situation. All of these terms may be found on insurance policies, although they separately refer to broad heart conditions, specific afflictions and the treatments required.
Stroke. This is not a heart condition in itself, but rather a brain condition that can be caused by heart failure, which is a very broad term that refers to the weakening or total failure of the heart for any reason. A stroke is when the flow of blood to or in the brain is affected. The buildup of plaque in neck arteries can lead to stroke, as can the presence of a blood clot in the brain. This is a relatively common and severe issue, and is included on most life and trauma insurance policies.
These are just some of the heart condition terms you might find ion insurance policies. You should refer to the insurance policy product disclosure statement (PDS) to see which of these, or others, are mentioned. Consider whether the insurance policy talks about broader and more general heart conditions, certain diseases or afflictions, or specific types of heart surgery. Most policies will use a combination of these.
What questions will you need to answer when applying?
Is there a history of heart conditions in your family? What is the condition?
Have you ever shown symptoms of a heart condition that made you seek medical advice or have you been diagnosed with a heart condition?
How do I get life insurance with a heart condition?
If you have an existing heart condition such as cardiomyopathy, or have suffered cardiac events in the past such as coronary heart disease, then the insurance company will most likely want to hear about it. Generally there will be questions for you to answer about it in the medical history section of the insurance policy. You'll typically be required to determine whether you have pre-existing heart conditions or have ever experienced symptoms of, sought medical treatment for, or been diagnosed with any of the following:
Heart attacks
Heart murmurs. This refers to unusual heart sounds that can be detected with a stethoscope. These are usually safe and not an issue, but can sometimes indicate medical problems.
Angina or chest pains. Angina is a feeling of pressure, pain or squeezing in your chest. It can also occur in the back, neck, shoulders, jaw or arms. It is often an indicator of heart conditions.
Hypertension. Also known as high blood pressure, this can be an indication of narrowing or partially blocked arteries.
High cholesterol or any other heart or blood vessel disorder. High cholesterol means you're at a higher risk of heart and blood vessel conditions.
Remember that you must provide honest information. If you are found to have been deceptive, the insurer might cancel your policy without a refund, or refuse a claim.
---
If I claim a trauma benefit for a heart condition, am I still covered for heart conditions?
Many insurance policies will have maximum amounts that can be claimed for particular conditions e.g. heart conditions. This means that you can only claim benefits for the same condition only once. This can be problematic for heart conditions as they are often recurring and can lead to other health and cardiac issues.
There are options that let you 'reinstate' your cover
Many trauma insurance policies will give you the option of reinstating cover after making a claim. This is when you pay higher premiums in exchange for being able to "top up" your trauma insurance. It can be useful if you are concerned about heart conditions.
---
Shop around for life insurance cover
If you have a heart condition or a medical history of heart conditions, you should not simply assume that getting life insurance will be too costly or too much of a hassle. In fact, if you have this sort of condition or history it is all the more important to have some form of protection in place, as otherwise you could end up leaving your dependants high and dry financially in the event that you die as a result of this condition. What you should do is invest some time in finding the most competitive deals on life insurance cover based on your situation and circumstances, as this can help to keep the cost of coverage down while also ensuring that you can protect your family and enjoy peace of mind. You will find a range of providers that are still able to offer competitive life insurance cover despite your heart condition. The cost of your cover will be based on the severity and type of heart condition you have or have had, so you need to ensure you provide full details when you are applying for cover or getting a quote. It is important to be truthful about your condition or medical history, as otherwise you could invalidate the plan in the event of a claim following your death, which means that your family could end up with nothing. You can use the Internet to shop around for life insurance cover, as this means that you will be able to benefit from a good choice of providers, which will boost your chances of getting affordable cover to suit your needs and your budget. You will also find some great deals on life insurance cover online and you can compare from the comfort and privacy of your own home.
What to look for when you compare life insurance cover for heart conditions
When you are looking for affordable life insurance cover as someone who suffers from or has suffered from a heart condition, you need to make sure you know what to look for. When you compare life insurance cover you should look at areas such as:
The cost of the life insurance cover. You will generally pay more for your cover if you have a heart condition or history of heart problems, so it is important to compare the cost of the cover as you need to ensure that you can comfortably afford the premiums.
The level of coverage. You need to check the amount of coverage you will be able to take so that you can ensure that it is going to be adequate for the needs of your loved ones in the event of your demise
The details of the coverage. You should make sure you check what is covered under the plan and you should check the exclusions and restrictions to check for special conditions and to find out what is excluded from the coverage.
Make an enquiry for life insurance with cover for heart conditions
More guides on Finder