Joint Life Insurance
Looking for joint life insurance? Find out why combined cover may be a more affordable and convenient option.
We're reader-supported and may be paid when you visit links to partner sites. We don't compare all products in the market, but we're working on it!
If you are looking to take out life insurance with your partner, you may want to consider taking out a joint policy. Joint life insurance (sometimes referred to as first to die insurance or couples life insurance) provides cover for both you and your partner on a single policy. This can be an affordable and convenient option. Advisers and insurers will often refer to joint cover as 'multi-life' policies or family discounts.
Some benefits of this option include
Joint cover can be both an affordable and convenient solution for couples looking to take out cover
You may be able to receive a joint policy discount
Single vs joint life insurance
An adviser can help you find cover from trusted life insurance brands.
Get competitive quotes from multiple brands

Lower rate of declined claims (according to ASIC)

Save time and effort
---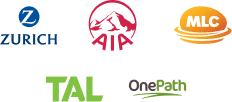 'Single' life insurance policies vs 'joint' life insurance policies
So should you apply for a joint life insurance policy as a couple? Or does it make sense to take out two single policies? See the differences below:
Single life insurance

Joint life insurance

Who is covered?

Single life insurance or individual life insurance is a policy that only covers one life.

People who usually consider getting joint life insurance benefits are often married or co-inhabiting.
These couples are often with dependants they want to protect if or when they die, or suffer a critical illness.

In what events will it payout?

If the policy holder of the single life insurance policy passes away there will be a payout.

If either partner passes away there is a payout.

When should a couple consider this type of cover?

This arrangement is ideal if one partner is either much older than the other ( which can drive up costs of a joint policy) or where one partner simply doesn't qualify for life insurance.
If you each have different life insurance needs or one spouse doesn't need life insurance.

Joint life insurance policies are especially designed for any kind or form of interdependent relationship, where if either of the partner passes away the other will face financial pressure immediately.
What the main advantages of a joint policy?
Joint term life insurance has numerous benefits and advantages that an individual plan cannot deliver. Knowing the differences between the two and the advantages connected to each is very important in order to make the best personal decision. Other advantages are listed below.
Affordability. If there is a glaring fact that most life insurance policy holders can obviously see, is its affordability. This is probably one of the most accessible options for married couples. The cost of insuring two people instead of one is cheaper, which in turn affects the price of the policy itself.
Peace of mind for both parties. If only one of you has life insurance cover, the peace of mind is only one way, as if the unprotected person dies first the surviving partner gets nothing. However, if you have joint life insurance cover, both parties are protected, so no matter which party passes away first, the other will get a payout to ensure financial security for the family. This means that you both get to benefit from peace of mind and financial protection for the future.
Reasonable payment options. A joint life insurance policy has a reasonable payment option that should never be underestimated or passed over. The ratio of price to quality is something that makes the option something that all families worth considering. The policy can be more beneficial and an advantage to young couples who are just starting their life together. The payment received upon the death of the first partner is very significant in comparison to the amount invested in the policy. In all instances, joint life insurance is less expensive than an individual life insurance plan.
Renewable. Another benefit worth mentioning is that the policy can be renewed once the agreed upon term is over. This is another huge benefit, signifying that once the insurance is agreed upon, it will provide certainty and financial independence to the surviving parent and their children.
Assistance. In addition to the above mentioned benefits, a joint insurance policy provides financial assistance upon diagnosis of a critical illness. Since this situation can cause a lot of stress that may affect your relationship and your family, it is always wise to be prepared for such serious problems that can affect a household in a very negative way as early as possible. A joint term life insurance is a wise investment in future security and financial stability, the affordability of which is another advantage.
How do I speak to my partner or spouse about life insurance?
Who offers joint discounts on cover?
Yes. There's usually a joint policy discount when you apply for cover either with a spouse or another family member.
Provider
Combined policy discount
Conditions
Apply
ANZ
You may receive a discount
Speak to ANZ directly to find out if you're eligible
Zurich Ezicover

Two applications must be received at the same time
Discount applies to the second policy

Learn more
InsuranceLine
The younger adult receives a discount when you apply on the same policy
Virgin

$3.50 off per month for joint life insurance
5% discount for joint income protection

No conditions stated in PDS
AMP Elevate

5% discount for business relationships

Two or more clients submit new business to AMP
Available on life, TPD and trauma plans / options

Speak to an adviser
OnePath

5% discount if 2 people are insured
6% discount if 3 people are insured
7% discount if 4 people are insured
8% discount if 5-6 people are insured
9% discount if 7-9 people are insured
10% discount if 10 or more people are insured

Available if you link your policy with an eligible family member, business partner or combination of family members and business partners
Speak to an adviser
Data taken from brand product disclosure statements on July 2020. Benefits, conditions and amounts are subject to change at anytime.
How do I compare joint cover?
It is important to remember that the cost and coverage levels that come with joint life insurance cover can vary based on the provider and the plan you choose. You should therefore make sure you compare life insurance plans and providers in order to find the most suitable and affordable plan for your needs. You will find a range of plans available from a number of different providers, which means that you should have plenty of choice. However, when you compare the various life insurance plans available you should make sure you look at key points such as:
1. Identify your needs
Finding a solution for a certain problem begins with the acknowledgement of the problem says the cliche. Whether or not you decide that you and your spouse need life insurance, consider the following questions:
Will your savings be sufficient to shoulder all expected and unexpected finances should disability, illness, or death occur in the family?
Is there a possibility of selling your house because you will be unable to pay the mortgage should you suddenly become disabled?
Can you envision putting your child's education in jeopardy and the whole family relying on welfare?
2. Understand the cost of monthly premiums
Money is important and the price of the goods you buy makes a big impact on the family budget. If you are a first-time buyer, as much as affordability is important, you should also consider the extent of its cover. Will you opt for a cheap policy with less cover or go for an expensive one but contains features that are not really necessary for your needs? Your goal is to find a policy in-between; therefore identifying your needs together as a couple or as a family before shopping for a life insurance policy is a crucial step to finding your ideal life insurance cover.
3. Determine how much you need
Cover is very important which brings you to the type of policy you want to purchase. Will you need a life insurance cover until you retire or for a certain period of time only, say 10 or 20 years? Is the benefit indexed with the inflation? Is there a hidden catch to it? Are there any exclusions and restrictions? In order to see these things, you can educate yourself by dong a little research, ask the help of an insurance expert, and finally, read the Product Disclosure Statement of your policy where all the details can be found.
Further life insurance reading
Find child cover to protect your children
More guides on Finder