Credit Union Home Loans
Did you know 4.6 million Australians currently bank with a credit union or building society?
We're reader-supported and may be paid when you visit links to partner sites. We don't compare all products in the market, but we're working on it!
Credit unions, mutual banks and building societies are Authorised Deposit taking Institutions (ADIs) and comply with extensive Australian government regulations that are exactly the same as it is for publicly listed banks. Unlike banks, however, credit unions are customer-owned. This means they focus on customer service rather than paying dividends to shareholders.
Comparing credit union home loans
After entering your details a mortgage broker from Aussie will call you. They will discuss your situation and help you find a suitable loan.
A comparison of home loans from multiple lenders.

Expert guidance through the entire application process.

Free suburb and property reports.
---

The Adviser's number 1 placed mortgage broker 8 years running (2013-2020)
Bank loans vs Australian credit union home loans
There are two major distinctions between credit unions and banks:
Profits re-invested for members

While bank profits are distributed among shareholders in the form of dividends, credit unions re-invest profits for their members in the form of customer service enhancements, lower interest rates and fewer fees. The interest rates are usually significantly lower for credit union home loans than they are for the banks. You can also expect to pay fewer fees, and the fees that you do have to pay are often much lower than what you would pay on a bank loan. This was supported by a 2008 study by ASIC, which found that mutuals on average charge the lowest overall loan fees in the market.

Credit unions are owned by their members

Anyone who is a member of a credit union and has an account is a part owner. When you deposit money into your account at a credit union, the deposit is referred to as a share. This is due to the fact that the money deposited represents an ownership in the union. It's much like owning a share of the stock in a company.
Australian credit unions
There are more than 130 customer owned banks in Australia (industry speak for credit unions, mutual banks and building societies). Of those, 76 are credit unions. There are plenty to choose for. Many of the credit unions who are available to general customers nationally will advertise online on websites like finder.com.au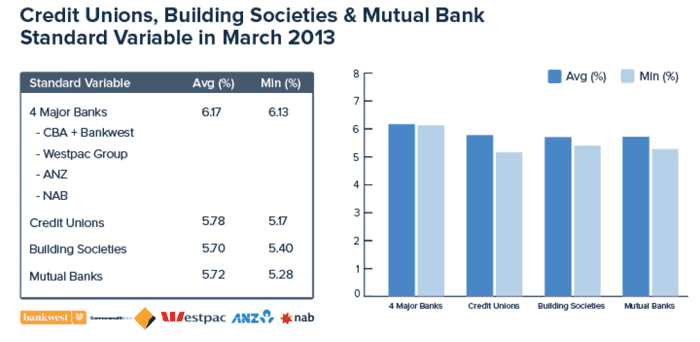 Getting in touch with one of the many different credit unions in Australia could be a great is one of the best things you could do when it comes to managing your money. Contact one today and see what they can do to help you manage your finances.
Products offered by credit unions
In most cases you will have access to the same type of services that you would have at a bank. If you are looking for a specific product or service, you should find out if it is available before becoming a member.
Banks can offer promotional products to lure in more customers based on volume. Banks serve a lot more customers than credit unions and can offer certain deals that a credit union may not be able to afford. Credit unions will usually offer only the services and products that a majority of the membership will want to use.
Personalised service
Credit union customers get personalised service. Staff at credit unions have the flexibility to accommodate some of the borrowers the big banks can't.
Credit union safety
You can rest assured that any money deposited or any loans taken out with a credit union are as safe as they would be if you dealt with a bank. The government guarantee on deposits applies to all ADIs in Australia, not just the big banks.
Becoming a credit union member
Some credit unions are still based in their historical roots in terms of membership restrictions, although as a general trend these restrictions are loosening. Remember to read the reviews on finder.com.au to see if you are eligible.
Helpful access
There are many ways how you can get in touch with different credit unions. For example:
You could check with a union through one of its branches.
Online banking services. This can help you to monitor your accounts with a union at any time of the day.
Phone services are available from many credit unions. However, the localised approach may mean that support is restricted to business hours. Unassisted phone banking is available 24/7.
You may get access through ATMs of all sorts. Most are affiliated with the rediATM network, which is the largest network in Australia.
Some unions can handle bank payment services through Australia Post's Bank@Post service. This could help you to get different bank payments handled through any Australia Post outlet.
More guides on Finder