Home Loan Serviceability
How do lenders decide how much you can borrow?
We're reader-supported and may be paid when you visit links to partner sites. We don't compare all products in the market, but we're working on it!
When you apply for a home loan, a lender will take many factors into consideration when deciding whether to approve your application. One factor is the amount of deposit you have versus the size of the loan for which you're applying, or the loan-to-value ratio (LVR). But banks will also calculate your serviceability by deducting your expenses and liabilities from your income. Here's how it works.
What is mortgage serviceability?

Serviceability is your ability to meet, or service, your home loan repayments. Banks calculate your serviceability to ensure you can afford to take on a mortgage, and to determine how big a home loan you can manage. Different banks have different ways of calculating serviceability, and different criteria when it comes to the serviceability standards they will accept. Banks don't often make their exact serviceability standards public, but they do tend to calculate serviceability in a similar way.
Calculate your serviceability
All lenders differ in how they assess serviceability and the standards they apply in determining creditworthiness and borrowing power. However, to get a general idea of your borrowing power, you can use our "How much can I borrow?" calculator.
To use the calculator, enter your income from all sources. Then enter any other loans you have, the total limit of all your credit cards and your number of dependants.
How do lenders calculate serviceability?
In general, lenders calculate serviceability by adding together your income from all sources, subtracting your expenses and debt liabilities and adding in the monthly mortgage payment.
Income can come from a variety of sources beyond your job. Lenders will take into account income from:
Salary and wages
Rental income
Investments
Centrelink benefits
Self-employed income
Income
Some types of income will not be included in full in lenders' calculations. Rental income, for instance, is assumed to fluctuate, as an investment property could go untenanted for a period of time. Because of this, most lenders will only accept up to 80% of gross rental income in their assessment of a borrower's total income. Likewise, investments such as shares have the potential to fluctuate in value, or even to depreciate. Because of this, most lenders will accept up to 80% of investment income in their assessment of total income.
Debt
In factoring in the debt you're looking to take on in the form of a home loan, lenders will also build a buffer into their calculations. While you may be able to service a home loan of a certain size at current interest rates, lenders will want to know that you'll continue to be able to service this debt should rates rise substantially. Many lenders recently raised the interest rate buffers they apply to serviceability calculations, with APRA data showing some lenders calculating serviceability on interest rates as high as 9.2%.
But it's a bit more complicated than that
In practice, the calculations for serviceability can be a bit more complex than merely deducting expenses from income. Lenders in Australia tend to use one of three different methods for calculating serviceability: net surplus ratio (NSR), debt servicing ratio (DSR) or surplus/uncommitted monthly Income (UMI).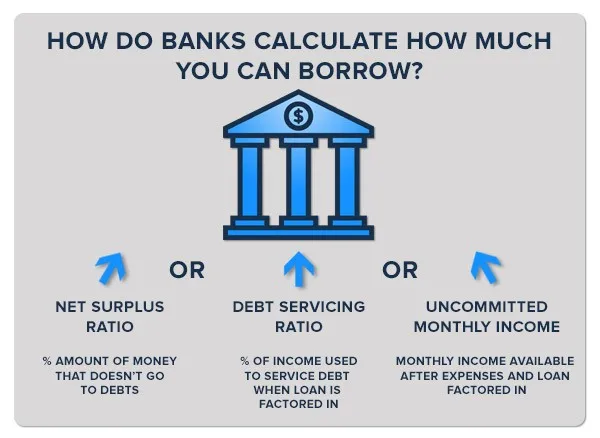 These can be defined as:
Net surplus ratio. (or NSW) The amount of money that won't be used to service debt and expresses this as a percentage of total after-tax income.
The debt servicing ratio method. (or DSR) The opposite of the NSR method. This method calculates the percentage of income that will be used to service debt once the proposed home loan is factored in.
Uncommitted monthly income. (or UMI) This calculates the income you'll have available each month after all expenses have been factored in, including proposed home loan repayments.
How can I improve my borrowing power?
There are two main ways to increase your borrowing capacity: you can either increase your income or decrease your expenses.
Increasing income can often be influenced by factors beyond your control. You can ask your employer for a pay rise, invest in assets that will provide regular income or take on a second job, but some of these strategies may not be practical for you.
However, you have far more control over your expenses. You can decrease the liabilities you have by committing yourself to paying down your existing debt. Work out a budget to tackle reducing your debt. You can also close out credit or loan accounts you don't use. Even if you don't owe money on them, the credit limit on these products can eat into your borrowing power.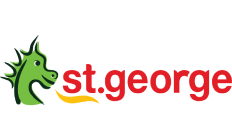 St.George Basic Home Loan - LVR 60% to 80% (Owner Occupier, P&I)
Up to $4,000 refinance cashback. With this competitive variable rate loan from St.George, refinancers borrowing $250,000+ can get up $4,000 cashback and borrow up to 80% of the property's value (terms, conditions & exclusions apply).
More guides on Finder